By Larry Baer
Oil, gold, S&P 500 and copper charts are downtrending, but too early to tell if sliding prices will continue.
Slumping economic data from China, eurozone debt worries and a U.S. economy that can't seem to gather steam has analysts around the globe worrying about a double-dip recession. While talk is just talk, so far the charts seem to be agreeing to these speculations, with lower price action across the commodity board.
WTI Crude Oil
WTI crude oil futures issued a fresh sell signal Monday (10/29) as it made new recent lows. On the weekly chart, WTI issued a king's cross counter-trend sell signal the third week of September (weekly bar ending 9/21) and has now fallen below major support levels. The king's cross is my attempt to account for why, shortly after a change in trend, a market often puts in its extreme. What I discovered is that the trend had not actually changed; rather, it was just an event — a news event, short or long covering, etc. — that caused a correction. After this "event," the market would often turn around and resume its previous trend.
On the monthly chart, WTI is showing a sell signal so far in October, which suggests that crude may have significant follow-through to the downside. Falling crude oil prices can often be traced back to declining demand for the commodity, which may be interpreted as a result from a weakening global economy.
Crude Oil Monthly Chart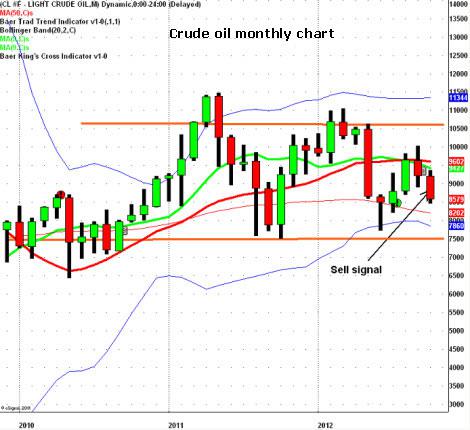 Gold
For gold futures, the trend is down on the daily chart, and it has shown several sell signals falling below major support. The trend remains up on the weekly chart, but gold gave a king's cross counter-trend sell signal the second week of October. Gold on the monthly chart seemingly has been trading sideways for over a year now.
Gold Weekly Chart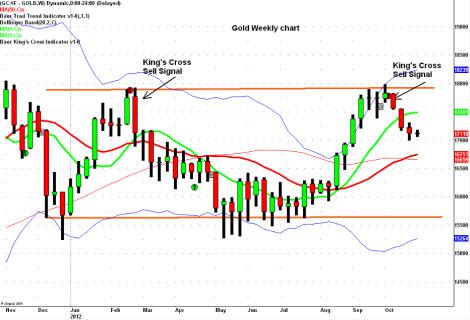 S&P 500
The trend is down, and sell signals have been generated for the S&P 500 on the daily chart and it has confirmed it may be in a longer-term downtrend. The trend for the S&P continues to be to the upside on both the weekly and monthly chart, so it remains to be seen if this is simply a market correction or a longer-term move downwards.
E-Mini S&P 500 Daily Chart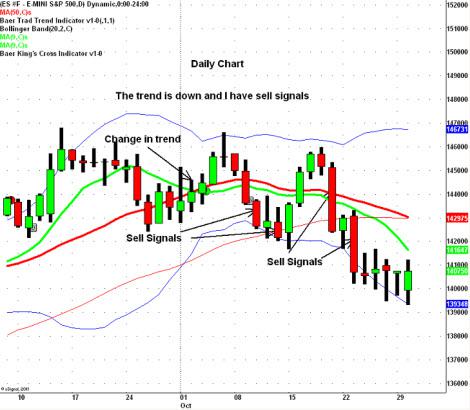 High-Grade Copper
High-grade copper prices have been marching lower since it made new recent highs the second week of September. On the daily chart, the trend is down and I have a sell signal.
Copper issued a king's cross counter-trend sell signal the second week of October and has fallen below its 9- and 20-period SMAs, a bearish indicator. On the monthly chart, the trend is down, and copper is an inside month so far in October. Because of its industrial applications, copper is considered by many market analysts and commentators as a bellwether of the world's overall macroeconomic condition.
High Grade Copper Daily Chart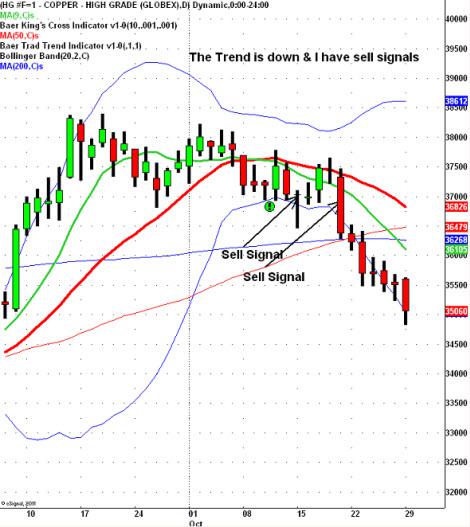 Bottom Line
Overall it seems that many markets have been range-bound with a downward bias.
We'll have to wait and see as they reach the lower end of their range if these markets are range-bound or we are indeed in a longer-term trend down. Either way, it seems that shorting these markets may be the way to go.
Although all these markets are in downtrend, we will have to wait and see if they will continue lower in a double-dip, recession-type scenario or stay within their ranges and begin rallying again.
Disclaimer: Futures, options and forex trading is speculative in nature and involves substantial risk of loss. These recommendations are a solicitation for entering into derivatives transactions. All known news and events have already been factored into the price of the underlying derivatives discussed. From time to time, persons affiliated with Zaner, or its associated companies, may have positions in recommended and other derivatives.