If there were ever a perfect example of how to buy low and sell high, this is it. Take a look at Apex Silver Mines (NYSEARCA:SIL). It is topping Wall Street's list of biggest movers today with a huge surge in share price of nearly 88%. And to think, just a week ago, share price dropped to record lows.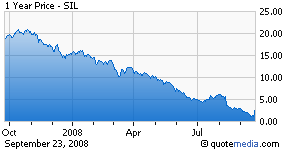 With no official news from the company or its competitors, shareholders and speculators are eating up any rumor they can get their hands on. One possible source of the huge upswing is word from the Bolivian government about possible legislation that gives shareholders of mining companies increased ownership rights.
Something bigger and better
While my Spanish translating skills are a bit rusty, the news does not look nearly big enough to create this kind of intra-day pop. More likely, Apex, along with its desperate need for cash, is about to be bought at a hefty premium.
No matter what the underlying fundamental change is, all that really matters is those folks that were smart enough to buy when share price was at record lows are now selling for huge gains.
It is another great lesson in what it takes to be a successful investor: buy low and sell high. Right now, there are fantastic values all over Wall Street. Take advantage of them.