Jim Cramer's Charitable Trust, co managed by Stephanie Link, recently initiated a position in iShares FTSE China 25 Index Fund (NYSEARCA:FXI). Why did these two intelligent money managers agree on diversifying into this very risky market that is China? Because it's even riskier not to.
China is known for a risky equity market for many reasons. One is China's Autocratic Government. This means that unfair rules and regulations can be implemented with little more than a stroke of a pen, and can shock entire sectors or markets very quickly. Another is China's minimal regulation on financial reporting guidelines. China's regulatory oversight for securities is not fully developed compared to other markets, which means that there are more cases of fraud than in the U.S. or E.U. In fact, many companies still report unaudited financial reports to investors to this day.
Remember Muddy Waters Research? This group was popular in 2011 for identifying red flags in Chinese based companies, and shorting such companies as Focus Media (FMCN), Rino International (RINO), China MediaExpress (OTCPK:CCME), Duoyuan Global Water (DGWIY), and Orient Paper (NYSEMKT:ONP). For example, after researching financial statements and actually visiting a manufacturing plant, Muddy Waters proved ONP had overstated its revenue, assets, inventory and profit margin figures. The stock subsequently declined 40% in the three days following the report's release. This instance is still possible to reoccur as financial accountability problems still exist today in China's market.
But why bother with China? China is still the second largest economy in the world, with over 1.3 Billion people. To put this in perspective, that's over 4 times the population of the US, which has around 312 M people. In bigger markets comes bigger profits? Perhaps. But the most impressive metric is a recent report that claims China is still growing at 7.4% clip year over year. So much for a slow down. According to the official purchasing managers' index, a gauge of industrial activity, the index rose to a four-month high of 50.2 in October from 49.8 in September. Many economists now believe that the stage is set for the Chinese economy to finish the year on a relatively strong note, despite a dismal 2 year decline of 30% in the Shangai Index. Perhaps they feel the decline is a bit overdone at this point, and these recent indicators are signaling a bottom is approaching.
Because of China's continued growth and the relative dangers still evident in Chinese stocks, I can understand why Cramer and Link chose the FXI. The index, which has $5 Billion in assets, consists of 25 of the largest and most liquid Chinese companies. It is designed to represent the performance of the largest companies in China that are available to international investors. By representing a basket of the largest companies in this fashion- not only is it diversified, but perhaps the possibility of fraud is reduced since the companies it holds are so widely held by so many investors around the world.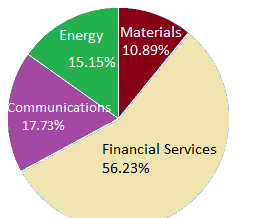 As of the end of September 2012, the FXI seemed relatively well diversified, with the majority of holdings in the financial sector. I was enthused by the 32% combined weighting in the Energy and Communications Sectors, as I feel there is excellent growth opportunity in these segments.
| | | | | |
| --- | --- | --- | --- | --- |
| Stock | Symbol | P/E | Market Cap | % of Fund as of 9/28/12 |
| China Mobile Ltd. | (NYSE:CHL) | 11.08x | $222.7 B | 10.28% |
| China Construction Bank Corp. | CICHF | unkn | $177.9 B | 9.32% |
| Industrial And Commercial Bank Of China Ltd | IDCBF | unkn | $56 B | 8.23% |
| CNOOC, Ltd. | (NYSE:CEO) | 9.15x | $91.8 B | 7.07% |
| Bank Of China Ltd. | (OTCPK:BACHY) | unkn | $34.3 B | 5.97% |
| Agricultural Bank of China Ltd. | ACGBF | 7.26x | $1.12T | 4.10% |
| PetroChina Co Ltd. | (NYSE:PTR) | 13.1x | $248 B | 4.08% |
| China Overseas Land & Investment Ltd. | CAOVF | 11.2x | $168 B | 3.98% |
| China Petroleum & Chemical Corporation. | (NYSE:SNP) | 10.6X | $91.3 B | 3.94% |
| Ping An Insurance Group | (OTCPK:PIAIF) | 20x | $490 B | 3.90% |
As the table shows, many of the companies have very large market capitalizations, and fairly reasonable P/E ratios. Since the companies are so very large and so widely held, they are probably fairly safe to own compared to other Chinese companies.
Let's take a look at the metrics of the FXI, so we can evaluate the total valuation of the fund:
| | |
| --- | --- |
| Total Assets | $5 Billion |
| Expense Ratio | .72% |
| Yield | 2.53% |
| Inception | 2004 |
| Price/Earnings | 7.91x |
| Price/Book | 1.44x |
| Price/Sales | 1.06x |
| Beta | .85 |
At a glance, FXI seems relatively attractive with a 7.91x P/E and a P/B of 1.44x. The Beta is also low, implying a somewhat reduced volatility factor. The main attraction in my eyes is the exposure to the 25 largest companies in China, offering a broad yet safe diversity to China's economy.
Summary
Overall China does seem promising, as its huge population is still driving economic growth despite the rest of the world's sputtering economic condition. There is some risk in owning Chinese equities, however owning a diversified basket of the largest, most widely held companies serves to counter this risk. By investing in the FXI, investors can gain exposure by using this reasonably valued vehicle. Moreover, If you trust in the expertise and judgment of Jim Cramer and Stephanie Link, your confidence may be heightened in this ETF
Disclosure: I have no positions in any stocks mentioned, but may initiate a long position in FXI over the next 72 hours. I wrote this article myself, and it expresses my own opinions. I am not receiving compensation for it (other than from Seeking Alpha). I have no business relationship with any company whose stock is mentioned in this article.