Stocks To Trade
Today, we are looking at an earnings trade in McDonald's (NYSE:MCD), longs in KB Homes (NYSE:KBH) and Peabody (BTU), and shorts in Marathon Petroleum (NYSE:MPC) and Baidu.com (NASDAQ:BIDU).
For an earnings trade, we are looking at McDonald's today. The food service company reported earnings on October 22, and since that report, the stock has dropped significantly. The report was not bullish at all, as the company saw pressure from declining market conditions in Europe, as well as limited growth. Analysts do not foresee growth for the stock until at least first half of 2013, and we believe the earnings report has given us a nice top on the stock. What's the catalyst for MCD? The company's margins are under pressure, the dollar is strong, and its China explosion has diminished. While the company is by no means going to fall apart, the upside is still not there. For that reason, we like placing a bear call spread on the stock through the December earnings season. The $90 line is the earnings breakout point, and the $94 line was a multiple top. For that reason, we like the MCD Dec22 90/95 bear call spread.
Trade: MCD, Dec22, 90/95 Bear Call Spread
Max Gain: 8%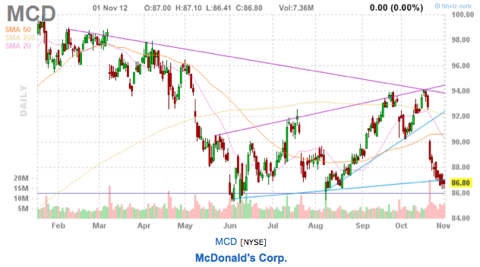 For longs, we like the looks of KB Homes and Peabody Energy. Talk about two stocks that really did well in the market pullback! KBH and BTU were two stocks that really performed very well during the recent market pullback. KBH was able to move well during the recent pullback, as housing data was very strong. Further, the company has no earnings around the corner to derail any trading plans. We think the stock could breakout to even higher prices if the market gets moving again. The company has been forming a lot of bull flags with breakouts even higher, and if the stock breaks back over today's HOD, it could make quite a move. So we would be buyers on a break above 16.75. Data on housing and recent earnings are all pointing higher for KBH.
Peabody Energy is looking very solid as well. The company has been doing great despite a weak market. It had very solid earnings that have helped the stock break above a key resistance line at $26, as well as 200-day MA. Those lines are providing great support, and we believe the stock is great for a bull put spread. The company had a great report that beat estimates, guided well, and spoke positively on 2013. The company's only hindrance at this point may be the election. A Romney election would be another catalyst. Obama would be business as usual, but it might lead to some weakness in share prices. That is why we like a bull put spread to make money in something that is performing very solidly.
Equity Trade: KBH, Long
Breakout Point: 16.75
Options Trade: BTU, Dec22, 25/23 Bull Put Spread
Max Gain: 18%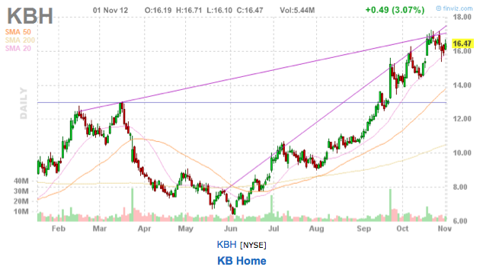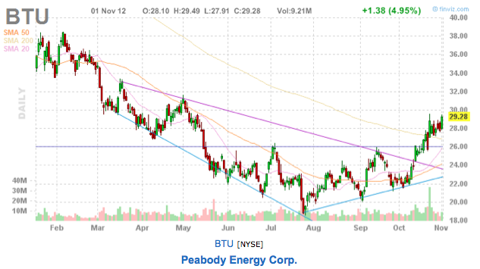 For shorts, we like the looks of Marathon and Baidu.com. MPC is looking very weak right now. Oil remains weak, and MPC's earnings this morning were not too exciting. While beating estimates, the company saw sales at Speedway locations decline, and it lost its upward channel today. We believe if the stock drops below the 50-day MA, it will see a very strong decline. Further, oil prices have been weak, and they still remain below $90. Without strength there, MPC loses that catalyst as well. The stock seems to be consolidating for a drop, so watch this one.
BIDU... ouch. The Chinese Internet company really did not impress with its latest guidance, and the stock dropped considerably. Now the stock has very little to go on, and we believe that the company will be limited in upside for the time being.
Stock Trade: MPC, Short
Breakout point: Break of 50-day MA
Options Trade: BIDU, Dec22, 120/125 Bear Call Spread
Max Gain: 13%
Tomorrow's Outlook
For tomorrow, it's all about NFP. The employment data was encouraging today from ADP Employment Change and Initial Jobless Claims, and if that report comes out solid, the market could be in for a solid day. A miss could be fairly hurtful to the market, and reverse most of today's gains. At the same time, we do have a number of other factors to watch that could help to direct just how severe movements are on NFP. Other data to watch is Factory Orders and the Unemployment Rate. Additionally, earnings tomorrow morning from Chevron (NYSE:CVX), Ralph Lauren (NYSE:RL), and Viacom (NASDAQ:VIAB) are the key ones to watch for movement.
Our Moves/Holdings
We had a pretty solid day. We were able to lock in a 13% gain in our Micheal Kors (NYSE:KORS) bull put spread; a 2.3% gain in our Cree (NASDAQ:CREE) long, Texas Instruments (NYSE:TXN) short; as well as a 1% gain in 1/2 of our Deere (NYSE:DE) long. We had to take a 5% loss on our Proshares Ultra S&P (NYSEARCA:SSO) options trade, however. We added a long in Illinois Tool Works (NYSE:ITW) and a bull put spread in Whirlpool (NYSE:WHR). We also added a long in Home Inns (NASDAQ:HMIN) to Goldman Trades.
We have the following positions:
In our Short-Term Equity Portfolio, we are long Deere, B&G Foods (NYSE:BGS), and Illinois Tool Works. We are short Toll Brothers (NYSE:TOL).
In our Options Portfolio, we are long Whirlpool, Capital One Financial (NYSE:COF), Intuitive Surgical (NASDAQ:ISRG), Discover (NYSE:DFS), and Wal-Mart (NYSE:WMT). We are short SPDR S&P 500 (NYSEARCA:SPY).
In our Earnings Alpha Portfolio, we are long Allstate (NYSE:ALL) and Michael Kors. We are short SPDR S&P and Salesforce.com (NYSE:CRM). We have a reverse iron condor in Chipotle (NYSE:CMG) and Netflix (NASDAQ:NFLX).
In our Goldman Sachs Up/Down Paper Portfolio, we are long CSX (NYSE:CSX) and Expeditors International (NASDAQ:EXPD).
Charts courtesy of finviz.com.
Disclosure: I have no positions in any stocks mentioned, and no plans to initiate any positions within the next 72 hours.
Business relationship disclosure: The Oxen Group is a team of analysts. This article was written by David Ristau, one of our writers. We did not receive compensation for this article (other than from Seeking Alpha), and we have no business relationship with any company whose stock is mentioned in this article