On Wednesday, Total (NYSE:TOT) reported strong third-quarter results. Revenue advanced 8%, while adjusted net income surged 20% from the prior-year period, to 3.3 billion euros, thanks to strong performance across all segments. We don't expect to make a material change to our fair value estimate. For a read on how we calculate the intrinsic value of Total, please click here.
In its upstream operations, where adjusted net operating income jumped 21% in the quarter, Total expects the ramp up of recent start-ups (Angola LNG, Sulige in China, and Kashagan in Kazakhstan) and progress of major projects to continue to propel profitable growth. During the third quarter, Total launched the development of the Tempa Rossa field in Italy, and we're also excited about exploration endeavors in the Gulf of Mexico, Italy, Ivory Coast, Kenya and Gabon. Adjusted net operating income in the company's refining/chemicals business expanded an impressive 54% thanks primarily to improved refinery margins. The European refining margin indicator was $51/t during the period versus $13.4/t in last year's quarter as higher levels of maintenance at European refineries and greater demand from the US drove spreads wider. Adjusted net income in its supply/marketing business jumped 25% from the year-ago quarter, despite notable weakness in Europe. We think the firm's asset sale program remains on track, with the firm shedding assets in the UK and Nigeria for proceeds of roughly $5 billion during the quarter.
Impressively, adjusted cash flow from operations jumped 32% from the year-ago period thanks primarily to the strong bottom-line performance. Net cash flow, however, was 1.38 billion euros, down significantly from the prior-year period, which benefited from an unusually high level of divestments. The board declared an interim dividend of 0.59 euros (payable on March 21, 2013), roughly a 3% increase from the prior-year period, but flat sequentially. We continue to think the company will be able to deliver on its free cash-flow projections, which are absolutely remarkable (please view the graphic below).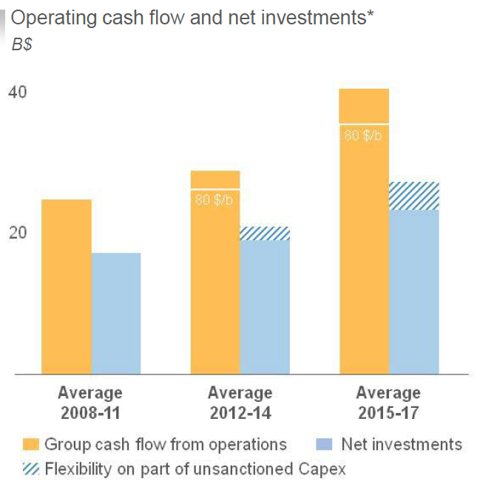 Image Source: Total
Disclosure: I have no positions in any stocks mentioned, and no plans to initiate any positions within the next 72 hours. I wrote this article myself, and it expresses my own opinions. I am not receiving compensation for it (other than from Seeking Alpha). I have no business relationship with any company whose stock is mentioned in this article.