Finding a stock to take advantage of the recent trends in computing and mobile technology is a challenge. I believe I may have discovered such a stock and lay out an argument for such a company, ZAGG Inc (NASDAQ:ZAGG), below. Fundamentally, I believe ZAGG may be an investment strongly correlated with the smartphone market that has not been correctly priced by the market.
The last five years have seen the emergence of the smartphone as one of the highest areas of growth for consumer electronics. While sales of mobile phones have continued to climb, smartphones have captured increasing market share within the mobile phone category and have been the leading area of growth. Since 2007, smartphones have gone from representing approximately 10% of total mobile phone shipments to over 26%, increasing year after year even in 2009, when overall mobile phone shipments slipped YoY.
The data indicates that smartphones continue to grow as much of the world has begun using smartphones and tablets for general computing needs, from simple emails and reminders to complex apps that rival full software suites.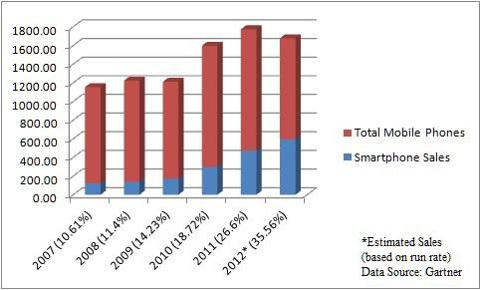 The extraordinary growth of smartphones brings up the question of how best to profit from this trend. Investing directly in handset manufacturers is the most straightforward - over 50% of the market is controlled by Samsung (OTC:SSNLF) and Apple (NASDAQ:AAPL). However this involves investing in large conglomerates that have multiple business lines.
Furthermore, much of the smartphone growth has already been priced into their share prices. In fact, the mere rumor that handset sales might miss forecasts has recently caused volatility in both stocks. An actual revenue or earnings miss by either company could be ugly for an investor. A more direct pure play on smartphones, whose share price has not increased proportionately, is thus desirable.
2007 was a seminal year in the smartphone market as Apple's introduction of the original iPhone began shaking up the market. One of the main features of the iPhone that has been copied to virtually every major new smartphone has been the use of a large touch screen for both input and display. As a result, smartphones are now being produced with screens as large as 4-5". In turn, this creates a higher potential for damage since more glass surface area means more breakage potential.
This is where one accessory maker, ZAGG, comes into play with its InvisiShield product. The company took a transparent film used to protect helicopter rotor blades and re-designed it to protect smartphone displays. As a result, the company has become a leading provider of protective covers for smartphones. As the smartphone market has taken over the mobile phone market, ZAGG's fundamentals have followed.
Below is a chart highlighting the relationships between ZAGG's operating revenue, operating expenses, cost of goods sold (COGS), and the overall growth of the smartphone market. ZAGG's operating revenue is strongly related to overall smartphone sales - the correlation between the two is 0.98.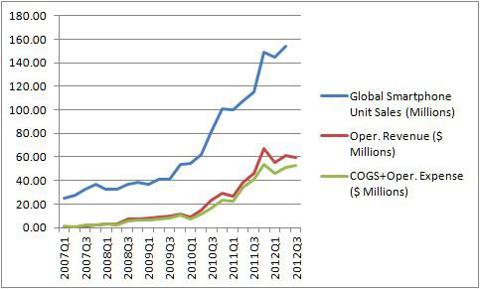 Above: COGS and operating expenses are not rising as fast as operating revenues, leading to a widening gap that highlights how operating income is growing. That gap between the red and green lines that keeps getting fatter is profit.
Below: ZAGG's stock price has not risen in tandem with the company's growing operating income.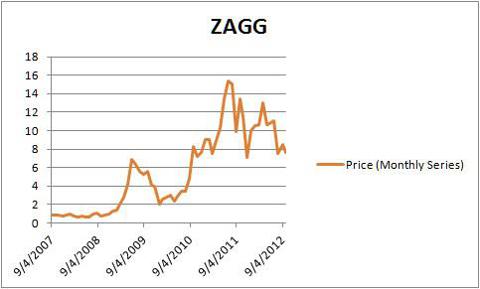 Below: ZAGG's growth (or decline) is extremely sensitive to the number of new smartphones sold in a given quarter. The chart below shows percentage change over prior quarter for both ZAGG and total smartphone sales. Any time smartphone sales go up, ZAGG revenue grows at a higher rate than the growth rate of smartphones overall. When sales of smartphones dip, ZAGG sales dip to an even greater extent (percentage wise). As such, this shows the top line of ZAGG is extremely sensitive to the overall number of smartphones being shipped and sold.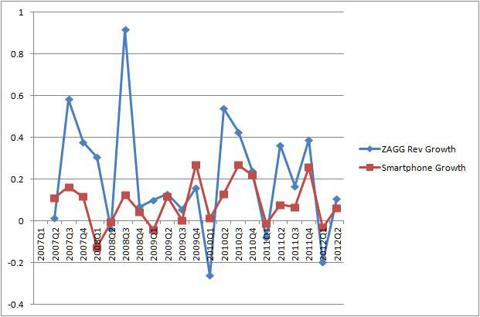 As smartphones continue to capture a greater share of the mobile market, ZAGG should continue to benefit if it can continue to execute on its strategy. Hence, ZAGG is indeed, the smartphone pure play, which makes it a great vehicle to take advantage of the maturing trend in smartphones.
It should be noted that there are challenges ahead for the company and you need to analyze these issues before making a call on ZAGG. To begin with, much of the preceding years' smartphone growth occurred in developed markets, specifically the US. Whether or not foreign markets, like Asia, will also be willing to pay a premium for ZAGG's products is a major question mark. Further, there is always the possibility of a technology coming into play that makes ZAGG's signature InvisiShield line obsolete. Corning (NYSE:GLW) continues to develop Gorilla Glass and it is possible that one day they succeed at the science fiction dream of transparent aluminum, in which case ZAGG's InvisiShield would not be as desirable.
Finally, the company is facing a potential class action lawsuit over the recent decision by the Board of Directors to force out the former CEO, Lanse Pedersen, due to a situation involving the CEO using margins to acquire more stock than he could support with cash equity. Any one of these issues could break the ability of shareholders to participate in the relationship between ZAGG's earnings and the smartphone market. The stock has recently seen significant volatility related to these factors and it has beaten up the share price.
Ultimately, I believe the trend is your friend and the underlying responsiveness to the rising smartphone market will allow ZAGG to power through these obstacles via earnings, which will eventually translate into the share price. I like ZAGG as the pure play on the trend in smartphones and for this reason I have chosen to put my money where my mouth is and go long on ZAGG.
On the other hand, I do believe there is significant short term volatility ahead until some of these headwinds are resolved. Aside from the traditional long approach of holding stock, the premiums in the options market are also worth considering given the extraordinary implied volatility (IV) that is being factored into options prices at this point in time.
Disclosure: I am long ZAGG. I wrote this article myself, and it expresses my own opinions. I am not receiving compensation for it. I have no business relationship with any company whose stock is mentioned in this article.
Additional disclosure: I am mainly long ZAGG via options, using Short Put and/or Long Call positions. I have no position on AAPL, GLW, or SSNLF.PK. This article is meant to generate investor discussion about ZAGG, smartphones, and any other relevant topics; the article is not a recommendation to buy or sell a security. For this reason, there is no recommendation given and no price target set in the article. Please consult a Financial Advisor to determine if a security is suitable for you prior to any transactions. The thoughts, opinions, and research expressed within the article are that of the author and are not endorsed or sponsored by any other institution, company, or employer.