It is quite interesting to see so many of the "momo" names that levered hedge funds were piling into - the Apples (NASDAQ:AAPL), Mastercards (NYSE:MA) et al of the world completely without a bid. I think this speaks to the "delevering across the board" we believe is happening. At some point valuation will matter again, but if there is not capital to bid up stock prices, it doesn't matter much. I am curious if Apple (AAPL) would join Microsoft (NASDAQ:MSFT) and initiate a quite large stock buyback.

The stock is technically now back to where it was at its 2008 lows back in March... and obviously much cheaper now than it was then. As an investment I do like it here in the $120s. However this is a trader market, not an investors market. But at least for a trade I could see a $120s to $140s move if the market got any relief from the daily trauma. We last sold it in the $150s a few weeks ago, and mentioned it was a good short candidate at the time. That worked out well (although we couldn't short it).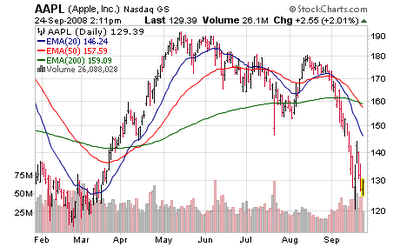 Research in Motion (RIMM) reports Thursday and that probably will move Apple as well - one way or the other since it seems to be identified more with the iPhone nowadays than its bread and butter - the computers!

Henry Blodget (those of you around for the NASDAQ bubble in late 90s will remember that name fondly) has an interesting piece out today on Apple. It does speak to what is so fascinating with investor psychology - people love Apple near $200 and no one wants to touch it near $120 - when it should be the other way around :) This still remains one of the best franchises on Earth with their hands in every pocket of the digital consumer evolution.
It's happened again: The stock of the most beloved company in the world, Apple (AAPL), has dropped more than a third off its highs. Of course this means that no one likes it anymore. Well, wake up, people! If you really think that Apple's going to take over the world, this is the time to love the stock, not when it claws its way back toward $200 again.
Will Apple be affected by the global economic slowdown? Almost certainly. Are Apple's margin guidance (and current revenue estimates) for the coming year concerns? Absolutely. Could Apple's stock really fall out of bed if we go into another Great Depression--dropping to, say, $50 a share? Of course. But so could any stock.
But all that aside, Apple's stock just isn't that expensive anymore. At $127, the stock is trading at about 25X trailing earnings (that's trailing, not analysts' hallucinations about what is going to happen over the next few years).
Even better, thanks to the extraordinary cash-flow characteristics of the booming iPhone (get cash now, recognize revenue over 24 months), Apple's valuation on an enterprise value to free cash flow basis is even more attractive: 15X. What the heck is "enterprise value to free cash flow"? That's the value of Apple's actual business ($91 billion) relative to the free cash flow the company has generated over the past year ($6 billion). For a company with Apple's future promise, market position, and growth rate, 15X just isn't that expensive.
Does it mean there's no downside to Apple's stock? Again, of course not: Apple's cash flow could get smashed by a recession, a stock market crash could compress the multiple to 7-10 times, etc. There's always downside. But at 15X, there's a lot less downside than there was a few months ago, when Apple was trading at $190 a share and everyone loved it.
Disclosure: Author has no position.