I'm a very simple man with a very average brain. Strangely, I think that is actually an advantage for me when it comes to investing.
How is that possible?
I believe it is possible because I stay focused on the fact that I'm not a rocket scientist and am therefore careful not to venture outside my capabilities. That generally (not always) keeps me out of trouble.
I try and be honest with myself about which investments I really am capable of determining the intrinsic value of and which ones I'm not. If I can't value something, then I have no business investing in it.
Canadian Oil Sands - About As Simple As It Gets
This mindset of keeping it simple is what keeps attracting me to Canadian Oil Sands (OTCQX:COSWF)
Canadian Oil Sands Ltd only owns one asset, a 36.74% interest in Sycrude, which is an oil sands producer. In 2010 Conoco Phillips (NYSE:COP) sold its 9.03% interest in Syncrude Chinese company Sinopec for $4.65 billion. Applying this valuation to Canadian Oil Sands Ltd's 36.74% interest in Syncrude results in a valuation of $38 per share after backing out Canadian Oil Sands debt. The current share price of Canadian Oil Sands has been bouncing around $22 per share for most of the year.
I think it is important to note that at the time Sinopec purchased the Conoco stake, oil prices were fluctuating on either side of $70. Today in North America we have had oil around $90 on average for a while and the rest of the world pays higher prices.
I'm not one to jump to any drastic conclusions, but I will suggest that if Canadian Oil Sands interest in Syncrude was worth $38 when oil was at $70, then it likely hasn't decreased from there subsequently. If you were so bold as to think that the value of Syncrude has increased along with the price of oil then you could conclude that Canadian Oil Sands is worth more than $40 per share or almost twice the current share price.
What is Syncrude?
Syncrude is the largest producer of light, sweet synthetic crude oil from Canada's oil sands, and has been in operation since 1978. It is a joint venture project owned by the following companies: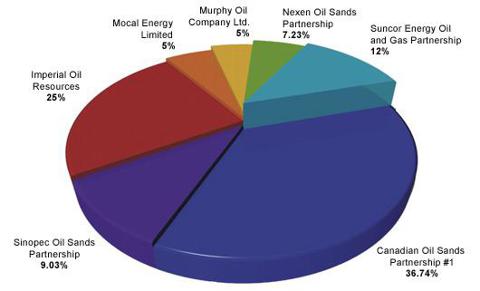 Each owner holds an undivided interest in the project, pays their share of costs and takes their production in kind, which they then market themselves. In 2006, Syncrude signed a Management Services Agreement with its 25% owner, Imperial Oil, whose parent company is ExxonMobil (NYSE:XOM).
Syncrude is a mining project, not a thermal or SAGD recovery project. This means that the recovery rates which are around 90% are much more predictable and that the project is not nearly as exposed to natural gas prices (which is not much of a concern these days).
Murphy Oil (NYSE:MUR) Looking To Divest Its Interest
We may soon get another data point which will show what the Syncrude project is worth in the current environment. Murphy Oil told investors this week that it may be looking to divest its 5% ownership in the Syncrude project.
If that occurs and the sale again validates a valuation of Syncrude that would imply Canadian Oil Sands shares are worth close to $40 it could be a decent catalyst to get the stock price moving.
And it will be very interesting to see if the value of Syncrude has actually appreciated since Conoco sold its interest.
I don't currently own any shares of Canadian Oil Sands as I sold mine to buy what I thought were more undervalued securities in the spring. It may now be time for another look.
Disclosure: I have no positions in any stocks mentioned, and no plans to initiate any positions within the next 72 hours. I wrote this article myself, and it expresses my own opinions. I am not receiving compensation for it (other than from Seeking Alpha). I have no business relationship with any company whose stock is mentioned in this article.