Everyone has his favorite comfort food - hot mac-n-cheese, maybe, or rice pudding. Now it's time to get to know the financial market equivalent: "comfort stocks" that have been inching their way quietly into the portfolios of investors nervous and wary of the global economy. These companies - which generate most of their revenue within the United States - may be just the ticket to both feeling good and generating solid investment returns for anyone who expects the weakness in global markets to continue in 2013.
To gauge whether seeking a haven from the global storm in domestic "comfort stocks" would be a wise course of action, we created a model portfolio of 150 companies that derive at least 95% of their revenue coming from within the United States, and, in homage to Bruce Springsteen, dubbed it the "Sold in the USA" portfolio. Perhaps 95% is an extreme level of U.S. exposure, but it ensures that we can capture the distinct performance of companies with these characteristics relative to those of broad market indexes.
This "Sold in the USA" model portfolio has generated better returns than has the S&P 500 index so far this year, with gains of 17% compared with 14% for the large-cap benchmark. Some of that outperformance probably is due to a decision on the part of investors - consciously or unconsciously - to reduce the weighting in their portfolios of companies that rely extensively on foreign markets for sales and profits. This domestically-focused portfolio also could be seen by investors as a relatively safe place to park some cash, while they wait for the right moment for a foray back into international equities. Still, the model portfolio also has outpaced the S&P 500 in total return terms over the last two years, when it has soared 34% compared with the S&P's 24%.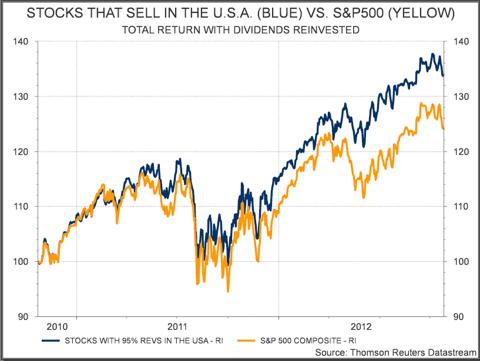 What kinds of companies end up in the "Sold in the USA" portfolio? The sector allocation chart, below, summarizes these holdings, which is tilted heavily in favor of companies with a smaller market capitalization. The sector allocation breakdown captures the profile of the portfolio, but only 13 of the major holdings rank in the top 100 U.S.-listed companies by market capitalization, and the technology universe accounts for less than 2% of that model portfolio.

It isn't surprising that the technology sector, while accounting for 20% of the S&P 500 and being so important to the broader market's performance, doesn't produce a great number of "comfort stocks." These businesses tend to sell internationally to a greater degree than almost any other group. While technology stocks, as a group, have outperformed the S&P 500 for most of 2012, they have lagged the index lately. That is thanks, in part, to a string of disappointing earnings reports from the likes of Apple (NASDAQ:AAPL), Microsoft (NASDAQ:MSFT) and IBM (NYSE:IBM), none of which appear in the "Sold in the USA" model portfolio. That portfolio also doesn't include struggling personal computer manufacturers Dell (NASDAQ:DELL) and Hewlett Packard (NYSE:HPQ), down about 35% and 40% respectively so far this year. Only four technology companies appear in the model portfolio: Defense and cybersecurity firm SAI Inc (SAI); Intuit (NASDAQ:INTU), the owner of the Quickbooks franchise; payroll company Paychex (NASDAQ:PAYX), and banking and payments firm Fidelity National Information Services (NYSE:FIS).
Indeed, it seems as if the "Sold in the USA" portfolio benefits as much from what it doesn't own as from what it does. Another big underweight position is energy, another group that has lagged the index, rising only 5% so far in 2012 compared with 15% for the S&P 500. The portfolio excludes current laggards like Exxon Mobil (NYSE:XOM) and Chevron (NYSE:CVX); energy companies that make the cut include energy infrastructure company Williams Companies (NYSE:WMB) and refiner and marketing firm Marathon Petroleum (NYSE:MPC).
At the other end of the spectrum are financial and telecommunications stocks. The portfolio has a 30% weighting in the former group, including market outperformers like Wells Fargo (NYSE:WFC), U.S. Bancorp (NYSE:USB), and insurer Travelers (NYSE:TRV), as well as PNC Financial (NYSE:PNC), which has trailed the broader market this year. Unowned are those banks with a big global reach, like JP Morgan Chase (NYSE:JPM), Citigroup (NYSE:C) and Bank of America (NYSE:BAC). As a group, these big banks have actually done better than their U.S.-focused peers this year. The second-largest grouping of stocks comes from the telecom services arena, and includes companies like AT&T (NYSE:T), Verizon (NYSE:VZ) and Sprint Nextel (NYSE:S), along with the latter's potential new majority shareholder, Softbank. Together, these companies make up 14% of the model portfolio, although telecommunications stocks as a whole represent only 3% of the S&P 500.
A wide array of hurdles lie ahead, ranging from the U.S. 'fiscal cliff' and the related uncertainty surrounding the rate at which personal incomes and corporate earnings will be taxed beginning next year to the ongoing European fiscal and banking crisis and China's slowing economy. This means that the "Sold in the USA" portfolio may well continue to appeal to those investors seeking some kind of refuge from the offshore storms, at least.
To review the entire 150 names in the "Sold in the USA" model portfolio, please click on this link.
Disclosure: I have no positions in any stocks mentioned, and no plans to initiate any positions within the next 72 hours. I wrote this article myself, and it expresses my own opinions. I am not receiving compensation for it. I have no business relationship with any company whose stock is mentioned in this article.