A spate of wrong decisions mixed with a bit of bad luck and some stars sorely out of alignment had seen some bad days this year at OCZ Technology Group Inc. (NASDAQ:OCZ), a designer, manufacturer and distributor of solid-state drives and computer components. On Thursday, shares of OCZ surged more than 16%, heralding a return to good times for this small company that could actually present a good buying opportunity for technology sector investors. In this article, I am going to take a look at what the company is doing right and how that equates to a Buy; but first, some background.
Past Mistakes and Tough Times
Back in September, the company saw its founder and CEO, Ryan Petersen, step down, apparently related to the company's announcement the following month that it would post significant quarterly loss.
That loss, and the general problems at OCZ, legal and financial, can be attributed to Peterson's vision for the company. The former CEO wanted OCZ to become a dominant player in the consumer SSD market. This is one of the reasons why the company implemented a customer incentive program, which was basically a plan to price its SSD products very high. However, the over-aggressive pricing backfired, resulting in negative gross margins for OCZ.
Another major factor that had a negative impact on OCZ is the sluggish PC market. Indeed, OCZ is not the only tech company that is suffering. Even the likes of Intel Corp. (NASDAQ:INTC) and Advanced Micro Devices Inc. (NYSE:AMD) have been facing tough times due to weakening PC demand.
Under the former CEO, OCZ has historically relied heavily on the consumer side of the SSD market. This is a market that has not been doing so well with the influx of mobile computing. It is no surprise that the company - like others in the field - suffered.
New CEO Moving in the Right Direction
While macro factors such as weakening PC demand are beyond OCZ's control, the company is taking a step in the right direction with a restructuring plan it is implementing under its new CEO, Ralph Schmitt.
The plan addresses most of the problems that led to the recent worries at OCZ. Firstly, the company is looking to move into selling more higher-end consumer products. OCZ has a market capitalization of around $106 million and annual revenue of around $365 million (12 months ended February 29, 2012). The best strategy for a company that is the size of OCZ is to focus on selling higher-end and higher-margin products.
Secondly, the company is looking to focus more on the enterprise side of the market, which unlike the consumer side is expected to grow strongly.
Major companies such as Google Inc. (NASDAQ:GOOG), Apple Inc. (NASDAQ:AAPL) and Salesforce.com (NYSE:CRM) are realizing the benefits of SSDs and are implementing the technology at their datacenters. While the enterprise SSD market is dominated by companies such as Fusion-io (NYSE:FIO), and STEC Inc. (NASDAQ:STEC), the market is growing, as you can see from the chart below, and therefore there is room for OCZ to grow in this space despite the competition.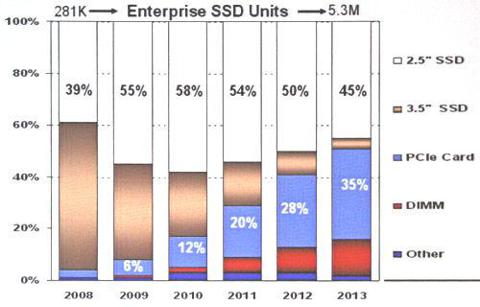 Evolution of Enterprise SSD market and SSD Distribution by Form Factor; Source; Gartner
Making Business More Efficient and Profitable
Earlier in the week, OCZ announced initial steps in a plan to make its business more efficient and profitable. The company said that it will initiate end-of-life (EOL) procedures to discontinue around 150 product variations. This includes a reduction in the value category by approximately 80%. The move will help in streamlining OCZ's product offerings in order to address the mainstream and higher-end consumer products, as well as enterprise and OEM solutions.
OCZ is also in the process of monetizing some inventory to better align its product offerings. The company expects the move to free up some much needed cash for business.
OCZ has also trimmed its global workforce by approximately 28%. This will help in reducing operating expenses and allow the company to invest in research and development.
New CEO is Optimistic
Ralph Schmitt, OCZ Technology's CEO, is bullish on the company's prospects. Commenting on the company's restructuring efforts, Schmitt said, "We are undergoing a transition phase in the Company's evolution in which we are refocusing our efforts on products and strategies that will benefit both OCZ and our stakeholders over the long term. We have already taken aggressive steps to address some short-term tactical challenges and have begun streamlining the organization to help ensure that OCZ will be in the best position moving forward to address the fast growing consumer and enterprise SSD markets."
So is OCZ a Buy?
Under the new CEO, OCZ is taking steps in the right direction. No surprise, the stock rallied on Thursday as investors cheered the restructuring plan announced by the company. If OCZ can continue to streamline its operations, improve its market share in the enterprise SSD market and improve its financial position, the company could be an attractive takeover target in the future, given its size. That could present a buying opportunity for investors.
Disclosure: I am long OCZ. I wrote this article myself, and it expresses my own opinions. I am not receiving compensation for it (other than from Seeking Alpha). I have no business relationship with any company whose stock is mentioned in this article.