There remains a great deal of confusion and misinformation about U.S. trusts and how to value these securities. This misunderstanding often leads to mispricing, giving savvy investors opportunities to buy high-quality royalty trusts at attractive valuations and elevated yields. No two royalty trusts are alike, so investors who sort through filings and quarterly reports can identify the best values.
At the same time, unwary investors who gravitate toward the highest-yielding names with little regard for underlying fundamentals can and will get burned.
Investors must also pay close attention to valuation and avoid overpaying for these names: We prefer to add to our positions when valuations fall below our estimate of net present value and take profits when the unit price surpasses our target by 10 percent.
Income-seeking investors should focus on royalty trusts that are in the early stages of their life spans and have the potential to grow their distributions in the near term. Prospective investors should also weigh each royalty trust's exposure to commodity prices.
In the coming weeks, Energy & Income Advisor will roll out a new table with our assessment of every publicly traded U.S. royalty trust.
SandRidge Permian Trust (NYSE: PER)
Exploration and production outfit SandRidge Energy (NYSE: SD) formed SandRidge Permian Trust in 2011. The trust and its sponsor share royalties based on oil and gas production from an area of mutual interest (AMI) that encompasses 15,900 net acres in Andrews County, Texas, an area of the Permian Basin that primarily produces crude oil.
Crude oil accounted for more than 90 percent of production in the AMI in 2011, while the reserves consist of 87 percent oil, 9 percent natural gas liquids (NGL) and 4 percent natural gas. With U.S. natural-gas prices still depressed and the price of WTI over $80 per barrel, the trust's oil-heavy production mix is a considerable advantage.
When SandRidge Energy created the trust on May 12, 2011, the AMI included 517 producing wells; the trust is entitled to receive 80 percent of the net proceeds from these wells until termination. Net proceeds are defined as the value of oil and gas sold minus post-production expenses such as production-related taxes and costs associated with gathering and transporting the hydrocarbons. For the year ended December 2011, total taxes and post-production costs amounted to $4.19 per barrel of oil equivalent produced.
In addition, SandRidge Energy agreed to drill 888 wells in the AMI. These developmental wells must conform to certain minimum standards in terms of length and depth, with the parent bearing 100 percent of the drilling costs. The trust is entitled to 70 percent of the net proceeds from sales of oil and gas lifted from these developmental wells.
When the trust launched, SandRidge Energy estimated that this drilling program would be completed by March 31, 2015, though the sponsor has until March 31, 2016, to sink the required wells.
The structure of the trust includes two provisions that will insulate the trust's cash flow from fluctuations in oil prices, at least in the near term.
From the beginning of 2012 through the end of March 2015, hedges contributed by SandRidge Energy will cover about 78 percent of the trust's projected cash flow. For example, management estimates that a 15 percent decline in the price of WTI crude oil relative to its estimates wouldn't affect the trust's ability to pay its forecast quarterly distribution.
The trust's subordinated-unit structure also reduces risks associated with volatile commodity prices. SandRidge Energy holds 13.125 subordinated units-about one-quarter of the overall float-that entitle it to a normal quarterly distribution. However, if the trust's quarterly disbursement falls more than 20 percent short of a predetermined payout, some of the distributions accruing to the subordinate units will be reallocated to ensure that regular investors receive at least 80 percent of this target.
Four quarters after SandRidge Energy fulfills its drilling obligations, the subordinated units convert to common units.
As compensation, SandRidge Energy earns incentive distribution payments when the quarterly payout to unitholders exceeds the target by 20 percent. This bonus is a small price to pay for the peace of mind provided by the subordinated-unit structure.
After the subordination period ends and the hedges expire, SandRidge Permian Basin Trust's distributable cash flow will fluctuate with oil prices and the wells' natural decline rates. When the trust terminates on March 31, 2031, the royalty interest will be sold and the proceeds divvied up among unitholders as a final distribution.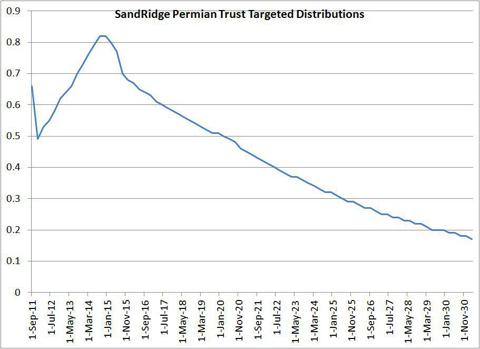 Source: SandRidge Permian Basin Trust S-1
This graph depicts the trust's targeted distributions levels at the time of the trust's IPO in 2011. Note that the initial distribution appears elevated because it covered one-and-a-half quarters of production. A third-party auditor expects the targeted distribution to climb in the first three to four years as SandRidge Energy drills and completes the 888 developmental wells.
Soon after this drilling program ends and production starts to decline, the trust's quarterly payout will gradually diminish until the termination date in 2031. The estimates call for the distribution to peak at more than $0.80 per unit in late 2014 and drop to less than $0.20 per quarter by 2031. Proceeds from the sale of the royalty interest, estimated at $1.63 per unit, aren't included in this graph.
SandRidge Permian Trust has paid four distributions since going public in 2011; all of these disbursements exceeded the target established in the trust offering documents. These higher-than-expected distributions don't reflect improved commodity prices; in fact, oil prices are significantly lower than SandRidge Permian Basin estimated in its initial S-1 registration statement.
The oil price assumptions that underlie the trust's targeted distributions reflect futures prices from mid-July 2011, when the market indicated that WTI crude oil would fetch more than $100 per barrel in the third quarter of 2012. Even with the hedges in place, oil prices of $87 per barrel have weighed on SandRidge Permian Basin Trust's cash flow.
Assumptions about the timing of SandRidge Energy's drilling program must also be adjusted. With only 541 of the 888 wells left to drill, the trust's sponsor will fulfill this obligation by mid-2014 if development occurs at the same pace. This accelerated drilling program has also bolstered production beyond expected levels. In the second quarter of 2012, oil production exceeded forecast levels by 13 percent, while gas production was 14 percent ahead of plan.
My base valuation scenario assumes that SandRidge Permian Basin Trust achieves its peak distributions in late 2013-a year earlier than expected-and that the distribution begins to decline in early 2014. Using a 7.5 percent discount rate, our NPV model yields a fair value of $20.50 per unit.
This graph compares the original targeted distributions published in SandRidge Permian Trust's S-1 statement to the assumptions underpinning our valuation model. As you can see, our model calls for distributions to peak ahead of schedule and then follow a similar decline rate as production matures.
Note that the net present value doesn't necessarily constitute a price target. An investor who purchases a stake in SandRidge Permian Basin Trust at $20.50 per unit or less can expect to earn an average annual return of about 7.5 percent by holding the stock and collecting distributions-assuming that the scenario underpinning the model plays out.
Our bullish case assumes that the trust meets its targeted quarterly distributions up until its termination in 2031. This set of assumptions generates an NPV of about $22 per unit. Assuming that the trust meets its targeted distributions up until 2014 and subsequent payouts fall 15 percent short of projections yields an NPV of $19.25 per unit. Our base-case estimates for the next four quarters suggest that the stock yields about 13.1 percent at the current quote.
SandRidge Permian Trust is taxed like a master limited partnership, a topic we covered at length in Just Passing Through. According to the trust's S-1 statement, about 55 percent of the distributions you receive will be taxed as ordinary income, while the remaining 45 percent would be a tax-deferred return of capital.
SandRidge Mississippian Trust II (NYSE: SDR)
SandRidge Energy likewise structured SandRidge Mississippian Trust II in a manner that should generate significant production and distribution growth in the first three to four years after the IPO. The trust produced 4,655 barrels of oil equivalent per day at the end of 2011, with production expected to peak at 7,753 barrels of oil equivalent per day by January 2016.
The trust's AMI comprises 53,000 net acres in the Mississippian formation, an oil- and gas-bearing play in Oklahoma and southern Kansas. Unitholders are entitled to receive 80 percent of the net proceeds from sales of hydrocarbons extracted from 67 existing horizontal wells in the AMI that target the Mississippian interval.
The trust's sponsor has also committed to drilling 206 horizontal developmental wells on the AMI before the end of December 2015. Trust unitholders will receive 70 percent of the net proceeds from the sale of oil and gas minus applicable post-production costs.
The Mississippian is located between 4,000 and 7,000 feet below the surface, and the trust's royalty rights apply only to wells drilled in this formation. Horizontal wells, which involve drilling down and then laterally, enhance productivity by exposing more of the productive layer. This advanced drilling technique has given the Mississippian and other mature basins a new lease on life.
Over the course of this drilling program, rising production should fuel significant distribution growth. However, once SandRidge Energy completes its last developmental well, output will likely drop sharply before stabilizing at a gentler decline rate.
Once again, SandRidge Energy has structured the trust in a way that protects unitholders from volatile commodity prices in the early years of its life cycle. Not only has the trust hedged about 69 percent of projected oil and gas production through 2014, but some quarterly hedges also exceed this coverage rate. For example, hedges cover about 87 percent of SandRidge Mississippian Trust II's anticipated output in the third quarter of 2012.
SandRidge Energy also subordinated about 12.5 million units, equivalent to one-quarter of all outstanding trust units. When the trust's quarterly distribution falls 20 percent short of the targeted rate, the subordinate units forego a portion of their payout to ensure that the regular unitholders receive 80 percent of the estimated payout.
To date, SandRidge Mississippian Trust II has paid two distributions, both of which exceeded the targets established in the trust's prospectus. In the three months ended May 31, oil production from the AMI topped forecast levels by 12 percent, while natural gas output was up 17 percent.
In this same period, SandRidge Energy brought 33 wells into production, a pace that suggests the sponsor could fulfill its drilling obligations a year earlier. But management recently commented that the pace of drilling would slow somewhat in coming quarters.
Although WTI crude oil fetches almost $20 per barrel less than the commodity price assumptions underpinning the trust's distribution estimates, hedges should protect the distribution from these headwinds and oil prices should rally over the longer term.
However, investors should be forewarned that natural gas accounts for 53 percent of production in SandRidge Mississippian Trust II's AMI, with oil representing the remaining 47 percent.
Fortunately, prevailing natural gas prices are about 50 percent higher than the price assumptions SandRidge Mississippian Trust's distribution targets-a considerable tailwind in coming quarters.
Our base case calls for the trust's distributions to exceed targeted levels over the next two years but peak before scheduled because of SandRidge Energy's accelerated drilling program. In this scenario, we expect production to decline significantly after drilling ceases and to remain below target for the remainder of the trust's life. These assumptions and a 7.5 percent discount rate yield an NPV of $22 per unit.
Meanwhile, the bearish scenario assumes that SandRidge Mississippian Trust II meets its distribution targets over the next two years and includes the same decline-rate assumptions as the bullish case. This set of assumptions results in an NPV of about $19 per unit. The yield based on our estimate of the trust's next four quarters' worth of distributions should be roughly 13 percent.
Disclosure: I am long PER, SDR. I wrote this article myself, and it expresses my own opinions. I am not receiving compensation for it (other than from Seeking Alpha). I have no business relationship with any company whose stock is mentioned in this article.