A hot new dividend has just been brewed. Starbucks (NASDAQ:SBUX) not only announced a record fourth quarter result but also decided to put more money into investors' pocket by increasing its dividend. This article was written back in June highlighting Starbucks' potential as a dividend growth stock. Now, with this new increase it is time to recheck the story. Let us get into the details.
New Dividend: The new dividend of 21 cents a share represents a 24% increase from the previous payout of 17 cents per share. This will likely be paid in the first week of December, with an ex-dividend date in the middle of November.
Payout Ratio: The payout ratio has now increased to 46% from the 40% at the time of the previous writing. However, with the company also increasing its 2013 projections, the slight increase in payout ratio should not alarm the investors.
Cash on Hand: In addition to a moderate payout ratio, cash on hand comforts investors about a company's ability to meet and exceed its dividend obligations. This might be more important for companies like Starbucks that are still growth stories and hence have higher capital expenditures. Starbucks is inching towards the $3 billion mark in this regard. The chart below shows a jump to $2.5 billion from the $2.2 billion at the time of the previous article. Also note that this figure does not include the record 4th quarter's addition to the cash pile.

(Source: YCharts.com)
Dividend Growth: Dividend growth investors usually 'accept' a stock when it has grown its dividend for 5 consecutive years. Starbucks does not meet that criteria yet but there is very little doubt that the stock will continue pouring cash to investors. Since the first dividend payment in April 2010, Starbucks has increased its dividend by an average of 28% over 3 years.
Extrapolation: Granted, this pace has to slow down sooner than later, especially given the company's willingness/keenness to expand. But a 10% increase can very reasonably be assumed for the next 5 years. And let us cut it down to 7% a year for years 6 to 10. The table below shows your future yield on original cost.
Note 1: Remember, Starbucks is still more a growth stock than a dividend stock with earnings expected to grow at 20% per year over the next 5 years.
Note 2: The assumed dividend increase percentages for the next 10 years are almost depressingly low given the company's recent history and growth potential. The point is to show even under this condition, one can double the yield on cost in addition to a (very likely) nice capital appreciation.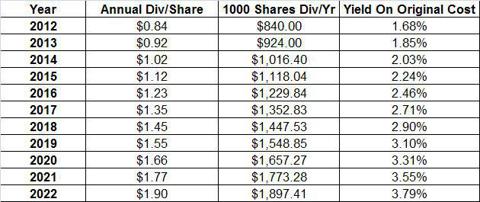 Conclusion: So, while it is almost a given that growth investors are appreciative of Starbucks, this exercise shows Starbucks is perhaps one of the few companies out there that both growth and dividend investors could appreciate. Talking about growth and dividend, maybe Starbucks is the next addition to this growth, dividend and dividend growth portfolio.
Disclosure: I have no positions in any stocks mentioned, and no plans to initiate any positions within the next 72 hours. I wrote this article myself, and it expresses my own opinions. I am not receiving compensation for it (other than from Seeking Alpha). I have no business relationship with any company whose stock is mentioned in this article.