Yesterday LinkedIn (NYSE:LNKD) produced a top line revenue beat and apparent bottom line earnings beat in the form of Non-GAAP EPS of $0.22. Not surprisingly, the talk has resumed about LinkedIn's outperformance; both of the general market, as well as its social media comparables. However upon closer inspection two important facts need to be considered:
The stock has traded relatively flat since its IPO debut (albeit with significant swings)
GAAP Net income has declined over the last four quarters
Anyone who received shares in the IPO allocation has undoubtedly received a sizeable gain. However since IPO, LinkedIn, while consistently beating expectations, has failed to produce meaningful new stock highs and earnings beats.
For example, on the Q2 2012 earnings announcement the stock jumped over 15% to close above $110 two days later. As of last night, the Q3 earnings result produced a similar jump, with the stock trading up to $115. While this does point to some stock price appreciation, it is rather insignificant for a stock that has traded in a $60 range since its IPO.
There has been much talk of LinkedIn's outperformance on the longer term as well. With the stock currently trading near its highs, this may be somewhat true. However the reality is that the stock has failed to have any significant breakout above the highs it set on its IPO debut.

Source: http://data.cnbc.com/quotes/LNKD/tab/2
On its IPO the stock touched $122.69. It failed two months later to make a new high at $115 and then again sold off. In May of this year the stock broke $120 only to fall below $100 again. Finally, September and October looked like it may finally break through resistance, however significant distribution in the form of heavy insider selling pushed the stock back down.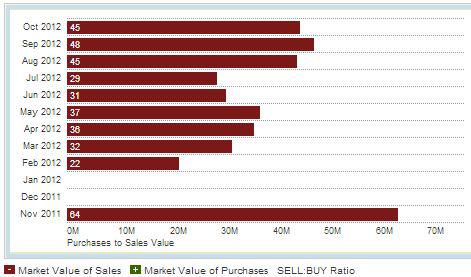 Source: http://data.cnbc.com/quotes/LNKD/tab/8.3
The question that remains is this: is there anything to justify a surge in momentum through the resistance level around $125 and finally break through to meaningful new highs? This is highly subjective, and one can argue that the stock is trading void of any fundamentals (as this author believes).
That being said, there have been considerable examples of stocks trading void of fundamentals for extended periods of time. There have been recent examples with comparable social media stocks. There was also the technology bubble, where a considerable amount of stocks traded at extreme valuations for an extended period of time. Suffice to say, it is definitely possible.
In regards to the Q3 2012 earnings results, there already has been many positive analysis posted about the results. Anyone who has followed this author's previous posts will be aware of an overwhelmingly bearish tone on LinkedIn. With last nights earning announcement, this outlook has not changed.
In light of the Q3 earnings, the following demonstrates what the author believes to be important and worth consideration for anyone maintaining a bullish thesis:
The Non-GAAP EPS of $0.22 has so far been viewed as a beat; this is debatable. What isn't debatable however is that the company generated $2.3 million in GAAP net income for the quarter, or a measly $0.02 EPS. This is no beat, GAAP net income for the last 16 quarters has ranged from -$2.9 million to $6.9 million, and $2.3 million is right in the middle of that range. More importantly, GAAP net income has declined for the last four quarters!. This for a company with a $10+ Billion market cap?

The company reported more than 187 million members; their Q2 number was 175 million. If one looks at the last 2 years a significant declining growth rate in new member registrations can be seen, something not so different to what has been seen with Facebook (NASDAQ:FB). One need not discuss how Facebook's stock has performed. This declining growth rate for LinkedIn poses a difficulty for a stock trading on high multiples and a high growth rate already built into its valuation.

Despite all the "Strategic Announcements" and increases in engagement, revenue growth rate continues to decline. The growth rate is still high and impressive, however one can argue that this has already been built into the stock price. Further, CEO Jeff Weiner admits to seeing macro headwinds in Europe and Asia, two important markets for maintaining growth.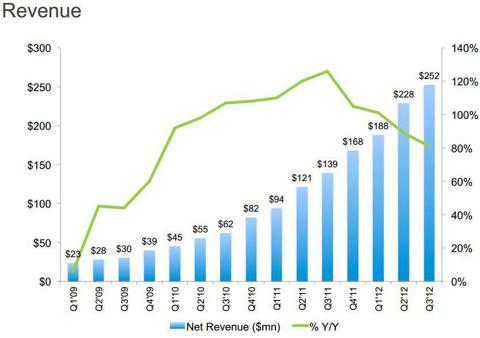 A final point of concern is that comScore PC page views have fallen the last 2 quarters because of the mobile shift. This comes in direct opposition to claims of increased engagement. However as this article has focused on more of a financial analysis, this issue will be revisited in a follow up article in the near future.
So too summarize, and remove all the "highlights", "Strategic Announcements", etc..., it is the opinion of the author that the following raises considerable concern for anyone maintaining a bullish outlook:
The stock has failed to create meaningful new highs
Revenue growth rate is declining
User growth rate is declining
GAAP Net income is declining
Will the previous momentum in August and Septembers resume, despite significant and consistent insider selling? Or is this just another pop that will be followed with significant selling once the numbers are thoroughly digested? Only time will tell.
If the stock does break to new highs on significant volume, any remaining shorts certainly will be in trouble. However given the stock's failure at this level on multiple occasions, this will be no easy task.
*All relevant financial information sourced from http://investors.linkedin.com/
Disclosure: I am short LNKD. I wrote this article myself, and it expresses my own opinions. I am not receiving compensation for it (other than from Seeking Alpha). I have no business relationship with any company whose stock is mentioned in this article.