It is no surprise that after Tempur-Pedic (NYSE:TPX) released its Q3 2012 earnings, investors dumped shares in after-hours trading, causing a whopping 20% drop. Tempur-Pedic closed at $25.40 per share on October 26, 2012 - down more than 50% year-to-date - mainly caused by three huge single-day selloffs. The first sell-off happened on April 20, after Tempur-Pedic confirmed its FY 2012 guidance at the lower range of analysts' estimates. At that moment, we realized the company's growth was no longer accelerating. The second sell-off happened on June 6, after Tempur-Pedic issued its Q2 2012 guidance below analysts' estimates, and lowered FY 2012 guidance. We saw that the company was losing the competitive advantage that it once had. The third and most recent sell-off happened on October 23, after Tempur-Pedic reported disappointing quarter results. It is clear now that the company is no longer the high-growth, industry-dominating company it once was.
Sales for Q3 2012 declined 9% (down 7% on a constant currency basis) compared to Q3 2011. North American sales declined 14%, while international sales increased 3% (increased 11% on a constant currency basis). EPS for Q3 2012 was negative $0.03, which is largely caused by one-time charges related to the Sealy (ZZ) acquisition. Adjusted EPS was $0.70, which excludes the tax impact from the repatriation of foreign earnings and the Sealy transaction costs, but includes an after-tax $0.09 per diluted share benefit from the long-term incentive stock compensation adjustment. However, the adjusted EPS is still down 22% compared to an EPS of $0.90 for the same quarter last year.
During Q3 2012, North American direct channel sales decreased by 15% to $17 million. One reason could be that consumers were more cautious before making purchases. Instead of buying directly online, they went to retail stores. The problem is that retail stores often carry competitors' models that are similar and less expensive. Management stopped mentioning website traffic growth after Q1 2012 earnings call. We believe that even if website traffic is still growing, the conversion rate remains low.
Also during Q3 2012, North American mattress sales decreased 15% on an 8% decrease in units. This means more customers were buying less expensive models. This trend is not favorable to Tempur-Pedic because the company's line-up is generally priced higher than many competitors, and less expensive models have lower margins. The company expects continued weakness in U.S. sales in the near future, and estimates a 10% U.S. sales decline in Q4 2012.
We compared search terms "tempurpedic", "foam mattress", "spring mattress", and "gel mattress" using Google Trends, which shows historical search volumes for these terms. Although the result is no indication of sales trend, it does show how interested people are in each compared subject over time. The first below chart shows that since 2004, search volumes for "tempurpedic" and "foam mattress" are high, with "foam mattress" steadily increasing and "tempurpedic" experiencing a major decline since 2012. Search volume for "spring mattress" has been low, and while it's also true for "gel mattress", we see a nice up trend since late 2010.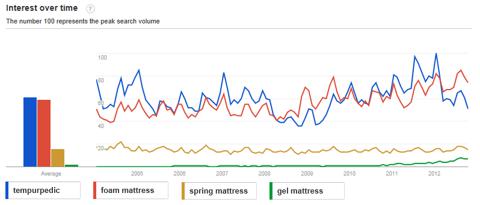 Source: Google Trends (as of 10/28/2012)
The chart below shows the search trend for "gel mattress" alone. We see that the interest for "gel mattress" has been exploding lately. These trends could partially explain Tempur-Pedic's recent disappointing performance, as cheaper and successfully marketed gel foam mattresses took away market shares.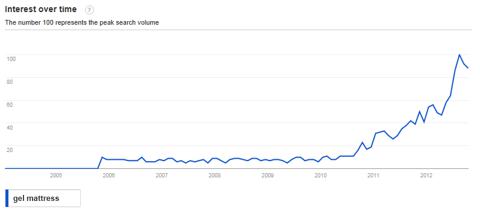 Source: Google Trends (as of 10/28/2012)
Management has been making major changes to adapt to the new market environment. During Q3 2012, Tempur-Pedic launched five new mattresses and discontinued two. The company extended warranties of its U.S. mattresses, and adjusted advertising. However, the biggest news occurred on September 27, 2012, the day when Tempur-Pedic announced the acquisition of Sealy. The announcement was viewed favorably by investors. However, we still see a gloomy future for the combined company.
Tempur-Pedic's competitive environment has changed drastically since the start of 2012; the specialized mattress segment that was once dominated by Tempur-Pedic is now crowded with competitors. This acquisition does not change this fact. Sealy is a barely profitable business; it reported losses for FY 2010, FY 2011, and Q3 2012. As of August 26, 2012, Sealy's liabilities exceeded its assets. Unless Tempur-Pedic sees a big potential for the combined company, the acquisition does not seem like a good move. While the acquisition does bring potential benefits such as shared technologies, cost savings, and a broad portfolio of products which could smooth the cyclical performance of individual product lines, we do not expect the combined company to resume the kind of growth Tempur-Pedic had experienced during 2010 and 2011.
The only material benefit we see at the moment from the acquisition is cost savings due to synergy. The company expects savings to be realized through purchasing, supply chain and increased efficiencies, and to reach $40 million by 2015. While Tempur-Pedic will only pay about $230 million for Sealy's equities, it also will assume Sealy's massive debt, making the total transaction to cost approximately $1.3 billion.
The acquisition is an all-cash transaction that will be financed with cash and $1.9 billion of new indebtedness, including the refinancing of Tempur-Pedic's existing debt. Tempur-Pedic had EBITDA of $318.7 million in the twelve months ended on September 30, 2012, and Sealy had EBITDA of $117.6 million in the twelve months ended on August 26, 2012. The transaction will put the combined company heavily burdened with debt, at about 4.4x debt to EBITDA, compared with Tempur-Pedic's current 2.0x debt to EBITDA as of September 30, 2012. While we estimate the acquisition of Sealy will give Tempur-Pedic an increase in EBITDA of more than 35%, we also estimate the company will have an annual interest expense of $90 million, which is an increase of more than 400%. During the M&A conference call on September 27, 2012, Tempur-Pedic's CFO Dale E. Williams said "within four to five years, we will have the business de-levered back down into the 1.5 to 2x range." Assuming in the five years after the acquisition, both Tempur-Pedic and Sealy's EBITDA grow at their five-year compound EBITDA growth rate as of the end of Q3 2012.
Under this assumption, Tempur-Pedic's EBITDA will grow 3.4% per year, and reach $376.7 million at the end of year five; Sealy's EBITDA will decrease 12.9% per year, and end at $59.0 million. Adding the two and the expected $40 million cost benefit, the combined company will have an EBITDA of $475.7 million. A 2x debt to EBITDA ratio would imply outstanding debt of $951.4 million, which means in order to achieve its five-year de-leverage goal, the company will need to pay off about $950 million of debt in five years, or annual reduction of $190 million. Note that this is in addition to the $90 million interest expense previously mentioned. While it is possible that the combined company will experience higher growth than the assumed scenario, one thing is for certain: In order to maintain its de-leverage goal, Tempur-Pedic will have no choice but to spend a big chunk of its cash flows to pay off debt, with a high probability of continued repatriation of foreign cash (more tax expense, which will hurt earnings). Meanwhile, there would be little left for shareholders.
Tempur-Pedic had enjoyed a period of high growth in 2010 and 2011 due to its unmatched competitive advantage. However, the playing field has changed; the specialty mattress segment is now crowded with similar and less expensive products. It is very unlikely that Tempur-Pedic will reclaim its market dominance, and the acquisition of Sealy tells us that management is trying to adapt the new environment by changing the business strategy from niche market to broad market focus. There are many uncertainties ahead for Tempur-Pedic, and we believe the combined company will at best achieve a low growth rate. We feel that the recent sell-off is justified.
Disclosure: I have no positions in any stocks mentioned, and no plans to initiate any positions within the next 72 hours. I wrote this article myself, and it expresses my own opinions. I am not receiving compensation for it (other than from Seeking Alpha). I have no business relationship with any company whose stock is mentioned in this article.
Additional disclosure: This article was written by an analyst at Saibus Research. Saibus Research has not received compensation directly or indirectly for expressing the recommendation in this article. We have no business relationship with any company whose stock is mentioned in this article. Under no circumstances must this report be considered an offer to buy, sell, subscribe for or trade securities or other instruments.