I concluded my most recent article on Dendreon (NASDAQ:DNDN) with the plea: "Lord, show me a sign." Whether or not that had anything to do with the results released by the corporation before the market opened on Friday, November 2, 2012, is anyone's guess. But there is no question shareholders and the Street alike breathed a sigh of relief on the news, and the stock is rebounding as this article is being written. Net product revenue came in a $78 million, compared to $61 million for the quarter ended September 30, 2011, up 27% year over year and down 2.5% on a sequential basis. Excluding certain named expenses and other non-cash charges, the Company had a non-GAAP loss of approximately $50 million, or $0.33 per share. Just as important-if not more so-is the fact restructuring is on track. The cost of goods sold (COGS) dropped to 66%, indicating that the corporation's cost-cutting plans announced 3 months ago are ever so slowly evidencing result. As noted in the press release this morning, the company expects to continue to reduce cost of goods sold (COGS) and anticipates seeing COGS below 50% following the closure of the Morris Plains, NJ facility, which is scheduled to close by the end of 2012. (COGS for 4Q12 are expected to be approximately 65%.)
Let's talk a little about COGS, why they are important, and how they can tell us something about the value of the company today and potentially down the road a year or two as an acquisition target by Big Pharma.
The reduction in the COGS can be expected to accelerate during the remainder of 2012 and especially into 2013. Recall from the previous conference call on July 30, 2012, the COGS for the quarter reported was 77%. To further cut costs, the corporation announced the decision to close its New Jersey manufacturing facility, something it intended to implement fully in the fourth quarter of this year. According to Dendreon's CFO Greg Schiffman at the time, "[F]ollowing the close of New Jersey operations, we expect the cost of goods sold of less than 50% down from 77% this quarter."
Even greater reductions should be expected in the first two quarters on 2013. General and Administrative (G&A) expenses are expected to drop by more than 35% over the next 9 months. As well, significant improvements in the automation of operations at the Atlanta, GA, and Seal Beach, CA, manufacturing facilities also are expected to contribute to the reductions in COGS.
These initiatives have been briefed to the Street by the Corporation in a number of venues, and are summarized in the three figures below (courtesy Dendreon Corporation) from an earlier presentation.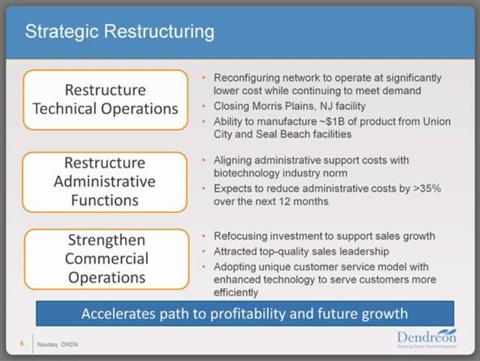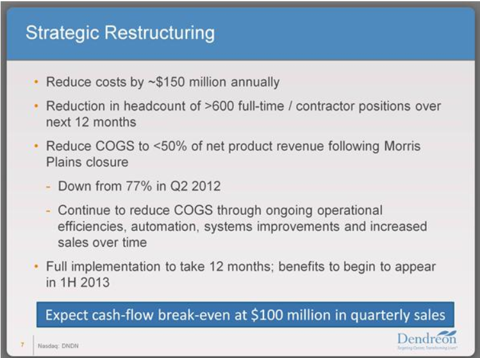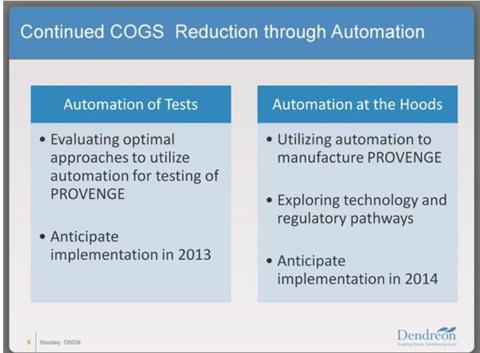 What's the ultimate goal? According to Schiffman, and this was before the closing of the New Jersey plant was announced, the improvement in the COGS, once the benefits of automation were achieved, was expected to bring this critical metric to between 20% to 30%.
Now, there's a number that will get both the Street's and an acquirer's attention! Why, because Big Pharmas, basically, are in the gross margin business. It's not the multiple of revenue that excites the big guys…it's the multiple of gross margin. The reason for this is when a Big Pharma looks at a biotech, its management makes a series of assumptions. They know they can sell more product than the biotech company simply because of their huge market presence. So, they make their own (higher) sales projections. As well, the potential buyer usually has an overlapping sales force that will sell the product. So, the first cost they eliminate is the sales and marketing line. They also have their own administrative functions, so all of the biotech's general and administrative (G&A) costs are eliminated from the analysis. Finally, the remaining operating expense, research and development (R&D) is applicable to the overall R&D spending of the Big Pharma, in many cases, so it shifts to a different profit and loss (P/L) statement.
In the end, the potential buyer is left with the 'contribution' to be realized from sales, where the only costs they are measuring are the COGS. Put another way, all the other costs already are being captured in the parent corporation's income statement. This margin should be high to justify the acquisition and support their sales force commissions…but at first 'blush,' the potential acquirer will be concerned with gross contribution.
So, instead of an acquirer paying, say, 8X annual revenue for a biotech company, which, arguably, is a reasonable multiple for biotechs in takeover situations, Big Pharma would be more inclined to think in terms of paying 10X (or more) gross margin.
To get an idea how this works, let's look at some recent takeovers-and one attempted takeover-to get some idea of the metrics involved. Below is a table showing the action in four recent bids.

Shown are Bristol-Myers Squibb's (NYSE:BMY) bid for Amylin Pharmaceuticals (formerly AMLN), GlaxoSmithKline's (NYSE:GSK) bid for Human Genome Sciences (formerly HSGI), Roche Holding AG's (NYSE:ROG) failed attempt to take over Illumina (NASDAQ:ILMN), and Gilead Sciences' (NASDAQ:GILD) takeover of acquisition of Pharmasset (VRUS). I've selected these four because they were recently in the news, had a high profile, and instruct our analyses of what Big Pharma is willing to pay to fill out its pipeline. The bid that failed is just as instructive as the two the succeeded. The GSK-HGSI bid demonstrates even a company that was struggling the way HSGI was can attract a suitor if the technology product(s) involved are considered a prize. Remember, Human Genome had been troubled by a 69% stock decrease in 2011 (does that sound familiar?) and anemic sales of its lupus drug, Benlysta. In HGSI's case, the takeover was intended to expand GSK's drug portfolio in crucial areas: biologic drugs and treatments for the hundreds of millions of people with diabetes and heart disease. How did HGSI get away with purchasing HGSI at such a low price? Here's what one writer said even before the bid was made (August 2011): 'Citing "disappointing" July sales estimates for Benlysta from the Netherlands-based professional service firm Wolters Kluwer NV, Piper Jaffray & Co. analysts Ian Somaiya and Do Kim said that Rockville, Md.-based HGSI could be worth between $21 and $26 per share, or $4 billion to $5 billion, in an acquisition by Glaxo. The average takeout acquisition for biotech companies between 2006 and 2010 was 6.9 times sales, the analysts wrote in a note to investors. London-based Glaxo could get away with the $4 billion to $5 billion price tag, a 4 to 5 times sales multiple, because the partnership on Benlysta would prevent other competitive bids, the analysts argued.' [emphasis added] It's interesting to note the deal finally was consummated in 2012 for $3.6 billion, well under the lowball estimates cited above. This was a result of disappointing sales and of management's failure to control expenses. Yet, when the smoke cleared, HGSI was purchased at almost 20 times annual revenues and a whopping 25 times gross margins. And the premium paid over the price when the bidding began was a stunning 100%. Who would have guessed?!
In the case of the BMY-AMLN takeover, we see BMY paying 8.4 times annual revenue for AMLN. Correspondingly, they paid almost 11 times gross margins in the final assessment. This is consistent with other estimates for these two metrics, which variously have put the first at 7 to 10 times revenues and the second in the range 10-13 times gross margins. (Personal communication, premium member, DNDN Investor Village Message Board, October, 29, 2012). Importantly, it very well might explain why the attempted takeover of IMLN by Roche failed. Note their final offer was 6.1 times annual revenue while they never touch 9 times gross margins. Though simplistic to be sure, it does tend to explain why the IMLN board of directors shunned the offer.
Before going further, it should be noted trading valuations tend to be in the 4X to 6X revenue for mature, slower, or non-growth biotechs not viewed as acquisition targets.
With the above as background, and to keep the length of this article down, let's look at various estimated takeover valuations for Dendreon from different perspectives. Readers are free to run the same calculations using the multiples provided above so as to determine reasonable estimates for the current trading valuation.
As noted, the multiple of revenues paid for biotechs is not a fixed number, but let's use 8 as a nominal value for purposes of the calculations below. First, let's estimate DNDN's revenues for the year at $325.38 million. Multiplying this by 8 and dividing by 150 million shares outstanding yields a takeover value of $17.35 per share, more than a 200% premium over the current price at the close last night (Thursday, November 1). Given the current share price, you would think the company could be purchased at significant discount to this figure.
So why hasn't Big Pharma snapped it up? The COGS at the end of the 3Q12 give us one answer. If we take 34%-that is, 100 percent less the current COGS percentage-of the $325.38 million, we arrive at a rough estimate of Dendreon's gross margin. This number is roughly $111 million. Now, multiplying that number by a factor of, say, 10 and dividing by 150 million yields a conservative, estimated takeover value of $7.37 per share. Interestingly, this is above the $6.50 mean target of the sell-side analysts who follow the company. Their $6.50 value is not an estimated takeover value. Again, the computation here is to determine a takeover value. As noted above, trading valuations tend to be in the 4X to 6X revenue for mature, slower, or non-growth biotechs not viewed as acquisition targets.
Again, you might think this would make the company easy prey for a takeover, hostile or otherwise. But don't forget…DNDN has a poison pill in place to ward off such situations. In fact, a recent Amendment to the corporations bylaws reduced the threshold at which a person or group becomes an "Acquiring Person" under the Rights Agreement from 20% to 4.95% of the company's then-outstanding shares of common stock. Regardless, I doubt a potential acquirer would want to purchase the company at this point for, among other reasons, the desire to confirm, first, there indeed is a large and sustainable market for Provenge and second, the business model supports significantly lower COGS. Put another way, I believe Big Pharma, is playing a waiting game until president and chief executive officer John Johnson and his management team fully transition the company to a functional, profitable drug company.
Let's continue our discussion of COGS. Interesting things happen when they drop, even if revenues don't increase-that is, even though the takeover value determined using the revenue-based model stays the same. Assume in the calculation above management drops the COGS to 50%. Now, the gross margin increases to $163. (These are rough, 'back of the envelope' calculations, but they should be in the ballpark for our purposes.) Ten times that number divided by the number of outstanding shares is $10.55 per share...a significant increase in value and considerably more than what a determination based on revenues would suggest. This, probably better than anything, demonstrates why management is so focused on driving the COGS down to below 50% as quickly as possible.
With COGS of 30%, even for the same level of sales as today, the takeover value would rise to $15.18 on a gross margin basis. This value is slightly under, though consistent with, the $17.35 per share value we computed based on 8X current revenue, demonstrating unequivocally how today's high COGS are depressing shareholder value.
With COGS at 30%-and perhaps even before, with revenues on the rise-it's highly likely Big Pharma will begin knocking on John Johnson's door. Without a doubt, Big Pharma, with its huge marketing capabilities, could more effectively and efficiently market Provenge both here and abroad. Johnson & Johnson (NYSE:JNJ), BMS, Sanofi (NYSE:SNY), and others in the urology/oncology field already are marketing everywhere Dendreon is marketing. All any potential acquirer would want to see are a steady ramp-up in sales and assurance Dendreon's COGS can be brought down sufficiently far such that the acquisition would drive growth and improve both top line and bottom line performance almost from Day One of the acquisition.
Clearly, Dendreon has a long way to go before the COGS are in the 20% to 30% range, something we should not expect to see until, perhaps, the financial results of 2Q13 are reported. But at least the data just released suggest this important metric is on the correct trajectory.
Another reason we have not seen a takeover attempt, perhaps, is DNDN is unique in that Big Pharma has no experience in the cost side of Dendreon product. They understand what's necessary to develop, perform clinical trials using, market, and sell pills. They have no knowledge of the logistics of the Dendreon business model. So they can only 'react' to the reported COGS…not to the expected improvements from the cost savings projected by Dendreon management. Big Pharma may not have truly understood the impact of the excess capacity Dendreon had with its three plants, but the big players in the pharmaceutical sector certainly understood their impact: low gross margins.
In the end, I think the reason we haven't seen an acquisition attempt (not that discussions have not occurred or that interest may not have been shown) is that any value Big Pharma would bid using today's data would simply be too low for Dendreon's board of directors to accept.
So, how does Dendreon management 'change the equation' as quickly as possible? I believe the company can dramatically change what a bidder might pay by doing four things, all of which management is doing, and should do, whether they are intent on selling or growing the business:
1. Get the COGS below 50%-FAST-and create a path that says, for example, they will go to 25% over a 2-year time period…or sooner. (This should double both the gross margin and the company's value)
2. Obtain European approval. Johnson & Johnson's Zytiga obtains 50% of its sales outside the US. If Dendreon received approval and began selling in the EU, it would open a market greater than that found in the US. (Again, the higher contribution to revenue would lead to a corresponding increase in the company's valuation.)
3. Get the business to cash flow breakeven as quickly as possible. Currently, the requisite level of revenue is $100 million in sales per quarter. The company should achieve this within the next few quarters following the expanded and reinvigorated sales and marketing effort already put in place. (Importantly, achieving cash flow breakeven stops the dilution caused by debt expansion.)
4. Aggressively grow the base business. If sales grow 30%, say, the value of the corporation will grow by more than 30% because both sales and the multiple of sales will be higher.
Finally, let there be no mistake as to the purpose of this article. It is not (I say again, NOT) intended to 'pump' DNDN or to encourage the purchase of the stock in anticipation of a takeover. (It is never a good idea to purchase a company's stock solely on the possibility of the company being taken over.) This article is intended to shed light as to why both the corporation and Wall Street are so fixated on COGS. Moreover, it is intended to explore the work Dendreon management must accomplish-and, indeed, is bent on accomplishing-before the company, regardless of how you compute it, will be attractive to a potential acquirer…or can take its place among the more viable independent companies in the biotech universe.
Once you understand the importance of COGS and how they impact on the value of the company, you will understand better one of the main factors driving the share price in today's stock market.
Technical Analysis (based on the close, Thursday, November 1, 2012)
The Daily chart, courtesy StockChart.com, shows the stock closing Thursday at $3.85. The Relative Strength is just above oversold levels, and the MACD is neutral. The drive to this level largely was (in my opinion) the result of end-of-quarter/year-end mutual fund window dressing and a lack of investor confidence in management's ability to at least equal last quarter's revenues, much less reduce further the previous quarter's COGS.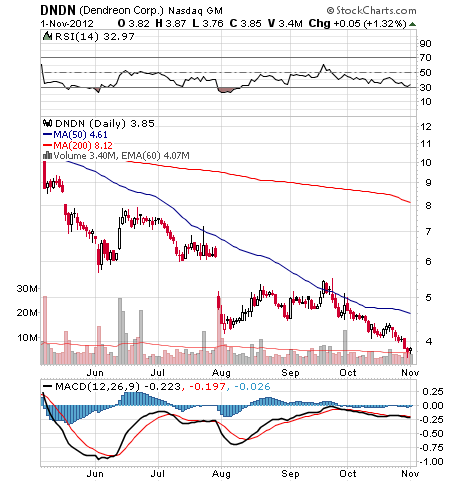 The Weekly data tell much the same story as above.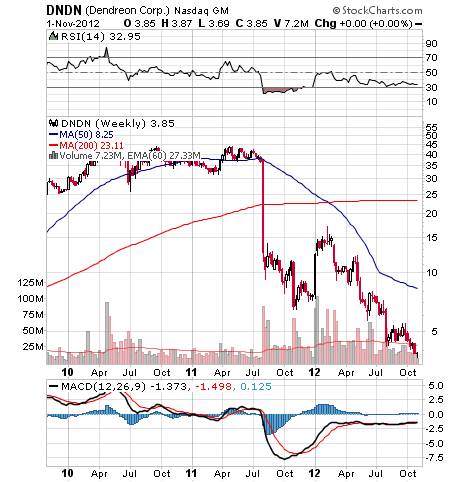 Disclosure: I am long DNDN. I wrote this article myself, and it expresses my own opinions. I am not receiving compensation for it (other than from Seeking Alpha). I have no business relationship with any company whose stock is mentioned in this article.
Additional disclosure: I am long DNDN and will not alter my position within 72 hours of the time of publication of this article. I am not a registered investment advisor and do not provide specific investment advice. The information contained herein is for informational purposes only. Nothing in this article should be taken as a solicitation to purchase or sell securities. Before buying or selling any stock you should do your own research and reach your own conclusion. It is up to investors to make the correct decision after necessary research. Investing includes risks, including loss of principal.