EnerSys (NYSE:ENS) has seen its stock decline by more than 50% over the last three months as the overall market has begun re-pricing risk.  Growth companies were especially hard hit as investors opted to put their capital into stable companies with less potential instead of strong candidates with less stability.  This is a natural progression during bear markets, but often creates incredible opportunities for those who are able to discern just which growth companies will continue to thrive.
The company operates in the electrical equipment sector which sounds mundane until you drill deeper into the products EnerSys manufactures.  The majority of business comes from manufacturing reserve power batteries for use in forklifts and backup power systems.  As fossil fuel consumption becomes more of a problem, analysts look for EnerSys to be a leader in providing rechargable batteries for vehicles which could be in much higher demand over the next several years.  This places the stock in a high-growth market and the company has shined brightly with revenue and earnings growing at a double digit clip for the last 4 to 5 years.
During the last several weeks, revenue estimates have been dropping as analysts model two primary forces that are becoming headwinds. First, foreign exchange has been a concern as the dollar began to rally this summer. Since 60% of sales come from outside the United States, and 40% of sales are denominated in Euros, a rising dollar actually translates into lower sales figures. However, with the new bailout plans in place, the dollar is actually giving up ground very quickly which should turn foreign exchange into a net positive for revenue figures. To some degree this is a moot point considering the fact that many input costs are denominated in Euros as well so earnings are not much affected. Still revenue figures will drive the stock regardless of rational logic so traders should keep track of these numbers.
A second headwind may be declining lead prices, which is a significant material used in the battery making process.  While lower costs appear to be a positive for the company, EnerSys has been successful in building "pass through" provisions in many of its contracts.  So, as the price of lead increases, the batteries are sold at higher prices.  When that cycle is reversed, the revenues come in lower to match lower costs.  That could create some lower revenue headline numbers, but again should not affect long-term earnings forecasts.
Looking out over the next two years, there are many promising metrics which should make the stock more attractive.  William Blair had a research piece out last week that forecast cost reductions and higher margins on new products.  This is expected to add 100 basis points to gross margins which William Blair is pegging at 21% for 2010.  Those estimates may be conservative as the company is targeting a 25% gross margin.
Currently the stock is trading just above $20 with earnings for this year (ending in March) expected to come in at $2.20.  If EPS for next year are anywhere close to the $2.62 consensus figure, the stock would be trading at a huge discount to historical levels.  This appears to be an attractive place to pick up shares of this pertinent growth company and I would recommend building positions at these lower prices.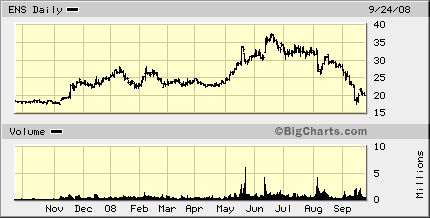 Disclosure: Author does not have a position in ENS.