Annaly Capital Management's (NYSE:NLY) stock price has come under pressure lately. There's concern over the current round of Federal Reserve actions known collectively as Quantitative Easing as well as the death of CEO Mike Farrell. This has pushed NLY's stock price near its 52 week low. So is this a time to buy or sell this company? The answer is it is a great time to buy, for many reasons.
Let's start by talking about what NLY does and why it is such a talked about investment. Annaly buys, holds and sells Mortgage Backed Securities. They buy the "agency" MBS from Fannie and Freddie that, at this point, are essentially a government issued asset. They then leverage their holdings by borrowing short term against the value of those bonds, usually in the repurchase market, and use the borrowed money to buy more MBS. While leverage does bring on more risk, it can also increase returns, so adept buying and selling can generate much more profit than simply buying without leverage. They also collect the "spread" between the short term rate they borrowed and the longer term rate they receive from the coupon of the MBS.
Annaly is structured as a Real Estate Investment Trust, which is a specific business entity designed to return cash to shareholders. In exchange for the company not paying corporate tax, they must pass on approximately 90% of their earnings to the shareholders, who then pay tax on this income at the normal, non dividend, rate.
This lends itself to very high dividends, since so much of the earnings are distributed. Annaly currently yields about 12.5%. These dividends do fluctuate with quarterly earnings, but they generally remain very high by today's standards, usually in the double digits. This is partly the reason for their popularity; since yield is hard to come by in any normal savings or fixed income, something generating over 10% cash return with at least a good part of the safety of government issued bonds is very appealing.
Finally, Annaly has always been known as one of the highest quality of the Mortgage REIT companies. It's the largest of the MREITS, invests only in safer agency securities, and was considered to have one of the best and most experienced leaders in the field in CEO Mike Farrell.
So let's look at their stock price then and discuss why it recently has fallen to near a 1 year low.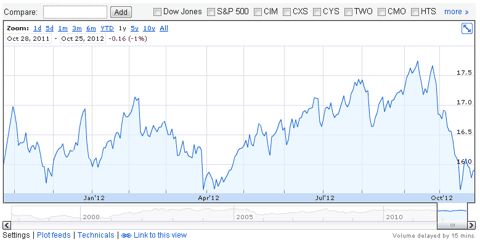 The biggest concern currently is the latest round of Quantitative Easing. The US Federal Reserve Bank is currently pursuing a policy designed to decrease the yield on Mortgage Backed Securities to make homes more affordable as well as increase the money supply. They are doing this by buying large amounts of MBS (one of their "large scale asset purchase" programs), thus driving down the yield on said securities. Of course, the yield for MBS is the top half of the spread that Annaly and others make money on, so the lower it goes, the less money they make.
Another thing that has happened specifically with Annaly Capital recently is a very sad occurrence; That is the passing of CEO Mike Farrell. Mr Farrell was considered to be an expert on fixed income and especially Mortgage Backed Securities and was clearly the man who built Annaly into the MBS giant it is. I always enjoyed reading his commentary, they were often amusing and very insightful. Obviously, his expertise and even personality will be missed.
Now that you've heard about why the shares of Annaly have fallen, why would I say this is a good time to buy?
Let's start by talking about the Federal Reserve, since that's the main concern with all these companies right now.
I actually agree that in the short term, their newest QE policy will decrease NLY and the other Mortgage REITS spread earnings. Nevertheless, these asset purchase programs will not last indefinitely, even when the latest program's unofficial moniker is "QE Forever"! When the program ends, the long term rates will rise, and the spread between short and long will widen right back out.
Additionally, these policies are designed to aid not only the general US economic recovery, but housing in general. As the economy improves, there will be upwards pressure on long term bonds and thus interest rates, which is good for NLY's earnings. As long as short term interest rates stay low, and the Federal Reserve Bank has total control over that, the mechanisms are in place for Mortgage REITS to make plenty of money. The Fed has pledged to keep short term rates low into mid 2015 now. I actually believe long term rates will rise faster than the short in the not too distant future, widening the spread that NLY uses to make money.
We're also already seeing housing prices and credit in the early stages of recovery. Home prices have been going up all year. Defaults are still falling, especially in consumer credit. Home owners are refinancing and have much stronger personal balance sheets. These effects improve the book value of Annaly's holding, which are often just as important to their stock price as their yield.
Now what about the leadership gap? The new CEO, Wellington Denahan-Norris, has had plenty of time to perfect her skills. She's worked with NLY and Mike Farrell since 1996. She is also one of the highest paid women in the world, and his been managing the MBS portfolio at Annaly for awhile. While she made some odd comments recently, popping off about central banks and kind of generally whining, it is safe to assume she knows what she's doing until we learn otherwise. She's definitely going in with lots of experience.
Also, Annaly has been experiencing a trend where they are getting more fees from third parties to manage their assets. According to S&P, this "is seen generating annual fees of about $87.7 million in 2012, up 10% from 2011." This could prove to be yet another way for the company to improve their earnings.
Finally, before, during, and after the worst mortgage bust in 80 years, Annaly has consistently proven that they can meet the challenges of the mortgage market through the business cycle and continue to deliver strong returns. That's not something Bear Stearns or Lehman Brothers can say. They are playing this Fed buying binge smart, keeping their leverage low so they can lever up when prices fall. I find it very likely that they will continue to pay extremely high dividends, something that is highly prized in this low yield environment.
Other investors feel likewise. I want to give you another chart to further illustrate why this is a good time to buy.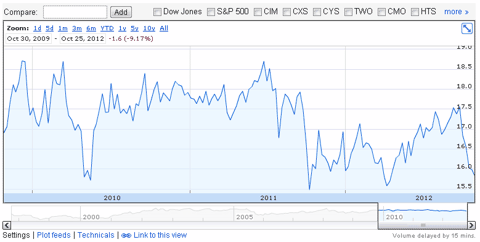 You'll see this 3 year price chart, and you'll quickly notice that Annaly has dropped into the 15s three times but always rebounded. There's a 3 year history of price support in the mid 15s. This further indicates that the current sub 16 price is a great buying opportunity.
As a value investor, I like buying companies' stocks when there are some near term challenges but no longer term change in how that company makes money. A few quarters of compressed earnings really only presents a buying opportunity, a technique I have used many times to make money on companies like Visa, McDonald's, Intel and many others. This includes Annaly. It's a stock that I will occasionally sell when it reaches near the top of this trading range, but when it falls, I inevitably buy back in. I do this because I know the skill of this company in navigating the MBS markets, the high cash returns as I am paid to wait, and the improving quality of this asset class in general. I also know that the latest round of QE will not last indefinitely, and when it does, NLY will find itself in a "sweet spot" of low short term interest, and rising long term interest. In the meantime, you collect a 12% dividend, and what's not to like about that?
Disclosure: I am long NLY. I wrote this article myself, and it expresses my own opinions. I am not receiving compensation for it (other than from Seeking Alpha). I have no business relationship with any company whose stock is mentioned in this article.
Additional disclosure: I recently re-initiated my position in NLY.