After a little over two years as CEO of Circuit City (NYSE:CC), the board has finally woken up and ousted Phillip J. Schoonover, who despite being brought in to turn the company around has done nothing but preside over its near demise:
From the WSJ:
The head of Circuit City Stores Inc. was forced out by the company's board Monday after months of lackluster sales and an aborted takeover effort by Blockbuster Inc. that cast doubts on the future of the nation's second-largest electronics retailer.

Philip J. Schoonover, who served as chairman, president and chief executive officer, was brought in from industry leader Best Buy Co. (NYSE:BBY) four years ago to turn around Circuit City. Instead, the 48-year-old executive, who was named CEO two years ago, presided over a further decline in the company's fortunes.

Mr. Schoonover, who couldn't be reached for comment, was immediately succeeded by James A. Marcum, who will serve as acting president and CEO. Mr. Marcum was elected to the board in June after being nominated by activist investor Mark J. Wattles, whose investment firm owns 6.5% of Circuit City.

Mr. Marcum, 49, was formerly an operating partner of Tri-Artisan Capital Partners LLC, a merchant-banking firm, and was a senior executive at Hollywood Entertainment Corp., a home-video retailer founded by Mr. Wattles.

Circuit City's board elected as its chairman Allen B. King, 62, a former chairman of tobacco company Universal Corp.

"A change in leadership at the chief executive officer level is always a difficult decision," Mr. King said in a statement, adding that Circuit City's board "is committed to accelerating the pace of the company's turnaround."

Circuit City's new leaders are actively soliciting bids for the Richmond, Va., company.

Blockbuster's unsolicited offer to buy Circuit City for $1 billion, or about $6 to $8 a share, ended in July when the video-rental giant got cold feet. Colin McGranahan, retail analyst at Sanford C. Bernstein & Co., said Mr. Schoonover made several blunders over the years, such as replacing 10% of the highest-paid, most-seasoned staff in the company's stores, in an effort to reduce costs and recoup losses caused by falling TV prices.
To get an idea of how bad Mr. Schoonover's tenure as CEO was, take a look at the chart below, depicting the 94% decline in CC's stock price since he took over as CEO on 6/27/2006:
click to enlarge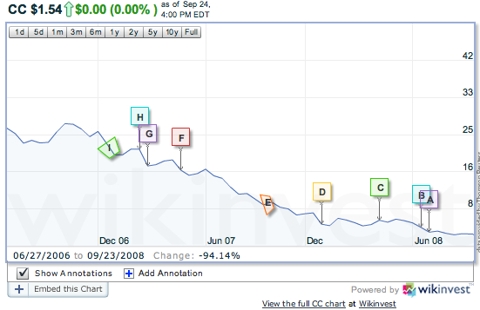 Click to enlarge
 
It's no secret that I've been calling for Schoonover's head for months, I'm just wondering why it took the board so long to do so. I understand the need to take a long-term view on things and let a turnaround strategy play out, however the fact that CC was unable to generate a profit in the same consumer environment that allowed Best Buy to remain relatively stable (even in this economy) and electronics to be a bright spot for other retailers should've been a hint.
I.e. it isn't exactly difficult to make money selling electronics in the current consumer environment, so if your CEO can't manage to do that turnaround or no….
Moving forward I think a buyout is a moot point for long-term shareholders (as opposed to people who may buy in now as an arbitrage play), as no buyer is going to pay a large enough premium to help them recapture their lost equity. There have been rumors, initial talks and even bids for the company at much higher share prices that all fell through, so at this point most potential buyers are probably waiting for the share price to fall further and/or won't pay much more than the current share price.
Remember CC has been looking for a buyer for months and they weren't able to get one when the market cap was over 4X higher.
The other question is: will the new buyer actually be interested in turning the company around or will the plan be to liquidate the company in a manner similar to what happened with CompUSA?
In many respects, shareholders would be better off if the new management seeks some outside investment in order to shore up the balance sheet, whilst trying to turn the company around without selling it outright.
No matter what happens in the future, one key thing has changed for Circuit City shareholders and employees: they now have hope after two years of watching their company go down the drain. Only time will tell if that hope materializes into a significant and tangible improvement in the company's health.
You can read more on the subject here, and here.
Sources:
The Wall St. Journal: "Circuit City's Chief Executive Is Ousted" -- Miguel Bustillo and Ann Zimmerman.
Disclosure: At the time of publishing, the author didn't own a position in any of the companies mentioned in this article; the ideas expressed are solely the opinions of the author and shouldn't be viewed as financial or investment advice.