I recently wrote a piece on RF Micro Devices (RFMD) and told my followers to own the shares going into the earnings call. I was spot on with that call. Today I'm saying that you need to own AudioCodes (NASDAQ:AUDC) pre-earnings, taking a half position here and then another half position post-earnings for a potential double by mid-February 2013. Here's why you need to get long AudioCodes for a run to $5 per share:
1. AudioCodes will release earnings on Nov. 5 (conference call at 8:00 a.m. ET). I believe that we will hear a bullish conference call backed up with a positive outlook for the year ahead. I believe that it will announce that it has completed its 4 million share buyback (I'm basing this in part on the lower volume we have seen this past week). AudioCodes will now have approximately 38.5 million shares outstanding, a positive outlook on its core businesses, and we could see a big jump on this reduced float. I would not be surprised to hear AudioCodes management announce that it has initiated a second buyback of 1-4 million shares. If this is the case, then it is sure to wake up the institutional base.
2. Back in Q2 2012, AudioCodes initiated a major company-wide cost control initiative with the goal of trimming expenses by at least 10%. I believe the company has been even more effective and has made cuts closer to 15% and will be reflected in Q4 2012. Any update that confirms these cuts will lower the risk in the shares at these prices.
3. I believe we could see an increase in AudioCodes' revenues as it has introduced a new array of products over the past 12 months:
4. Microsoft released Windows 8 last week, and next month it will release Microsoft Lync 2013 (in mid-November). This could be the year when Lync and Skype finally come together. Microsoft has been very quiet on its Skype intentions, and this could be the first time Microsoft begins to give insight on its leveraging of Lync and Skype. This would be a big positive for AudioCodes as it is truly a pure play on Lync, and connecting the enterprise to the service provider. AudioCodes' CEO could begin to give us his insights on Lync 2013 vs. Lync 2010 and how he sees things unfolding for AudioCodes. I believe that Microsoft will focus more on the voice aspect of the platform and hopefully Skype will be embedded in this next generation of Lync. If it is, then I believe 2013 could see a hockey stick growth curve of Lync and voice as Skype is aligned with Microsoft's new operating systems.
5. We could see AudioCodes execute on the enterprise side as Acme Packet has on the service provider side. Acme Packet has been tremendously successful, and I believe that if AudioCodes follows its success model with the small to medium enterprise market where it is a one-stop shop for all their connecting needs to the service provider, then it could push AudioCodes into the winner's circle in the next 12-18 months.
Click to enlarge image.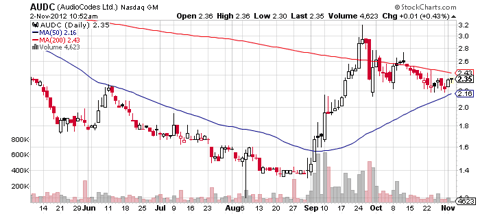 Looking at the daily chart we can see that AudioCodes has been finding strong support at $2.20. As it moves higher from here I expect to see the rising 50-day moving average support the move. It will not be long before the 50-day moving average crosses above the 200-day moving average. This is known as a Golden Cross and usually signals that the stock has a large move higher ahead of it. This is a signal that we have played with success in the past. After the Golden Cross, I would expect to see a move to $4.00.
Fundamentals
The company trades at 0.66 times ($88 million market capitalization) my 2013 revenue estimate of $134 million. The company sports net cash of ~$1 per share. I believe that once Microsoft releases Lync 2013 with the proper attention to Skype in its offering, then shares of AudioCodes will begin to trade at one times 2013 estimates. One times $134 million should get shares to $3.50-$4.00. When the company delivers a solid quarterly revenue number, which I believe will be in the December quarter, then the shares will begin to trade on 2014 estimates as the Microsoft leverage becomes concrete. I see this bringing an Oppenheimer upgrade (the current rating is hold) and putting a 1.75 times 2014 estimate of $155 million (15% annual growth), or $7 per share by the first week of February when it report earnings for Q4 2012.
AudioCodes has faced very challenging times over the past year, falling from $6 to $1.40 this past September. In that time, the company faced falling sales from a crumbling European Union, cautious Americas, and a dying legacy business all at once. The company was forced to be a repeat offender, delivering to the Street disappointing, negative preannouncements, and poor visibility. The shares couldn't find a stable footing. In that time, the company also stayed away from Wall Street and focused instead on aligning itself with new sales and marketing heads, pushing new products to market, cutting operating expenses to lower its breakeven mark, and last but not least buying back shares. The buyback program is as follows: 1.2 million shares at approximately $3.70 in Q4 2011, 0.75 million shares in Q1 2012 at approximately $3.00, 0.7 million shares in Q2 2012 at approximately $2.70, and this past quarter (Q3 2012) I'm guessing they bought a lot more at an average price of ~$2.00. This is a management team that cares about its investors, its employees, its leadership in the marketplace (new products), and shareholder value (buyback program).
In true-to-form turnaround fashion, I believe I'm leading new and former investors into AudioCodes at prices that favor reward over risk in the face of a strong secular growth story in unified communications. The company is coming off visiting Wall Street in September as the CEO attended the Rodman Renshaw Conference and saw its shares rise from $1.40-$3.20 in three short weeks. In addition, the CEO is rumored to be attending the Needham Conference on Nov. 7, two days after its earnings call. That's a clear sign to me that he's probably seeing a link to Microsoft Lync 2013 in 2013. This November could be our last opportunity to buy AudioCodes at these prices, as all the signs point to a clear turnaround and a November to remember.
Disclosure: I am long AUDC. I wrote this article myself, and it expresses my own opinions. I am not receiving compensation for it. I have no business relationship with any company whose stock is mentioned in this article.