Marvel Enterprises (MVL) is in the early stages of transforming its company. Marvel's new movie production arm, Marvel Studios, combined with a large stable of popular but theatrically-untapped comic-book characters, creates an opportunity for Marvel to, in 4-6 years time, build a movie-making business as successful and profitable as DreamWorks Animation (DWA). This is on top of the existing base Marvel comic book and character-licensing business, which has generated after-tax free cash flow in excess of $150mm (on average) per year for the last six years.
At current prices in the mid-$30s, Marvel stock, in my opinion, carries virtually no credit for the potential value creation at Marvel Studios. Based on an anticipated release schedule that includes 2 movies this year (Iron Man and The Incredible Hulk) and 2 movies per year from 2010 onward, Marvel Studios has the potential to add another $2.5-$3.0 billion of value to Marvel Enterprises by the summer of summer of 2013, yielding a price target for Marvel shares in the $70s.
(click to enlarge)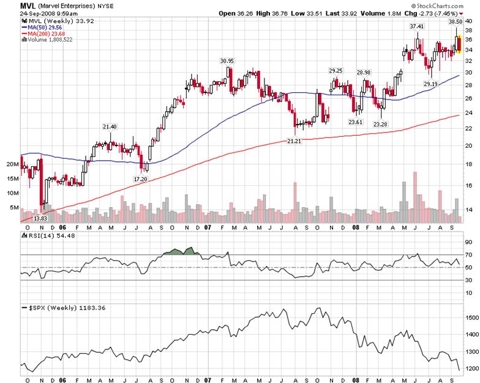 Marvel Enterprises is in the early stages of transforming the company, from a strictly character-based licensing business to a full-blown movie studio a la Pixar or DreamWorks Animation.
Marvel could hardly have started this transition in stronger fashion, as in early May 2008 Iron Man, the first movie independently produced and financed by Marvel, debuted as the #2 non-sequel opening of all time (behind only SpiderMan – which is of course another Marvel property). Iron Man earned $318mm of domestic box office (21st all time), with another $260mm or so of overseas box office earnings.
Given its initial success, Iron Man will almost assuredly spawn two sequels (one already tentatively scheduled for May 2010; another likely in a 2013 time frame). A film that garners a $300mm domestic box office take will typically earn the studio $225-$250mm pre-tax over its life (share of box office; DVDs; pay TV; toys & merchandising), which means the Iron Man movie character is now likely a 'franchise' worth on the order of $400-$500mm.
There is significant un-tapped and un-appreciated (in the stock price) value in the Marvel Enterprises character catalog, with Iron Man demonstrating just how much a character, leveraged by the new movie production arm, can be worth.
The 'bear' argument against Marvel had typically started with the assertion that Marvel was basically a one-hit (SpiderMan) wonder. Iron Man, before this spring, was typically regarded as a 'secondary' Marvel character; i.e. lacking in the name recognition and cache of Spidey, X-Men, Hulk or even the Fantastic Four. However, Iron Man has shown what can happen when a long-standing character, with literally generations of fans, meets up with good movie-making; said character can become a multi-hundred-million dollar franchise.
Marvel, before it began making its own movies, generated roughly $155mm per annum in after-tax free cash flow from operations (this is cash generated from the SpiderMan franchise, and the comic books, licensing, toys, direct-to-DVD video, television, video games, etc. from the rest of the characters). Placing a 14-15x multiple on those earnings (recall, this is after-tax free cash flow as Marvel has de-minimous capex requirements), and then adding the Iron Man movie franchise at $400-$500mm, and excess balance sheet cash of $125mm, yields a valuation of $2.7-$2.9 billion, or roughly the current equity market cap. So investors are today in my opinion receiving all future Marvel Studios movie output for free.
Marvel – before Marvel Studios
It has been a long journey for Marvel. The company emerged from bankruptcy in the late 1990s after a period of mis-management and dangerously high-leverage. It was during this time that Marvel licensed several of its very successful characters to the major movie studios; Marvel needed the cash and was certainly in no financial position to risk investing $100mm-plus into making a wide-release movie.
So Marvel could only sit by and idly watch as major studios Sony (SpiderMan), Fox (X-Men and Fantastic Four), Universal (Hulk) and NewLine (Blade) collected billions of worldwide box office and billions more in DVD / payTV revenues from the characters that Marvel created and owned. While the studios raked in these billions, Marvel earned only a "gross participation" fee, typically 2-4% of a movie's worldwide revenue; a mere pittance relative to the profits a hit movie generates.
Table 1: PG-13 Marvel Character Movies
| | | | |
| --- | --- | --- | --- |
| Movie | Release | Domestic | Worldwide |
| X-Men | 7/14/00 | $157mm | $296mm |
| Spider-Man | 5/03/02 | 404mm | 822mm |
| Daredevil | 2/14/03 | 103mm | 179mm |
| X-Men 2 | 5/02/03 | 215mm | 408mm |
| Hulk | 6/20/03 | 132mm | 245mm |
| Spider-Man 2 | 6/30/04 | 374mm | 784mm |
| Electra | 1/14/05 | 24mm | 32mm |
| Fantastic Four | 7/08/05 | 155mm | 330mm |
| X-Men 3 | 5/26/06 | 234mm | 459mm |
| Ghost Rider | 2/16/07 | 116mm | 229mm |
| Spider-Man 3 | 5/04/07 | 337mm | 891mm |
| Fantastic 4 2 | 6/15/07 | 132mm | 289mm |
Source: Boxofficemojo.com
(Note: Excluding Marvel Studios productions)
While the success of its characters on the 'big screen' left Marvel longing for the profits it had left on the table, a 2-4% gross participation fee is better than nothing, not to mention that the slew of Marvel character movies created a renewed interest in sales of comic books, toys, and other merchandise associated with the characters. From 2002 (the year of release of the first SpiderMan) to 2007, Marvel generated a cumulative $948mm of after-tax cash flow from operations, paid off all their debt, bought back $854mm of stock, and prepared for the next transformation of the company.

Marvel – creating a movie studio powerhouse
By late 2003, two things were clear to Marvel management: (i) its comic-book characters could be made into highly-profitable movie franchises; and (ii) it was on a path to generating hundreds of millions of 'excess' cash flow desperate for profitable re-investment opportunities.
And thus was born the wholly-owned subsidiary of Marvel Studios, a business that would seek to transform the Marvel Universe of characters into successful movies, and to let Marvel keep (basically) all of the profits. Marvel ceased licensing out its characters, and raised $500mm via Merrill Lynch to finance a slate of 10 films.
Marvel Studios could hardly have gotten off to a better start. For its first film, the company chose Iron Man, a character that dates its comic book origins to the early 1960s and was widely considered a 'secondary' character within the Marvel Universe (certainly less well known than Hulk, X-Men, and of course SpiderMan). Iron Man, with a production budget of roughly $140mm, in early May 2008 topped $100mm in first-weekend domestic box office, #2 all-time for a non-sequel (the record is of course held by another Marvel property, SpiderMan). To date the movie has grossed $318mm in the US, placing it at #21 all-time; Iron Man has out-grossed all other Marvel properties to date with the exception of SpiderMan.
A $300mm domestic box office film will earn roughly $200mm pre-tax over its life; add in toys and merchandising and the profits will look more like $225-$250mm. Under the previous regime, where Marvel let another studio make the movie and earned a gross participation, a huge success such as Iron Man would have netted Marvel roughly $30-50mm of gross participation revenue from the movie, and another $30-50mm of toy and merchandising revenue. So for Iron Man, the pre-Studios licensing model would have meant $60-$100mm in profits for Marvel. With Marvel Studios producing and financing the movie, that profit to Marvel is now $230-$250mm; a fairly attractive incremental return on the $140mm capital invested in making the movie. (Note that the 'profit' earned on the movie is after paying back all production and marketing costs.)
Marvel Studios' second effort was not nearly so successful as Iron Man, though it nonetheless serves to make an important point about the Marvel investment case.
In mid-June 2008 Marvel Studios released The Incredible Hulk. Hulk is likely the 2nd-most 'famous' character in the Marvel Universe, thanks to its incarnation as a popular live-action TV series in the late 1970s, two runs as a TV cartoon series in the early 1980s and mid-1990s, as well as a handful of direct-to-DVD cartoon movies. In 2003 Universal produced and distributed and Ang Lee directed the first Hulk theatrical release, which despite a $62mm opening weekend, $132mm domestic and $245mm worldwide box office was generally considered a 'disappointment'.
The 2008 re-boot of the Hulk franchise by Marvel Studios did not fare any better than the initial attempt by Universal. To date the movie has grossed $135mm domestic and $250mm worldwide, with reviews from critics and audiences that could best be described as "mediocre".
This not-really-successful movie, however, highlights two important aspects of Marvel Enterprises and Marvel Studios.
First is that a movie that was considered "unsuccessful" to Universal could very well be "successful" to Marvel. In the 2003 Hulk, Universal paid to Marvel a 2-4% gross participation fee, and did not participate meaningfully in the toy and merchandising revenue. In the 2008 Incredible Hulk, Marvel of course pays itself the gross participation fee, and keeps the toy and merchandising revenue as well. So in total, while Universal likely lost some money on the 2003 Hulk, Marvel will likely make a little bit of money on the 2008 Incredible Hulk.
The second important point is that, despite "meh" reviews from critics and audiences, The Incredible Hulk will likely at worst lose a few millions of dollars (though it will more likely break even to make a little bit of money). Movie making is a high-risk business; for every $500mm success there is a flop that loses tens of millions of dollars. However, to date, no theatrical release based on a Marvel character has been an out-and-out flop (Elektra likely came the closest, though its mediocre box office was mitigated by its very low ($43mm) production cost and small marketing budget).
The relative lack of financial disappointments among Marvel character movies is presumably due to the built-in audience most Marvel Universe characters have via in many cases generations of comic book issues. Marvel characters are not just for kids; plenty of 30- and 40-somethings have a lot of memories invested in these characters.
As another example, both Fantastic Four movies were absolutely pilloried by critics; the first achieved a 26% score at RottenTomatoes.com (i.e. 26% of critics reviewed it positively) while the second achieved a 35% (for reference, Iron Man scored a 93% and Dark Knight 94%). Despite this, the first Fantastic Four achieved $155mm of domestic and $330mm of worldwide box office and was enough of a commercial success to spawn a sequel, which did $132mm and $289mm.
For comparison's sake, an example of a true 'flop' would be 2008's Speed Racer (based on a Japanese cartoon series from the late 1960s). Speed Racer had very similar characteristics to the Fantastic Four films: it cost $120mm to produce and it stank (36% positive reviews at RottenTomatoes). Yet while the Fantastic Four movies were churning out roughly $300mm in worldwide box office each, Speed Racer crashed and burned, putting up a dreadful $18mm opening weekend on its way to a woeful worldwide total of $86mm; Warner Brothers will lose tens of millions of dollars on that film.
To date, theatrical releases based on Marvel characters have exhibited in my opinion an asymmetric risk profile, especially when one considers that going forward Marvel Studios need not 'pay' for the use of the characters. The good movies (SpiderMan, Iron Man, X-Men) are extremely profitable and create very valuable, long-tailed franchises; while the bad movies (Daredevil, Hulk, Fantastic Four) are collectively right around break even (so there is an opportunity cost but no real dollar cost).
The Marvel 'Universe'
Iron Man demonstrates that there may be significantly more untapped value in the "back catalog" of Marvel characters than previously thought. As highlighted previously, any survey of the general public would likely have found Iron Man to be a 'second-tier' character within the Marvel family; certainly below SpiderMan (but of course all Marvel characters rank below SpiderMan) but likely below Hulk, X-Men, Fantastic Four, and Captain America as well.
There has not yet been a theatrical release of Marvel's oldest, and likely second-most-popular, character, Captain America; this character is near the top of Marvel Studios' list to exploit in the near-term. Another near-term new-release character will likely be Thor, the Norse God who likely has an inherent core popularity similar to pre-theatrical Iron Man. Slightly lower-tier characters include Doctor Strange, Silver Surfer (who had an appearance in the second Fantastic Four movie), Namor the Submariner, and Nick Fury (played by Samuel L. Jackson in a small teaser that rolled after the credits of Iron Man).
Moreover, nearly all of these characters exist in an inter-twined world which Marvel has dubbed the Marvel Universe. Four key characters (Iron Man, Hulk, Thor, and Captain America) form the core of the Avengers (think 'old school' X-Men), and nearly all the major and minor characters move in and out of each other's comic books. Marvel has hinted that they will produce an Avengers series of films, though it is likely that individual films 'introducing' the Thor and Captain America characters would come first. Given the inter-twined nature of the Marvel Universe, and the Avengers, there is a basically endless stream of story arcs that could be created with Marvel characters; certainly enough films to sustain any likely time horizon for a Marvel Enterprises investment.
As an example of how one franchise can link to and potentially beget another, Fox is currently producing Wolverine, a large-budget pre-quel to the highly successful X-Men film franchise (Wolverine is a primary character within the X-Men).
Valuation
While some may like to look at multiples of earnings or cash flow, I believe that is a somewhat unhelpful way to value a company like Marvel. Unlike say a retailer, where you have a reasonable certainty (within some bounds) of how much revenue a new store will generate, there is no way to estimate how much profit a movie (or series of movies) will generate. Since in most years Marvel will introduce two new films, which could each generate somewhere between a small loss and $200mm of profit, there is an incredibly wide variance of potential outcomes in any given year (let alone quarters) and thus endeavoring to estimate 2010 earnings is a fools errand with the only certainty that the estimate will be wrong.
Instead, I believe that Marvel should be valued as a sum of its assets.
So, what are those assets?
First, there is "base Marvel". This represents Marvel without the movie-making arm, Marvel Studios. "Base Marvel" would include the theatrical franchises that are controlled by other studios (SpiderMan, X-Men, etc), the comic books, video games, licensing and merchandising, etc. As noted previously, since the first SpiderMan release in 2002, 'base Marvel' has generated roughly $160mm per annum in after-tax cash flow from operations (and about $155mm in free cash flow, as "base Marvel" obviously has de-minimus capex/investment needs).
I believe $155mm of unencumbered cash flow should get a multiple of 14-15x (basically a 'yield' of 6.5-7.5%), which would value "base Marvel" at something on the order of $2.2-$2.3 billion.
Table 2: Marvel Cash Flow From Operations
| | |
| --- | --- |
| 2002 | $75.0mm |
| 2003 | 171.0mm |
| 2004 | 161.4mm |
| 2005 | 137.7mm |
| 2006 | 158.2mm |
| 2007* | 244.4mm |
Source: Marvel SEC filings
(Note: 2007 excludes $251mm invested by Marvel Studios in production of Iron Man and The Incredible Hulk.)
Marvel also has $125mm of free excess cash on its balance sheet.
I believe that it is now possible to put, within reasonable bounds, a value on the Iron Man franchise. A movie that does $300mm of domestic box office will typically earn over its lifetime roughly $200mm in profits. Add in merchandising and toy revenue and the total looks more like $250mm. While there is clearly no certainty in this, a $300mm box office film will usually generate 2 sequels, which will do roughly the same underlying box office and profitability as the original (see Pirates of the Caribbean, SpiderMan, Lord of the Rings, the two Star Wars trilogies, and X-Men).
So there is a good chance that the Iron Man movie franchise will generate $750mm-plus of pre-tax profits over the next 6-ish years. Taxed and making allowances for time lag (the third Iron Man movie is likely a 2012 or 2013 event) and the Iron Man franchise is worth $400-500mm, in my opinion.
So base Marvel, plus the cash, plus the Iron Man movie franchise, plus the Hulk movie franchise (which is worth basically zero) is worth roughly $2.7-$2.9 billion. More or less equivalent to the market cap today.
Which means that any and all future value to be created by Marvel Studios, aside from Iron Man, is basically free.
So what is Marvel Studios' future output worth? Well, it is certainly greater than or equal to zero.
While it may be early to make the comparison, it is in my opinion instructive to look at DreamWorks Animation.
The DreamWorks 'catalog' today consists of the three Shrek movies ($323mm domestic box office for Shrek the Third), Madagascar ($193mm), Wallace & Gromit ($56mm), Over the Hedge ($155mm), Flushed Away ($65mm), Bee Movie ($124mm), and Kung Fu Panda ($215mm to date). The typical DreamWorks movie has a production budget in the area of $130-160mm, which is what a typical Marvel Studios summer tentpole movie would cost.
Table 3: DreamWorks Today
| | | |
| --- | --- | --- |
| Movie | Release | Worldwide |
| Shrek | 5/16/01 | $484mm |
| Shrek 2 | 5/19/04 | 920mm |
| Shrek The Third | 5/18/07 | 799mm |
| Madagascar | 5/27/05 | 533mm |
| Wallace & Gromit | 10/05/05 | 193mm |
| Over the Hedge | 5/19/06 | 336mm |
| Flushed Away | 11/03/06 | 177mm |
| Bee Movie | 11/02/07 | 287mm |
| Kung Fu Panda | 6/06/08 | 620mm |
Source: Boxofficemojo.com
Table 4: Marvel Studios Summer 2013?
| | | |
| --- | --- | --- |
| Movie | Release | Worldwide |
| Iron Man | 5/02/08 | $572mm |
| Iron Man 2 | May 2010 | ???? |
| Iron Man 3 | May 2013 | ???? |
| Incredible Hulk | 6/13/08 | $250mm |
| Thor | June 2010 | ???? |
| Captain America | May 2011 | ???? |
| Avengers | June 2011 | ???? |
| Ant Man | ???? | ???? |
| Nick Fury | ???? | ???? |
| Thor 2 | ???? | ???? |
Source: Boxofficemojo.com; my estimates
(Note: Assumes Marvel Studios releases 2 movies each year beginning in 2010.)
So DreamWorks Animation today has 9 movies in its catalog; one gigantic franchise (Shrek); two very successful films (Madagascar and Kung Fu Panda), three OK efforts (Over the Hedge, Bee Movie, Wallace & Gromit), and one sub-par effort (Flushed Away).
What might Marvel Studios look like 5 years from now (summer 2013)? It should have 10 movies in hand (assuming two annual releases in 2010-2013). It already has in hand its near-Shrek equivalent, a gigantic franchise in Iron Man. The Incredible Hulk compares to the 'OK' DreamWorks effort of Bee Movie.
So the question becomes, out of Captain America, Thor, the Avengers, Ant Man, and Nick Fury, can Marvel Studios get two very successful films (not necessarily Iron Man successful, but $200mm domestic successful) and two OK (comparable to Hulk) efforts? I would argue that the track record to date of motion pictures based on Marvel characters would indicate this as a reasonable outcome. In which case, in 4-5 years time Marvel Studios could very well have a passel of films (and potential sequels) every bit as large and profitable as DreamWorks Animation has today.
DreamWorks today has a market cap (net of $400mm of excess cash) of ~$2.4 billion. I would argue that as a realistic potential for Marvel Studios in 4-5 years, which is largely unrecognized in the share price of Marvel Enterprises today. With about 80mm Marvel shares outstanding (though likely less than that in time, given that free cash flow will continue to be used to buy back stock) Marvel Studios represents in my opinion a potential incremental $30-35 per Marvel share (so a price target in the $70s for Marvel).
Conclusion
Particularly for investors with a long time horizon (it can be upwards to a year between movie releases; that long frequency of catalysts can make Marvel stock like watching paint dry to some investors) Marvel in my opinion offers an excellent risk-reward profile.
The "base", pre-Marvel Studios Marvel is a reliable generator of roughly $155mm per annum in free cash flow. In 5 years time (so say summer 2013) Marvel Studios will likely have 3 Iron Man movies, Hulk, Thor, Captain America, The Avengers, and one or two more minor characters (Ant Man; Doctor Strange; Nick Fury) finished with some sequels and new characters in the works; at that point Marvel Studios is likely, in my opinion, to look an awful lot like Dreamworks Animation looks today.
Adding the current base Marvel to the future value of Marvel Studios (which in my opinion is largely ignored in the stock price today) yields a price target for Marvel Enterprises of roughly double the current share price in 4-5 years time.