Commodity Chart Of The Day
Daily Gold
(click image to enlarge)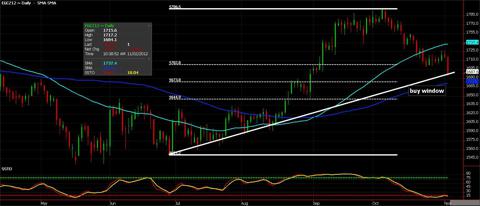 Click to enlarge
The trend line mentioned for weeks is identified, but the white up sloping line is in play. As of this post gold is down 1.75%, quickly approaching the 100 day MA -- the blue line currently at $1671. My buy window would be between the 61.8% Fibonacci level and the 50% Fibonacci level, which is about a $30 gap. My suggestion is to start nibbling and look to add to the trade when the market proves you correct.
This is a chart of December futures, so the price might be a little off because I would suggest going out to February, which gives you approximately three months. Those looking for more time can go out to April or June contracts. I like the idea of bull call spreads, and have started to price these out for clients in both gold and silver. Those braver traders could look to start scaling into futures. Just remember if the 61.8% Fib level gives way, I do not see stiff support until $1600/ounce, so factor that in when sizing your positions.
Risk Disclaimer: The opinions contained herein are for general information only and not tailored to any specific investor's needs or investment goals. Any opinions expressed in this article are as of the date indicated. Trading futures, options, and Forex involves substantial risk of loss and is not suitable for all investors. Past performance is not necessarily indicative of future results.
Disclosure: I have no positions in any stocks mentioned, and no plans to initiate any positions within the next 72 hours. I wrote this article myself, and it expresses my own opinions. I am not receiving compensation for it. I have no business relationship with any company whose stock is mentioned in this article.