Fifty years ago, the world used about four billion barrels of oil a year, and the average new oilfield discovery was around 30 billion barrels.
Today, those numbers are roughly reversed. The last really big (30 billion barrel) find was Mexico's Cantarell field, way back in 1976.
What's worse, if we look at the top 65 oil-producing countries in the world, 54 of them are producing less oil than they were at their peak of production. I could go on with more statistics, but the point is this: Oil is a finite resource, and it's in decline.
And while increased world oil demand has driven prices at the pump to record levels, there is good news in those high prices, too. Increasingly scarce oil - with its attendant high prices - is the catalyst that promises to create some of the best investment opportunities we'll see in our lifetimes.
The opportunities I'm talking about are in the "alternative" energy sector. I put alternative in quotes, because wind, solar and to a lesser extent, geothermal, are already in the process of becoming regular, run-of-the-mill energy sources. Even nuclear is back in vogue, as it produces zero greenhouse gas emissions.
We used to think of nuclear, coal, oil and natural gas as our "go to" energy sources when it came to producing energy. In addition to those, we now have tidal, ocean waves, biomass, hydro and fuel cells, all in various stages of development and deployment.
Now don't get me wrong, there will still be money to be made investing in oil producers, drillers and support companies. But the biggest growth - and the best opportunities - will be in alternative sources.
Growing Alternative Energy Opportunities
The chart below has data I compiled from the International Energy Agency's 2007 World Energy Outlook. It's clear that coal, oil, natural gas and hydro will all experience significant growth over the next 25 years.
 
World Energy Usage Growth Forecast   *in millions of tons of oil equivalent (Mtoe)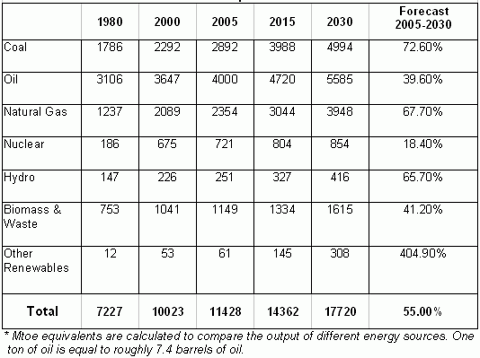 Take a look at "Other Renewables"… 404% growth over the next 25 years. That's where a tremendous amount of research and development is underway, and it'll be the best place to invest in the energy sector as we move forward.
Of course, with the recent contagion in the financial markets - coupled with the resulting market sell-offs - it's easy to buy into the idea that the world is shutting down and won't need all these new alternative energy sources. Don't believe it.
While painful, the ongoing financial write-downs will eventually serve to weed out the weak players and stabilize the credit markets. Capital investment will resume on a meaningful scale, economies will strengthen, and energy use will accelerate at an even faster pace than it is currently.
The Best Way to Play Alternative Energy
India, China and other emerging economies are just now entering into the energy-intensive phase of their economic growth cycles, and they are all investing in producing more energy and the required infrastructure that goes along with it.
Since equity markets always look ahead, we can expect an eventual return to fundamentals, i.e. healthy companies with good business plans and most importantly, good earnings. And it makes sense to dip a toe into the water to catch this inevitable upturn.
So what's the best way to play the alternative energy sector with the current market conditions? There's no question that a number of companies will be big players as the alternative energy sector begins to ramp up over the next year or two. But instead of trying to pick which ones, there's a way you can blanket the entire sector.
One of the best ways to do this is the Market Vectors Global Alternative Energy ETF (NYSEARCA:GEX). This Exchange Traded Fund seeks to replicate the Ardour Global Index of companies engaged in alternative energy fields.
The Top 30 Alternative Energy Companies
With one click of your mouse, a piece of each of the top 30 alternative energy companies lands in your portfolio. These companies have the highest average market capitalization (greater than $100 million) and highest average trading volume in the sector. You can see a current list of them here.
And to protect against a fluctuating dollar, fully 68% of the fund's assets are invested in companies outside the United States. And with many of the biggest players in alternative energy overseas, it makes sense not to exclude them.
The alternative energy sub-sectors are well represented, with solar, wind, geothermal and bio-fuels making up nearly 84% of the fund. Enabling technologies, distribution generation and environmental technologies rounds out the rest of their investments, making GEX a good cornerstone for your alternative energy portfolio.
And as you examine your stock holdings, keep some perspective on the market's recent fluctuations. The important thing to remember is that the ups and downs are temporary, but our needs for energy are long term.
So make an investment in the world's future… and your own - alternative energy.