Scary. The fact a stock can lose 40% in back to back sessions out of the blue is simply scary.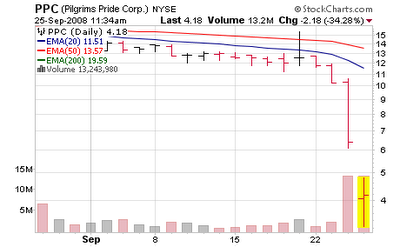 I would love to know (SEC hello?) who "knew" Wednesday and was getting "out" - these are the type of things I wish they'd investigate instead of pushing to get Medco Health on the "short protected" list. An update on the company
Top U.S. chicken producer Pilgrim's Pride Corp (NYSE:PPC) said it would post a significant quarterly loss and expected to be out of compliance with a credit covenant as a result, sending its shares down more than 40 percent.
The statement from the company early on Thursday came in response to a 38 percent slide in its share price the day before as investors feared the U.S. financial crisis would limit its access to much-needed credit.
Pilgrim's Pride did not quantify the expected quarterly loss, which it attributed to high feed costs, lackluster demand for chicken breast meat, weak prices and a major negative impact of hedged grain positions. (It appears chicken meat demand is more elastic than we thought - raise the prices and people move to SPAM. Again to the punditry - doesn't it make you wonder how bad things are for "common people" when chicken demand is falling? I know, I know - government reports continue to show roaring growth - yep, those are reliable) [May 29: To Laugh or Cry - SPAM is Hot]
Concerns about the U.S. economy have also led some analysts to believe that consumers may shift to less-expensive foods. (yes - SPAM for example)
Due to the expected loss, Pilgrim's Pride said it had recently told its lenders that it did not expect to be in compliance with its fixed-charge coverage ratio covenant under its principal credit facilities for this fiscal year. (well I'm glad those "in the know" were able to exit before the masses found out) The company also said it thought it had reached an understanding with its lenders to temporarily waive that covenant through Oct. 28 and to provide continued liquidity under those facilities for that time. (good luck with that post Oct 28)
Companies are typically required to have a certain amount of profits relative to their debts whenever they get a loan, so banks are guaranteed they will get money back, said Morningstar equity analyst Ann Gilpin. These ratios are typically negotiated for a year term, to give companies room to meet those obligations, she said. But Pilgrim's Pride now says it won't meet those obligations in its current fiscal year, which ends Saturday. The company's announcement that it won't meet its so-called debt covenant means the banks can now ask that the debts be repaid and potentially charge a penalty. The company said it still needs to hammer out a written agreement with its lenders for the waiver. If it is unable to secure an agreement, Pilgrim's Pride said it may not be able to draw funds under the facilities and the lenders may be able to say the company defaulted on the loans. (this means hello Chapter 11)
Cash is King. Balance sheets matter more than ever. Lessons are being applied daily in this market on those fronts.
I wonder if the chicken lobby is large enough - I mean, why don't we bail them out? Or is food less important than credit in this country? I mean they only supply 25% of Americans chicken... who needs it. More important to make sure we get those bankers happy. No white knights in Treasury for chicken processing.
Priorities ;)
Disclosure: Author had no position.