Lumber prices reached a 19-month high Wednesday as traders anticipated a spike in demand to repair the damaged homes situated in Hurricane Sandy's path. Exchange traded fund investors can gain exposure to the rising cost of wood through the timber and forestry industry.
Most Chicago Mercantile Exchange lumber futures hit the daily trading limit of $10 per thousand board feet and halted trading at those levels on Wednesday, with the benchmark January futures adding a little over 3.0% to end at $331.2. Lumber futures are trading relatively unchanged Thursday at $331.1.
"There is anticipation of a big rush in demand after this storm," said a trader, who declined to be named, in a Reuters report.
Observers believe home repairs could stretch well into 2013, sustaining an elevated demand for lumber.
"The widespread impact of the storm could increase demand for lumber over the next several months. With such devastation it could take a month or so for any rebuilding to start," Gary Vitale, president of the North America Wholesale Lumber Association, said in the Reuters article. "Certainly, we see a good portion of the rebuilding taking place in the spring."
The winter months would hamper the speed at which damaged homes will be repaired.
Meanwhile, inventories are low on the supply side.
"Inventories are on the low side, in part due to the seasonal trend as we get into the winter months," Jon Anderson, president of Random Lengths, said in the article.
Additionally, lumber prices have been supported by the improving housing market.
While ETF investors can't directly gain exposure to lumber futures, investors can follow timber equities through the Guggenheim Timber ETF (NYSEARCA:CUT) and the iShares S&P Global Timber & Forestry Index Fund (NASDAQ:WOOD).
Guggenheim Timber ETF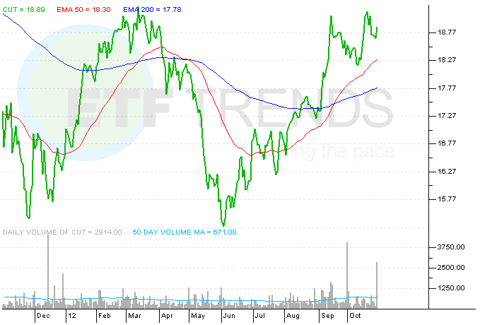 Max Chen contributed to this article.
Disclosure: I have no positions in any stocks mentioned, and no plans to initiate any positions within the next 72 hours. I wrote this article myself, and it expresses my own opinions. I am not receiving compensation for it. I have no business relationship with any company whose stock is mentioned in this article.
Additional disclosure: Mr. Lydon serves as an independent trustee of certain mutual funds and ETFs that are managed by Guggenheim Investments; however, any opinions or forecasts expressed herein are solely those of Mr. Lydon and not those of Guggenheim Funds, Guggenheim Investments, Guggenheim Specialized Products, LLC or any of their affiliates.