My recipe for investing is based on a simple strategy. I buy stocks that are trading for considerably less than I think they are worth. When those stock prices move up to a price at which I think they are fairly valued I sell them.
I know. It sounds crazy.
Because I use that recipe I have never owned Crescent Point Energy (CSCTF.PK). It always appears pretty fully valued to me when I crunch the numbers.
Fully Diluted Shares Outstanding - 355 million
Market Capitalization - $15.1 billion
Enterprise Value - $16.6 billion
2012 Exit Rate Production Guidance - 109,000 boe/day
Valuation per flowing barrel - $16.6 billion / 109,000 = $152,000
Proven and Probable Reserves - 574 million boe (91% oil)
Valuation per Proven and Probable barrel - $16.6 billion / 574 million = $28.19
Estimated 2012 Cash Flow - $1.59 billion
Enterprise Value / Cash Flow - $16.6 billion / $1.59 billion = 10.44 times
Don't get me wrong. I like Crescent Point Energy the company, I just don't like Crescent Point Energy at these valuations. This seems to be a fair valuation for this company, and I'm looking for undervalued securities.
Taking Advantage of Fully Valued Shares
The gentlemen running Crescent Point are no fools. They seem to be trying to use their fully valued shares in an accretive manner for shareholders by repeatedly using equity to make acquisitions.
Check out the acquisition binge this company has been on in 2012 and the shares that have been issued in doing it:
January 24, 2012 - Acquires 5,400 boe/ day from Wild Stream Exploration for $610 million of Crescent Point shares at $45.62. The $610 million price equated to $109,800 per flowing barrel
February 16, 2012 - Acquires 2,900 boe/day of Bakken production from Petrobakken (PBKEF.PK) for $427 million
February 16, 2012 - At the same time acquires from an undisclosed party 640 boe/day of Manitoba production for $130 million
To fund the February 16 acquisitions Crescent Point issued $525 million worth of equity at $45.25
May 3, 2012 - Acquires private company Cutpick Energy which has 5,600 boe/day of production for $425 million of Crescent Point shares at $43.13.
June 1, 2012 - Acquired 2,500 boe/day of Shaunavon production for $343 million in cash from an undisclosed senior oil producer.
August 9, 2012 - Issues 15,433,000 Crescent Point shares for $633 million.
November 1, 2012 - Acquires 7,800 boe/day of Uinta basin (Utah) production for $831 million by acquiring privately Ute Energy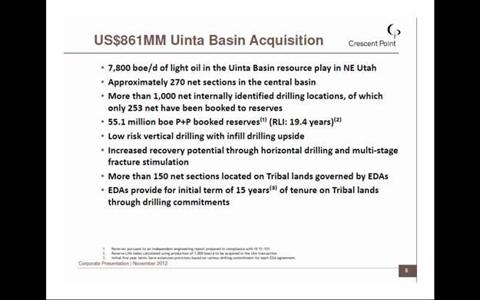 November 1, 2012 - Simultaneously announces issuance of 18,750,000 shares of Crescent Point which will raise $750 million
When I add all this up it seems that Crescent Point has acquired 24,280 barrels per day of oil weighted production for $2.84 billion. That equates to $114,000 per flowing barrel.
In making these acquisitions Crescent Point has issued $2.94 billion of equity at prices ranging from $40 to $45 per share. At these prices Crescent Point is raising cash with equity valued at over $150,000 per flowing barrel.
It certainly seems like an intelligent strategy. Buying oil production at a price of $114,000 per flowing barrel by using stock valued at over $150,000 per flowing barrel should be accretive to shareholders.
Shouldn't Investors Listen to What Management is Saying?
What I have to wonder is why in the world would an investor buy shares of Crescent Point today when management is clearly telling us that it believes the shares are fully valued. With the repeated issuances of equity, that is pretty much what they are telling me. Management is saying that issuing shares at the current price does not dilute shareholder value.
I think what management is doing is very intelligent, but that doesn't make me want to buy shares. In fact, it makes me want to avoid buying shares.
Even great companies aren't great investments at the wrong price.
Disclosure: I am long PBKEF.PK. I wrote this article myself, and it expresses my own opinions. I am not receiving compensation for it (other than from Seeking Alpha). I have no business relationship with any company whose stock is mentioned in this article.