A good apple farmer will know when his apples are ripe. Contrary to popular belief, whether or not an apple is ripe has little to do with size or color. An apple farmer knows when his apples are ripe because he tracks the number of days since the trees flowered.
Yes, it is a cheesy analogy, but a good investor should also know when a stock is ripe for the picking. Stocks, like apples, mature (or ripen) over time.
The Apple is Ripening
Apple Inc. (NASDAQ:AAPL) is now down over 17% from its recent peak and the company is recovering from its first quarterly earnings miss since it changed the world with its innovative products. The bears are currently licking their chops and many investors are worried about slower growth in the future.
Here's a news flash for you - Apple is maturing as a company. The company has grown earnings at a compound annual rate of 64% over the past 5 years. It's unrealistic to think that Apple (or any company for that matter) could keep that up that pace forever.
Here's a question for all you Apple bears out there: What's wrong with 15%-20% growth for the next 5 years?
Apple will continue to come out with innovative products and expand globally in the future (that is a given), but investors need to manage their expectations about the stock. The stock will most likely not be at $1,000 per share by the end of next year like some people think, but realistically, it should be in the mid $700s.
Yes, growth is slowing as their products saturate the market, but Apple is still a great long-term investment. The post Steve Jobs management team has already proven that they are willing to return some cash to shareholders and we foresee some nice dividend hikes over the next few years as the company continues to mature.
The Stock Is Ripening
As we highlighted in a recent article, we believe that the stock is now more reasonably priced for future growth expectations.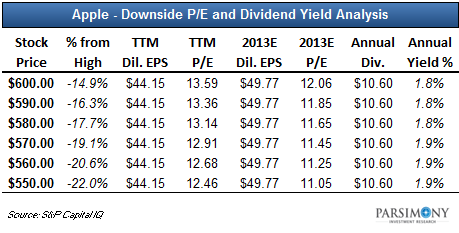 The stock is down almost 20% from its recent peak and it is currently trading around 11.5x 2013E earnings (see table above).
Apple is also currently trading slightly below the low end of our target "Buy Zone" and we believe that this is a great entry point for long-term investors.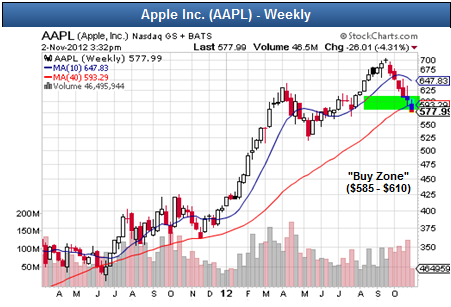 This Apple feels pretty ripe to us...
Disclosure: I am long AAPL. I wrote this article myself, and it expresses my own opinions. I am not receiving compensation for it (other than from Seeking Alpha). I have no business relationship with any company whose stock is mentioned in this article.