On Thursday, BlackBerry maker Research In Motion Limited (RIMM), a leading designer and marketer of innovative wireless solutions, reported Q2 results for the three months ended August 30, 2008.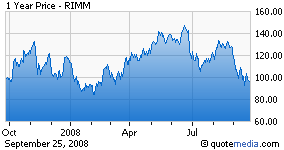 The Waterloo, Ontario-based company reported a sharply higher quarterly profit on Thursday but its profitability outlook for the third-quarter disappointed investors, sending shares plunging nearly 20% in after hours trading, with order fills below the $79 level. Shares of the Canadian company have taken a beating from $140 to about $100 over the last quarter on worries that heavy marketing expenses, product delays, and soft economic conditions could erode its profit margins.
On the conference call, the company said revenues for the second quarter were $2.58 billion on earnings of $0.86, up 15% from $2.24 billion in the previous quarter and up 88% from $1.37 billion in the same quarter of last year. First Call had estimates of $0.87 for earnings and $2.6 billion for revenue.
The revenue breakdown for the quarter was approximately 82% for devices, 13% for service, 3% for software and 2% for other revenues. During the quarter, RIMM shipped approximately 6.1 million devices.
For the current quarter, the company sees earnings to be in the range of $2.95-$3.10 billion. First Call estimates are $0.98 and $2.94 billion. Earnings per share for the third quarter are expected to be in the range of $0.89-$0.97 per share diluted based on a gross margin of approx. 47% versus 50.7% for this last quarter, and operating expenses that are 1-2% lower as a percentage of revenue than in the second quarter.
The company expects total operating expenses to increase in the third quarter to 11-12% from second quarter levels with research and development increasing 11-12% and sales marketing and administration expensing increasing by 10-11%. However, it mentioned that the big OpEx spending is behind them and more normal spending will take place.
For a high-growth stock like RIMM, these numbers are definitely not what the Street was looking for. Apparently, at least in the near term, besides facing competitive challenges, the company doesn't seem to be well insulated, from coordinating business-expansion in targeted markets while holding costs down.
Disclosure: None