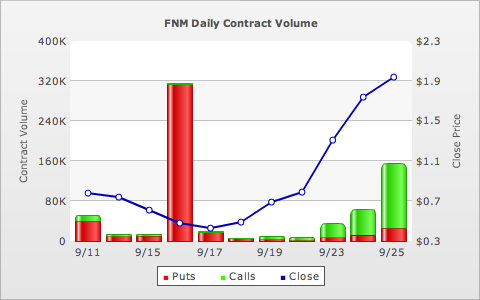 Fannie Mae (FNM) and Freddie Mac (FRE) shares saw extreme volatility and heavy call volume Thursday. Shares of Freddie traded between $1.30 to $2.95 before settling the day down 3 cents to $1.86. In the options market, 115,000 calls and 21,000 puts traded on Freddie Thursday. Meanwhile, FNM traded between $1.09 and $2.76 before closing the day up 20 cents to $1.94. 131,000 FNM calls and 25,000 puts have traded on Fannie Mae.
At Thursday's closing prices, FRE is up 238 percent on the week. FNM is up 181 percent. The heavy call volume and big gains come as a surprise because the two companies were seized by the government and placed into a conservatorship earlier this month.
There are a few possible explanations for the bullish trading in both Freddie and Fannie. First, buying is being fueled by heavy short covering in both names after the exercise of puts at expiration resulted in many failure to delivers and many buy ins. The problems arose during the September options expiration due to the Securities and Exchange Commission ban on short selling, announced Friday morning before the options expiration, which resulted in a lack of stock to sell short to handle the assignment at options expiration.
Hopes for more government intervention seem to be playing a role as well. Senator Barney Frank said Wednesday that a government bailout of the two banks could hurt smaller banks by devaluing preferred FNM and FRE, perhaps raising hopes the government will take steps to protect their shareholders. Fannie Mae shares also rose Wednesday afternoon after it said it did not request money from the Treasury's borrowing facility.
Thursday, shares seemed to get a lift after Dow Jones Newswires reported that that the two GSEs might be included in the government's toxic debt removal program. Finally, some investors seem to be betting that the two companies could eventually move out of conservatorship and, if so, common shareholder rights will be fully restored sooner than expected if the early results from the bailout plan prove to be working as policymakers hope.
Disclosure: None