We have been long Visa (NYSE:V) since last year. While we believe that the easy money has been made with this company, we took issue with UBS's IT Services Analyst John Williams slapping a sell recommendation on Visa and MasterCard (NYSE:MA) in July and reducing his target prices on those companies by about 11% each. At the same time, we didn't judge him for getting it wrong because we were pleased that Visa had generated such strong results in its FQ3 2012 period and it continued its sterling record of exceeding analyst expectations, including our own. We love the business model for the credit card companies is not only recession resistant, it also benefits from payments migrating away from analog payments like cash and checks and towards digital payments like credit/debit cards and online payments.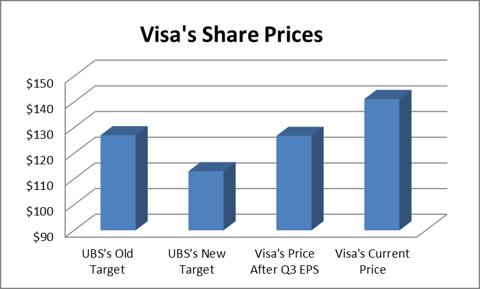 Source: Morningstar Direct and Fox Business
We find Visa to be a consistent cash generator and that's why we have it and like it. The company beat consensus EPS estimates by $0.03 per quarter from Q2 2011 to Q1 2012 and it smashed through Q2 expectations with $1.60 in adjusted EPS, $.10 ahead of the $1.50 consensus and Q3 expectations with $1.56 in adjusted EPS, $.11 ahead of the $1.45 consensus. Visa's Q4 2012 adjusted EPS of $1.54 only beat consensus estimates by $.04. This was 21% above the $1.27 earned in Q3 2011 and benefited from the following growth drivers:
Organic revenue growth (14.6% Total Revenue Growth which included a Negative impact from currency relating to the strong US Dollar)
Bolt-on acquisitions executed in the prior year's period
A reduced outstanding share count aided by 3M shares repurchased in the quarter and 20M on a year-over-year basis
Positive operating leverage due to reductions in network processing and general and admin expenses
During the quarter Visa's credit payment volumes worldwide grew by 7.4%. Visa's Debit payment volumes slumped by 5.9% to $271M in the US and grew by 10.8% worldwide to $94M. This helped Visa's worldwide debit programs limit the decline in payment volumes to 2.1%. Cross-border volume also posted healthy gains, increasing 10% globally on a constant currency basis. We were disappointed that transactions processed over Visa's worldwide network only grew by 2%, but we noted that a 1% decline in US transaction volume due to the Durbin impact mostly offset the 19% increase in worldwide transactions. Visa's CyberSource business continues to be a star performer with 1.36B billable transactions, a 25% increase from the 1.088M achieved in Q4 2011. Last quarter, Visa agreed to pay $4.1B and MasterCard had to pay $790M in order to settle merchant interchange fee litigation. This quarter, Visa announced that it was recovering a one-time, non-recurring tax benefit of $627M due to release of previously recorded tax reserves. We are especially pleased that Visa has shown strong revenue growth on a linked-quarter basis, linked quarter revenue has either been stable or growing since Q1 2010.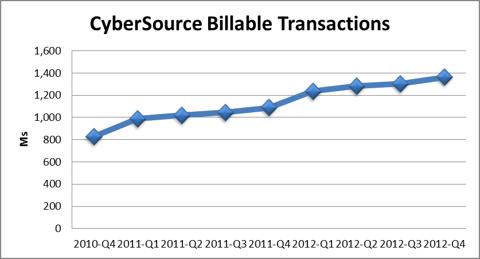 Source: Visa's Q4 2011 and Q4 2012 Earnings Releases
Visa saw greater growth internationally, as we expected. Visa Latin America saw its total transactional volume increase by 10.2% year-over-year on a constant dollar basis, driven by a 21.1% constant dollar increase in its payments volumes. Visa's Asia Pacific total volume increased by 8.6% and was due to growth rates in its payments volume (8.1%) and cash volumes (9.7%) and Visa CEMEA region saw its total volume increase by 19%. For Visa's 2013 outlook, it expects its net revenue growth in the low double digits and its client incentives as a % of revenue are expected to be in the range of 18%-18.5%. It expects its marketing expenses to be less than $1B, its adjusted operating margin to be 60% and its tax rate to be 30%-32%. Adjusted Class A EPS is expected to be in the high teens (we are expecting 17% ourselves), its CapEx is expected be in the range of $425-$475M and its free cash flow will reach $5B.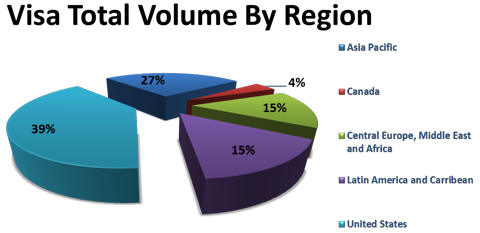 Source: Visa Q4 Earnings Press Release
Visa recently announced that it hired Charlie Scharf away from J.P. Morgan Chase's (NYSE:JPM) One Equity Partners private equity unit to replace its CEO Joseph Saunders. Scharf will begin serving as CEO on November 1st and Saunders will serve as Executive Chairman until he retires in March 2013. Scharf has a strong and diversified background at the Travelers Group and with Bank One from 2000-2004, when it was acquired by J.P. Morgan Chase. Scharf spent 7 years as the CEO of JPM's Retail Financial Services business and was also a Founding Director of Visa when it went public in 2008. At the FQ4 2012 Earnings Call, Saunders said that Visa hired Scharf because of his understanding of Visa's business.
In addition to settling the legal matters last quarter, Visa also announced it repurchased $174M worth of Visa stock net of employee stock issuance this quarter. Visa repurchased over 1M shares during the quarter and Visa authorized a $1B, 12 month repurchase program in Q3 2012 and added $1.5B to the repurchase program authorization in Q4 2012. This brings Visa's share repurchase authorizations to a total of $2.3B available after taking into account the shares repurchased in Q4 2012. The company deposited $150M in its litigation escrow account which reduced the Class B share conversion ratio to .4206 B shares for each Class A share and reduced the Class A equivalent share count by 1.2 million shares. Visa also increased its dividends and it grew its revenue and EPS faster than American Express (NYSE:AXP). Visa's adjusted net income for the quarter was 84% of American Express's net income. Then again, Visa didn't have to record a $479M credit loss provision like American Express because Visa merely operates a payment network while American Express also serves as the lender to its credit card network. This enables Visa to have a higher profit margin than AMEX even though AMEX's merchant discount rate is twice as high as Visa's.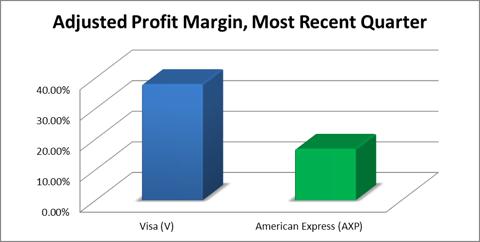 Source: Visa and American Express Most Recent Quarterly Releases
In addition to having stronger performance than American Express, we see that it is showing stronger revenue and profit growth versus MasterCard and Discover Financial (NYSE:DFS). In each firm's most recent quarter, Visa was able to generate revenue growth of 14.6% and adjusted EPS growth of 21%. This compared favorably with its most immediate competitor MasterCard, which saw 5.5% revenue growth and 9.6% profit growth. American Express's revenue before loan loss provisions only went up by 3.85% and 83bp including the impact of loan loss provisions. At least it had a 4.15% year-over-year reduction in outstanding shares and that helped its EPS increase by 5.825%. As for Discover Financial, we discovered that Discover's revenue grew by 10% year-over-year, but its EPS only increased by 2.54% due to $94M in legal charges relating to the recently concluded Federal Deposit Insurance Corporation (FDIC) and Consumer Financial Protection Bureau (CFPB) regulatory matters. Excluding this charge, DFS's adjusted EPS increased by 12% year-over-year.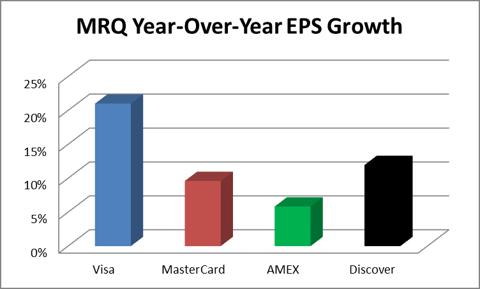 Source: MRQ Reports for Visa, MasterCard, American Express and Discover
In conclusion, we are pleased with what we are seeing out of Visa. We have also made available our research report on Visa which offers a comprehensive evaluation of the company. We believe that since the litigation settlement is behind it and that the draconian price cuts for interchange fees were mitigated by last June, Visa and MasterCard's leadership can focus directly and exclusively on growing these businesses on behalf of shareholders. We are amazed that these companies have been able to grow and generate profits in spite of having to respond to legal matters. Visa and its payment processing peers have a fantastic wide-moat business operating model and that gives the companies significant flexibility to reward shareholders, which explains Visa's $2.3B remaining share repurchase authorization and recent 50% dividend boost. We think that Visa is poised to strengthen its competitive position with the new CEO replacing the retiring CEO Joseph Saunders.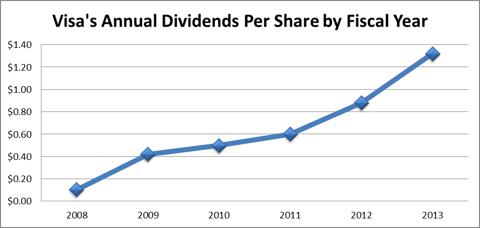 Source: Visa's Investor Relations Website
Disclosure: I am long V. I wrote this article myself, and it expresses my own opinions. I am not receiving compensation for it (other than from Seeking Alpha). I have no business relationship with any company whose stock is mentioned in this article.
Additional disclosure: This article was written by an analyst at Saibus Research. Saibus Research has not received compensation directly or indirectly for expressing the recommendation in this article. We have no business relationship with any company whose stock is mentioned in this article. Under no circumstances must this report be considered an offer to buy, sell, subscribe for or trade securities or other instruments.