DreamWorks Animations, SKG (NASDAQ:DWA) gave the red carpet to its 3Q 2012 earnings report and it and it was an award winning performance. Earnings per share came in at $0.29, bashing street estimates by a whopping $0.18 a share. This came off revenue per share of $186.3 million, a pleasing 15.9% improvement year-over-year while destroying street estimates by $47 million.
According to its press release:
For the quarter, the Company reported total revenue of $186.3 million and net income of $24.4 million, or $0.29 per share on a fully diluted basis. This compares to revenue of $160.8 million and net income of $19.7 million, or $0.23 per share on a fully diluted basis, for the same period in 2011.
Despite improving numbers, investors have been slow to return to Dreamworks. After a heavy sell off beginning in 2010, the profitable company has only recently returned to a price above $20, closing 1 November at $20.61 before the earnings announcement.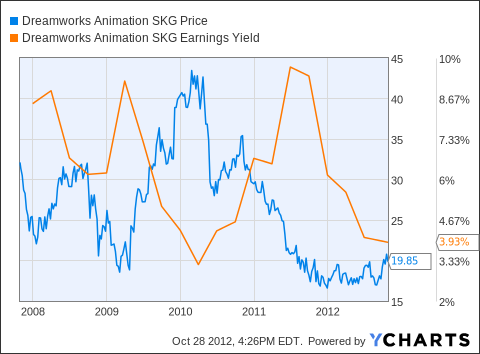 The sources of revenue, though are most interesting:
Main Revenue Generators for DreamWorks Animation

| | |
| --- | --- |
| Revenue Source | Revenue |
| Madasgar 3 | $47,100,000 |
| Puss In Boots | $44,800,000 |
| Kung Fu Panda 2 | $9,000,000 |
| Megamind | $700,000 |
| Library | $50,600,000 |
| Other Revenue | $30,100,000 |
Source, Dreamworks 3Q 2012 Earnings Release
While many investors will concentrate on the top couple of lines, where recent releases are earning big numbers in theaters and pay television, I am looking at the final two lines and smiling. Dreamworks movie library now stands at 24 films, including franchises like Shrek, Kung Fu Panda and of course Madagascar. The library and other media revenue is steadily increasing, giving a new reliability and steadiness to Dreamwork's earnings through television, DVD and electronic medium.
The greatest danger with a smaller studio like DreamWorks is the volatility of its earnings. When a hit movie comes it earnings become shooting stars, but when there are months, even years between hits and the earnings plunge. Now as the production pace quickens, the earnings begin to overlap each other.
Again, from the company's earning announcement:
"DreamWorks Animation's third quarter results were driven by the blockbuster international box office success of Madagascar 3: Europe's Most Wanted, which has earned nearly $720 million at the worldwide box office to date, to become the fifth highest-grossing film of the year on a global basis," said Jeffrey Katzenberg, Chief Executive Officer of DreamWorks Animation. "We are looking forward to the next major event film for the Company during the fourth quarter, the November 21st theatrical release of Rise of the Guardians."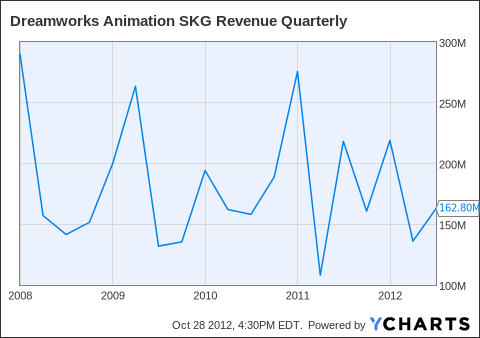 DWA Revenue Quarterly data by YCharts
DreamWorks also is ramping up production of its new releases. The company has 20th Century Fox as its new theatrical distributor and the company is intending three movie releases each in 2013 and 2014 and four in 2015. While movie releases are always iffy earnings-wise the company has an excellent track record.
Only one movie, the early 2000 Road to El Dorado failed to gross at least production costs while the company has had to write down losses on a total of only three films. Three flops out of 24 is outstanding in the movie industry, especially placed beside the long list of mega hits like Shrek, Madagascar and Kung Fu Panda DreamWorks has produced..
Revenues are strong, the business model is maturing, production is expanding. It looks to me like DreamWorks are dusting things off. The last minute adjustments are being made and the carpet is rolling out. DreamWorks looks to be giving the red carpet treatment to investors in 2013.
Disclosure: I am long DWA. I wrote this article myself, and it expresses my own opinions. I am not receiving compensation for it (other than from Seeking Alpha). I have no business relationship with any company whose stock is mentioned in this article.