When it comes to renewable oils company Solazyme (SZYM), it would be good to check your understanding of biofuels at the door. Solazyme's heterotrophic algae are utilized within a closed fermentation process to make triglyceride oils. These oils can be used to replace a wide range of products derived from petroleum, plants, and animal fats. Yes, they can even be used to produce biofuel. But with all the negative associations that have come with biofuels and their associated processes, investors would do well to remember one simple fact mentioned in every quarterly report. As seen in the company's 10-Q filed here, Solazyme reminds its investors in the very first line of the company overview: "We make oil."
The vast range of oil's uses in our daily lives extends far beyond the $4 fuel that is pumped into a car. Oils are used in everything from soaps to paint. Oil is used in the making of your cookies, your fertilizer, your plastics, your drugs, and even your cosmetics. Oil has made this world what it is today, and this can be best illustrated through the graphic seen below.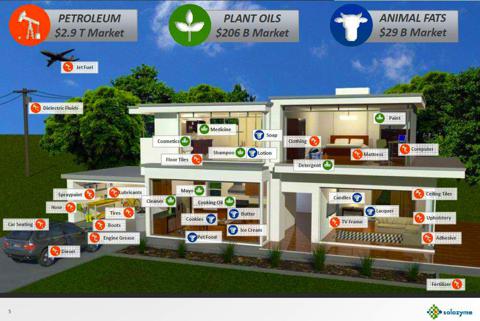 Yet with every specialized use of oil comes an attached difference in price based on the demand of the resource. After all, even crude oil itself is not a uniform product. Consider the more recent divergence in pricing of the Western Texas Intermediate [WTI] & Brent crude oil spot prices as seen in the graph below. The difference between the two benchmarks comes down to a distinction of quality. WTI crude is lighter and sweeter, containing about 0.24% sulfur. On the other hand, Brent crude has roughly 0.37% sulfur and is therefore more difficult to refine into gasoline. The divergence in price is due to an imbalance in supply and demand.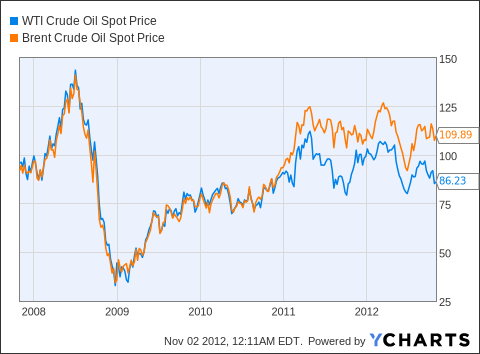 WTI Crude Oil Spot Price data by YCharts
It's A Matter Of Control
Why an imbalance like this matters to a company like Solazyme ultimately rests in a factor that is often overlooked by investors. The reason is simple: Solazyme introduces control into the process of sourcing oils. The problem with crude oil today (and one that will increasingly get more difficult over time) is that we can't control the type or quality of the oil coming out of the ground. In a similar way, we can't control the effects of weather or pests on seed oil quality. As for animal fats, even control over the amount of supply is restrained to its other markets.
However, Solazyme's process offers a unique advantage in that it is capable of cost-effectively tailoring its oil profiles to meet the needs of the end client. The company can control carbon chain lengths, saturation levels, and functional groups to modify important oil characteristics. It can replicate existing oils. It can enhance those that it replaces. It can even create ideal profiles for industry not found in nature.
What this means is that the company can ultimately make whole barrels of oil that are essentially made up of the most valuable parts. This can be seen in the graphic below. Those who believe the company is competing against the barrel of crude oil miss the point entirely. Because Solazyme can effectively control its output, the company bridges a very vital gap in our economy's logistical supply line. The company is capable of offsetting priced imbalances between supply and demand. The company can address the most lucrative markets by creating a flexible source of customized oil that is derived from low-cost materials. This is especially the case as cellulosic sugars become more viable as a feedstock.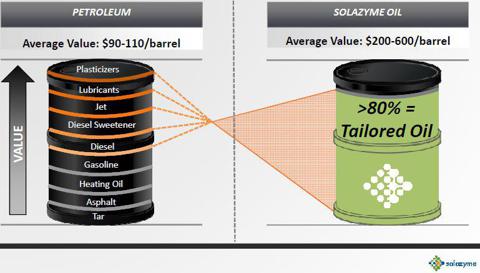 Already, the company is applying this business model in an area outside of petroleum-based oil. In the last conference call, CEO Jonathan Wolfson announced the pursuit of the company to develop a new oil profile that was highly concentrated in myristic acids. As a specialty ingredient widely used in personal care product lines and as a flavoring additive in food, myristic acid represents a $600 million market annually. At the time of the company's IPO, Solazyme stated it would be able to manufacture oils at a cost below $1000 per metric ton if produced in a built-for-purpose commercial plant. The pricing of myristic acid can be seen in the graphic below and confirmed through a site like the one found here.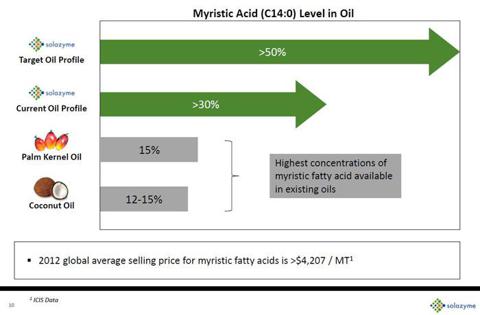 Starting Up The Growth Engine.
As of today, November 1, Solazyme carries a market capitalization of $494 million. The company took in revenues of $39 million in 2011, of which a mere total of $7.2 million were actually attributable to product revenues. The company accomplished these product revenues primarily through contract manufacturers. Based on comments I've read, many readers appear to forget that Solazyme has just begun to construct its own production capacity through the help of joint venture partnerships. Those questioning revenue growth should be questioning if it was reasonable to have expected it in prior reports.
The company remains on track to constructing 550,000 metric tons of capacity through these partners by the end of 2015. As stated in the Q3 2011 conference call, it is expected that this capacity will support annual revenues in excess of $1 billion. The company is likely to see its largest revenue generation through its segments of chemicals and nutrition.
Yes, it is true that the company originally set out to make biofuels. While the backlash remains strong as to what is still becoming a reality regardless, investors should note that biofuels aren't necessarily going to be the core strength of the company's future. Solazyme's management was smart enough to adapt alongside to where the technology took them. In doing so, the company has been presented with a unique growth opportunity that few (if any) are able to effectively compete in. The company can create customized oil solutions. It can tackle the most valuable markets. It can claim the most important intellectual property.
Conclusion
For a world addicted to the use of oil in a time in which few alternatives to it exist, Solazyme finds itself well-positioned as a niche value creator. The company can dominate markets for which limited supply exists. The company is currently expanding its production capability and has several key upstream partnerships in place. Yet even downstream, the company has found working relationships with large names such as Dow Chemical (DOW), Whole Foods (WFM), Unilever (UN), and United Continental (UAL). Access to these partners alone carries value unable to be priced on a balance sheet.
Ultimately, Solazyme is becoming more and more about sourcing the hard-to-find. This can be seen in the company's new high-oleic oil which effectively eliminates the presence of polyunsaturates, a feat that Big Agriculture has never been able to do. It can also be seen in the new dielectric oil that brought Dow Chemical knocking on the company's door. Altogether, the company is about addressing demand through a new source of cheap oils. Indeed, it's about creating solutions to lucrative markets that have few answers. Solazyme is at the right place, at the right time. If only the investing public saw that too.
Disclosure: I am long SZYM. I wrote this article myself, and it expresses my own opinions. I am not receiving compensation for it (other than from Seeking Alpha). I have no business relationship with any company whose stock is mentioned in this article.