Napoleon Bonaparte had a way with words. He also had a vicious temper. On January 28th, 1809, the Emperor Napoleon called his newly appointed Grand Chamberlain, the crafty and duplicitous Prince Talleyrand, on the carpet at the Tuileries and denounced the aging diplomat in front of the Imperial Court for plotting against him with Fouché, Napoleon's Minister of Police. After upbraiding and ridiculing Talleyrand for the better part of an hour as "a thief and a coward" who should "be broken like a glass" and "hung from the gates of the Carrousel," Napoleon concluded his famous tirade with the words:
"...vous êtes de la merde dans un bas de soie!" ("You're shit in silk stockings!")
Pardon my French.
No doubt, Netflix (NASDAQ:NFLX) CEO Reed Hastings is using equally florid metaphors to describe Carl Icahn, in private, of course. Publicly, Netflix's PR department put on a cheerful face following Icahn's disclosure of his 9.98% stake in the company. The canned press release gives the impression that Hastings and Icahn will be taking breezy afternoon walks on the beach, sharing mojitos while they discuss the future of Netflix in wistful tones.
We have many shareholders, now including Mr. Icahn, and we're always open to their perspective on how to build on our success.
No doubt TWA's press release said something similar when Mr. Icahn came calling in 1985.
The Wolf Comes Knocking
Carl Icahn is known for his substantial or controlling interests in RJR Nabisco, TWA, Texaco, Phillips Petroleum, Western Union, Marshall Field's, E-II (Culligan and Samsonite), American Can, USX, Marvel Comics, Revlon, Imclone, Uniroyal, Federal-Mogul, Fairmont Hotels, Blockbuster, Kerr-McGee Gulf & Western, Viacom, Dan River, Motorola, and Time Warner.
In each company, Icahn built up a strategic position and then tried to replace the existing Board with his own nominees, or initiated a proxy war. The bulk of Icahn's Netflix stake is in September 2014 call options, which allows Icahn to maximize his potential stake while minimizing the capital at risk.
Why is Icahn interested in Netflix? According to Wedbush Securities analyst Michael Pachter,
It's the only one that makes sense. Instead of spending billions on content, Amazon should just buy Netflix and get the synergy and scale.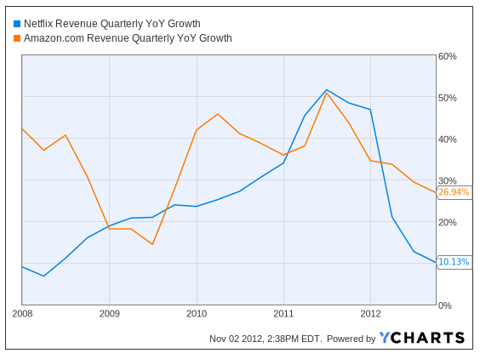 As Icahn told the Wall St. Journal on Wednesday,
There's going to be consolidation in this industry, and there are, I would believe, a lot of interested buyers that have a lot more capital than Netflix.
It's a sound argument. Last week, a media combination comprised of Disney (NYSE:DIS), News Corp (NASDAQ:NWSA), and Comcast (NASDAQ:CMCSA) bought the online streaming company Hulu for $200 million, or roughly $1,000 per paid subscriber, give or take. Netflix's subscribers are currently valued at about $100 apiece. If the Media Moguls will pay $1,000 per subscriber for Hulu, the thinking goes, why not Netflix?
Hastings Vulnerable
Carl Icahn is the last thing in the world that Hastings needs right now. The Netflix CEO is already besieged by critics and outraged subscribers for first splitting, then phasing out the DVD-by-mail portion of Netflix's business, a difficult domestic subscription market, a declining subscriber base, the defection of Epix to Amazon (NASDAQ:AMZN) Prime, the recent row with Starz, and a near universal thumbs down from the investor community. And now Carl Icahn, the legendary shareholder activist and corporate raider, is sitting on Hasting's doorstep giving interviews about unlocking shareholder value.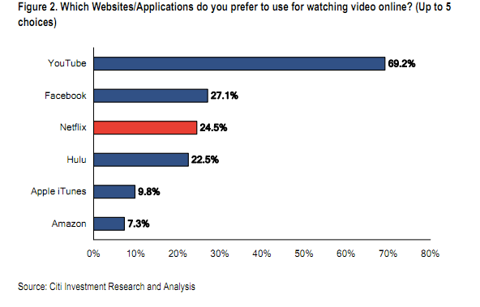 And there may be more to Icahn's Netflix stake than another undervalued company in a consolidating market. Icahn's bid to take over Blockbuster by stuffing the Board failed at least partly due to Hastings.
In other words, Icahn's bid may be something personal. If that's even partly the case, then Reed Hastings is in a extremely vulnerable position indeed.
Surrounded By Strangers
Hastings started selling off his stake in the company in February 2003, when the stock traded at around $6 a share. Since then, Hastings has sold 20,000 shares of Netflix stock every two weeks over the last decade without missing a beat, decreasing his own influence with every sale. Today, Reed Hastings owns only 4.4% of Netflix. According to 24/7 Wall St., T. Rowe Price and Associates own 6,366,538 shares (11.57%), followed by Icahn, who owns over 5.4 million (9.98%) in shares and call options, Davis Selected Advisers 4,240,028, (7.71%) and Vanguard Group 3,043,776. (5.53%).
In other words, Reed Hastings is the CEO of a company where the second largest stakeholder is a raider, with a Board composed of strangers. Insider allies, like Netflix Director Jay C. Hoag and Netflix CFO W. Barry JR. Mccarthy followed Reed's lead and sold out a long time ago.
Takeover Defenses
The only thing that now stands between Carl Icahn and the Netflix Board, as analyst Vasily Karasyov with Susquehanna Financial Group notes, is that the Netflix does have moderate protection against hostile takeovers: the Netflix Board is staggered, with one-third of members up for reelection every year, which means that it would take Icahn two years to pack the Board. That prevents any immediate changing of the guard. Shareholders also cannot call a special meeting to elect new directors. That heads off a proxy fight.
Ah, but Hastings may not have two years. Two days ago, the Netflix SEC filing was flagged for what the company described as a "typographical error." Netflix had reported just the week before in its Q3 earnings report that its new launch in Latin America, Ireland and the United Kingdom "has contributed to a 14% increase in our content expenses in the International segment."
As it turns out, the real increase in Netflix's content expenses was not 14%, but 384%!
Analysts were not amused. Wedbush Securities' Michael Pachter wrote:
If content costs rise faster than we have modeled or growth stalls sooner than we have modeled, we are prepared to lower our quite generous $45 price target.
Netflix currently trades at $76.90.
Bottom Line
Timing is everything. Netflix may well be the investment of the year, but not this year. Keep a weather eye on any sudden changes in insider buying or selling, managerial shakeups, and the Board of Directors. Sudden departures, especially if Reed Hastings goes, will mean that a sale is the works. At the moment, however, Icahn is just biding his time.
Recommendation: Sell/Short NFLX.
Disclosure: I am long YHOO, NOK, AAPL, MSFT. I wrote this article myself, and it expresses my own opinions. I am not receiving compensation for it (other than from Seeking Alpha). I have no business relationship with any company whose stock is mentioned in this article.