Back in April, ConocoPhillips (NYSE:COP) split off Phillips 66 (NYSE:PSX) to create a company focused on upstream exploration and production. The ultimate goal was to release the company from the regulatory and margin pressures common in the refining business of the new Phillips 66.
A few months after the split, Buffett's investment arm of Berkshire Hathaway Inc. (NYSE:BRK.B) famously increased investments in Phillips 66, to the surprise of most. The refining business has long been suffering due to low cost foreign imports and domestic regulations. Buffett and others though were interested in the potential of the chemicals and pipeline division. As we highlighted back then, the majority of the profits in that company will be derived from the refining arm for the foreseeable future.
So was Buffett right to invest in Phillips 66?
Q3 2012 Highlights
ConocoPhillips reported the following highlights for Q3 2012:
Third-quarter 2012 adjusted earnings were $1.8 billion, or $1.44 per share, compared with third-quarter 2011 adjusted earnings of $1.9 billion, or $1.40 per share.
Quarterly production of 1.525 million BOE per day.
Continued ramp up in Eagle Ford and Bakken to 102 thousand BOE per day.
Ongoing growth from Canadian oil sands and successful startup of Christina Lake Phase D.
Major projects and drilling programs on schedule to deliver volume and margin growth.
Analysts expected earnings of only $1.13, so the reported earnings of $1.44 easily beat analyst numbers. The Eagle Ford production continues to ramp, with production hitting a record 86 thousand BOE/d in Q3.
Production Review
As mentioned above, production continues to advance in the Eagle Ford and Bakken shales. In fact, the Eagle Ford is expected to hit 100 thousand boed by the end of Q4.
Another positive sector is the Canadian oil sands, where production increased roughly 10% year-over-year to 277 thousand boed. Expansion projects at the Christina Lake Phase D, FCCL, and Surmont are progressing as expected.
The biggest impact in North America remains a significant decline in the Alaska segment, where production was down 32 thousand boed to 176 thousand boed.
Production in the international segments was mostly flat, with a rebound in Libya operations offset by dispositions in Europe.
ConocoPhillips' realized prices fell in the third quarter compared to the same period of 2011. Realized crude oil prices decreased $3.89 per barrel to $102.72 per barrel, compared with $106.61 per barrel for the third quarter of 2011. Realized natural gas prices decreased by 16 percent from $5.45 per thousand cubic feet (NYSEMKT:MCF) in the third quarter of 2011 to $4.56 per MCF for the current quarter. Realized natural gas liquids (NYSE:NGL) prices decreased by 27 percent to $40.39 per barrel, compared with $55.61 per barrel for the third quarter of 2011.
Advantaged Refining Margins
Phillips 66 has benefited from cheap US crude supplies, while charging refined prices based on expensive Light Louisiana Sweet in the Gulf Coast or Brent Crude prices. This provides the company with advantaged margins for the current time period, with an estimated 63% of the company's U.S. crude slate in that category.
Average worldwide market crack spreads increased approximately 40 percent, and the company captured most of this improvement, achieving a realized refining margin of $17.05 per barrel. In the Central Corridor region, the company's realized refining margin was $31.83 per barrel, capturing 88 percent of the market crack spread.
During Q3, Phillips 66 generated over 86% of the $1.9B in profits from the refining sector. On top of that, the promise for growing the chemical and pipeline divisions have few catalysts for growth potential in the near term. Clearly, the stock's return now rests on the short-term benefits of lower, advantaged crude prices.
Stock Price
The price action has clearly been in favor of Buffett's team since that announcement back in July. Phillips 66 has soared nearly 36%, while ConocoPhillips and the S&P 500 have made solid 5-6% gains during that period.
Chart: ConocoPhillips versus Phillips 66 Returns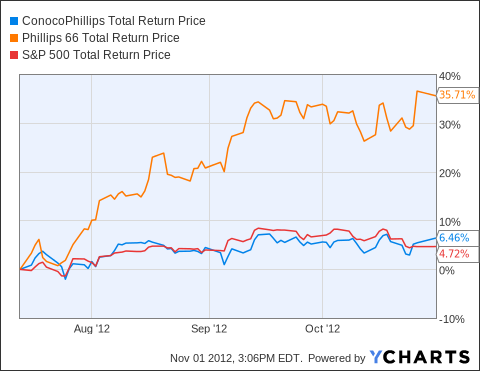 COP Total Return Price data by YCharts
Conclusion
While Buffett has made strong short-term gains, the benefits are based on a short-term anomaly in the worldwide crude pricing structure. As chemical and refining companies such as Phillips 66 become more adept at acquiring product from the surging shale plays in the US, the spread between domestic and Brent crude prices should moderate. That switch will increase the profits of ConocoPhillips and reduce the margins at Phillips 66.
Investors should look into switching out of Phillips 66 and into ConocoPhillips. When such a wide divergence in stock prices occurs in mega caps, typically rotating into laggards pay big benefits for portfolio performance. Not to mention ConocoPhillips has more than double the dividend yield to pay investors to wait.
Disclosure: I am long COP. I wrote this article myself, and it expresses my own opinions. I am not receiving compensation for it (other than from Seeking Alpha). I have no business relationship with any company whose stock is mentioned in this article.
Additional disclosure: Please consult your financial advisor before making investment decisions.