Sometimes, headlines will provide the easiest tools for valuing a company. I have been following Full House Resorts (NYSEMKT:FLL) for some time, but have never been able to pin down a valuation method that would apply to the company. In its past, FLL was a management operator of casinos with healthy margins on a select few casinos it ran. Of course, business class has taught us that if margins are fat enough, competition will soon follow. It did, and it became harder and harder for Full House to maintain the gross margins it had benefited from in the past, never mind growing them. Looking to the future, there was one logical direction for the company to go. It could leverage the insider knowledge it had of local casinos and build a portfolio of casinos that it could own and operate. In my opinion, Full House is in the best position to value a casino because it has the experts in-house that have managed these operations. Management has built a memory bank of cost-cutting ideas and growth initiatives from the local casinos they have operated over the years. The market has provided investors with an opportunity to invest in a company in transition, with the people to turn it around in a hurry. Of course there are current macroeconomic headwinds and threats of legalizing online casinos, but FLL has found a niche and is poised to exploit it. When discussing possible "value" plays the antagonist always asks, "What's the catalyst?" and we would like to argue that the recent acquisition of the Silver Slipper Casino in Mississippi is that catalyst.
The Worst Case Scenario Valuation
The two Nevada casinos (Stockman & Grand Lodge) generated net income of $709K on $10M in revenues in the 6 months ending June 2012. The Stockman casino was purchased in 2007, and the company began managing Grand Lodge in 2011. Net income for the same time period in 2011 was $356K on $4M in revenues. We can find gaming revenue by county in Nevada here. The problem with using these numbers is that the Stockman Casino isn't the only game in town. We should however take into consideration the overall growth of the gaming economy in Nevada to attach a multiple to earnings. Using a 10x multiple for the past 6 months' earnings seems more than reasonable for a worst case scenario, considering the market multiple for casino stocks is around 22x full year's earnings. That means revenues generated by FLL's Nevada casinos are worth somewhere in the neighborhood of $7M.
The "Midwest" operations consist of the Rising Star Resort in Rising Sun, Indiana, purchased in April of 2011 and a management agreement for the Buffalo Thunder Casino in Santa Fe, New Mexico started in September 2011. Net income generated during the first 6 months of 2012 was $412K on $45M in revenues. These margins are razor thin (.009) compared to the Nevada businesses (.071). Even though this is a worst case scenario, I would like to assume that margin expansion would at least climb to .02, theoretically bringing in $900K over the past 6 months. If we assign the same multiple as we did to the Nevada casinos, then we are looking at valuing the Midwest operations at about $9M.
Finally, the x factor in the whole equation is the newly purchased (with debt) Silver Slipper Casino in Mississippi for $70M. Let's assume management knows NOTHING about valuing the casino and they had overpaid by $30M. I think this is a safe valuation assumption, because if FLL was willing to pay $70M, then surely someone would pay $40M for it.
So $7M + $9M + $40M = $56M market cap or $3 per share, 3.3% below the current market price.
The Best Case Scenario Valuation
In the worst case scenario, we used 10x trailing 6 months earnings to find a proper valuation for the Nevada casinos. The gambling industry is currently trading 22x trailing earnings for the year. We won't be so optimistic to suggest we should attach a 44x multiple to the past 6 months earnings, but we think using half the amount provides the right balance. So $709K x 22 = $15.6M for Nevada versus $7M for the worst case scenario.
Using the same logic for the Midwest operations, we take $900K x 22 = $19.8M versus $9M for the worst case scenario.
Finally, for the Silver Slipper acquisition, we should assume under a best case scenario that FLL outbid the next competitor by 5% or so of the $70M purchase price, valuing the casino at $66.5M.
Our final numbers look like this (rounded): $15M + $20M + $65M = $100M market cap in a best case scenario, or $5.35 per share - 73% higher than the current market price.
Although the valuation method is simple, we believe this to be the most accurate way of valuing FLL under the current scenario.
Technical Analysis
Longer term, FLL has been in a range bound by approximately $2.25 and $5.00 (beginning mid-2009). It currently trades slightly below the middle of this range. Is the Mississippi acquisition enough of a catalyst to drive price back to the top of the range and possibly higher? Technical indicators are neutral enough that a short-term move in either direction is possible.
The weekly chart shows October retracing a large portion of September's advance on relatively weak volume. Momentum has cooled and price is approaching the 40-week MA from above, which could come to serve as support in the near term.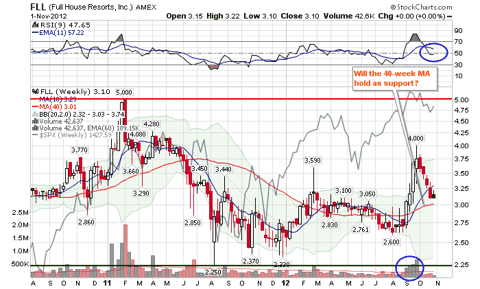 The daily chart is signaling some potential short-term downside as price is lingering just below the 50-day MA with a relatively strong downtrend in place. Similar to the weekly chart, the longer-term MA may eventually serve as support as the RSI has recently broken into oversold territory. Whether the downtrend continues or support is found will help signal the ultimate depth and duration of the current pullback.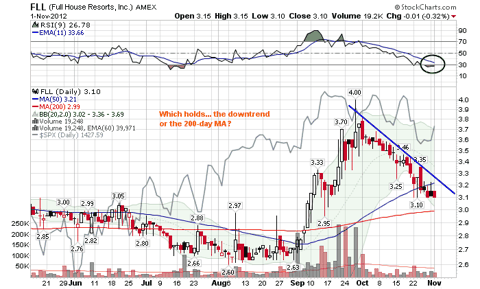 Technically, FLL may have some short-term downside remaining, but with the new fundamental developments and some legitimate support just below current levels, we feel watching for the reversal and preparing to scale into a position is a worthy opportunity.
Summary
Limited downside and 73% upside coupled with the near-perfect alignment of our downside target with the longer-term moving averages has us believing that opening a position in FLL is warranted once support is established.
Disclosure: I am long FLL. I wrote this article myself, and it expresses my own opinions. I am not receiving compensation for it (other than from Seeking Alpha). I have no business relationship with any company whose stock is mentioned in this article.
Additional disclosure: Furbonacci is an equity research collaborative in Cranston, RI. We run fundamental value screens followed by technical screens to identify equities that may be at significant turning points. Fundamental research is primarily done by reading past annual reports and quarterly statements. Technical analysis is performed on multiple time frames to identify key support and resistance levels, trends and potential turning points. Co-founder Joseph Agresti graduated with a degree in Finance from the University of Connecticut and was employed in 2007-2008 as a prop trader for Chimera Securities in Boston, MA. Co-founder Carl Jetty has an undergraduate degree in Applied Economics from the University of Rhode Island, where his passion for Technical Analysis was first discovered and developed.