Optimization is about getting a better portfolio in terms of volatility and return, given your investment universe.
While you will always get an answer when you push data into an optimizer, whether you get results that produce a better performing portfolio depends on how you make use of your optimizer and whether you understand the assumptions it is based on. Taking account of these assumptions allowed us to build a hybrid rebalancing process that I explained in my article entitled Berkshire's Portfolio: The Art of Rebalancing Part 2.
Using this hybrid rebalancing process, I would like to now illustrate how the high-volatility model portfolio that I presented in my last article entitled Optimizing A High Performance Portfolio can be enhanced with the addition of a relatively low-volatility low-return stock.
Show me the money
In my last article, I looked at a stable low volatility portfolio which included stocks that have at one time or other been held by Berkshire Hathaway (NYSE:BRK.A)(NYSE:BRK.B).
I also looked at a high-volatility portfolio that comprised a subset of the portfolio universe found in the OxStones Investment Club. I have listed these stocks at the end of this article for ease of reference.
Now see what happens when I add a particular stock from the stable low volatility portfolio to the high-volatility portfolio. The stock that I will add is a usual suspect - Wal-Mart Stores (NYSE:WMT).
In the two figures that follow we use starting portfolio values of $100 so it is easy to translate to percentage growth. The blue bars use the hybrid rebalancing process, while the green bars use a buy-and-hold strategy. Taxes, commissions, and the use of a risk-free proxy are not included in the calculations. Price data has been sourced from Seeking Alpha on a dividend-adjusted basis. The results are obtained by going back in time to use only the data available as at each review point, calculating the optimal weights, then going forward to compare the performance between the optimized and equal-weights portfolios. The equal weights portfolio is computed on a buy & hold basis, while the optimized portfolio is rebalanced using the hybrid rebalancing process.
As illustrated in my last article, the growth for the high-volatility portfolio was as follows: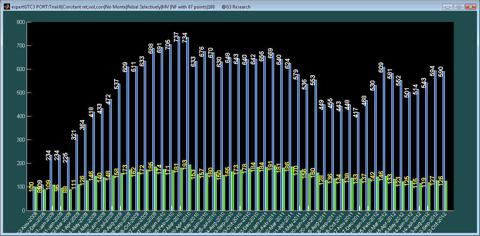 With the addition of Wal-Mart Stores, the high-volatility portfolio growth now becomes: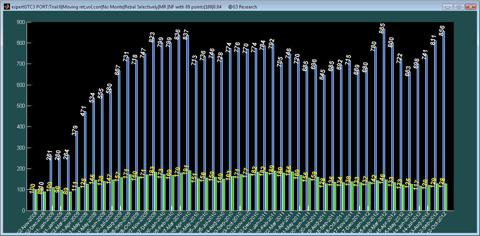 You would notice that for a person investing on 2 November 2008, his portfolio assuming he remained fully invested would have grown almost 900% with the hybrid rebalancing process. The equal-weights portfolio, however, had a more modest performance. The trade-off between the two portfolios would necessarily be transaction costs but the possibilities for growth using the hybrid rebalancing process are evident.
To be sure, you will get a different portfolio return depending on your portfolio start-date but the purpose of the optimizer is to better the performance (or lessen the blow in times of bust) of any portfolio over the long haul. For example, if we had invested at a high on 7 Nov 2009, the optimized portfolio would have better protected our starting capital as illustrated below.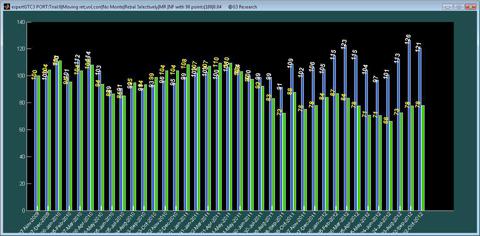 Why Wal-Mart?
Any guesses as to why Wal-Mart with its comparatively low return low volatility profile fitted nicely with the high-return high-volatility portfolio? Here's a pictorial of its correlation with each of the 33 stocks in the high-volatility portfolio: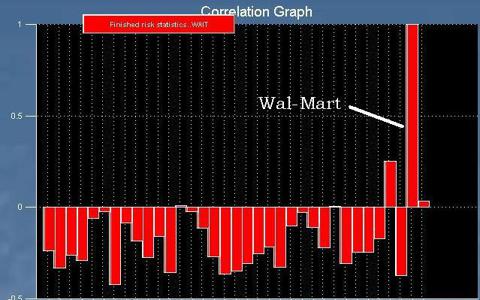 Wal-Mart Stores was correlated negatively with most of the stocks in the high-volatility portfolio and lowly positively correlated with a few. Correlation is key but you will also have to look at the stock's impact on portfolio return and overall volatility. See my article on Optimization Mechanics-It's Not Just Correlation for a fuller explanation on this.
In the hybrid rebalancing process, Wal-Mart isn't always in the mix. It was certainly in the mix along the way, but it isn't in the current month's selection. Finding a stock with a good fit is just the start of the process.
At the final Review Point on 2 October 2012 (valid for 1 month), the stocks in the portfolio were as follows: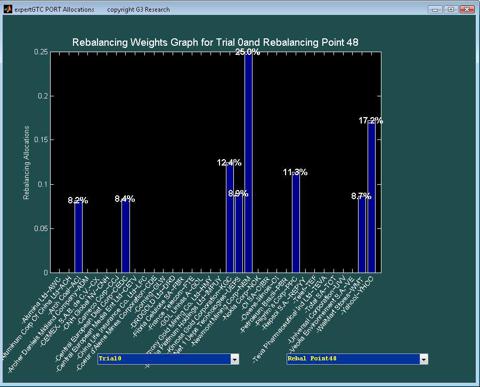 Conclusion
I will continue to add stocks to the high-volatility model portfolio in future articles. In the meantime, here's some fruit for thought for those more akin to analyzing stocks using the Sharpe ratio. None of the stocks in the high-volatility universe had a high Sharpe ratio. In fact, quite a few had very low Sharpe ratios. And yet the performance of the portfolio was similar to a single stock with a good Sharpe ratio. But more on this in a future article.
Appendix:
Stocks in the High-Volatility Model Portfolio:
Alumina Ltd (AWC), Aluminum Corp Of China Ltd (NYSE:ACH), Arch Coal (ACI), Archer Daniels Midland Company (NYSE:ADM), CEMEX, S.A.B. de C.V. (NYSE:CX), CNH Global NV (NYSE:CNH), Cameco Corp (NYSE:CCJ), Central European Dist Corp (NASDAQ:CEDC), Central European Media Ent Ltd (NASDAQ:CETV), China Life Insurance Co. Ltd (NYSE:LFC), Coeur d'Alene Mines Corp (NYSE:CDE), Corning (NYSE:GLW), DRDGOLD Ltd (NYSE:DRD), Fibria Celulose SA (NYSE:FBR), France Telecom (FTE), GOL Linhas Areas Inteligentes SA (NYSE:GOL), Harmony Gold Mining Co. Ltd (NYSE:HMY), Impala Platinum Holdings Ltd (OTCQX:IMPUY), Kinross Gold Corp (NYSE:KGC), Net 1 Ueps Technologies (NASDAQ:UEPS), Newmont Mining Corp (NYSE:NEM), Nokia Corp (NYSE:NOK), Oi SA (NYSE:OIBR), Owens-Illinois (NYSE:OI), Petroleo Brazileiro (NYSE:PBR), Pilgrim's Pride Corp (NYSE:PPC), Repsol Ypf SA (OTCQX:REPYY), Telefonica SA (NYSE:TEF),Teva Pharmaceutical Ind Ltd (NYSE:TEVA), Total SA (NYSE:TOT), Universal Corporation (NYSE:UVV), Veolia Environnement SA (VE), Yahoo! (NASDAQ:YHOO)
Disclosure: I have no positions in any stocks mentioned, and no plans to initiate any positions within the next 72 hours. I wrote this article myself, and it expresses my own opinions. I am not receiving compensation for it (other than from Seeking Alpha). I have no business relationship with any company whose stock is mentioned in this article.