A few weeks ago, I wrote an article on various opportunities to play the explosive growth of Big Data. In that article, one obvious industry that I did not touch upon is the hard disk drive makers. Clearly as more and more storage space is needed both in enterprise and consumer markets, it would seem logical that those companies who are creating disk drives could stand to benefit.
In this article I will take a closer look at my favorite company in this space - Seagate Technology (NASDAQ:STX). I believe the company is well run, in good financial shape, and will prove to be a good value for shareholders in the coming few years.
Business Prospects
In my article on Big Data, I referenced some figures from this CSC website on the general growth trends of digital storage. I think it's worth repeating here, as it blows my mind every time I read these numbers:
By 2020, only 8 short years away, globally stored data will grow by 4300% from 2009 levels. (That is not a typo!)
In 2009, there existed 0.79 zetabytes of data in the world. A zetabyte (ZB), by the way, is 1,000,000,000,000 gigabytes.
In 2010, this increased already to 1.2 ZB. In other words, in 1 year, the world's data grew by 50%. That's right, in 1 year we created 50% of the data that we had created in all prior years combined! Talk about exponential growth.
By 2020, this will grow to 35 ZB in total.
IDC has forecasted that the HDD industry specifically will continue to grow at a CAGR of 9.6% until 2016. Indeed, the 19 analysts covering the company have an average 5 year growth rate of 15% for Seagate, which is quite impressive for most any industry. Clearly the company will not grow as fast as the overall data market, as there are many types of data and ways to store it which Seagate's business does not cover. But in general, I think the overall trends in the business remain strong.
What are the Risks to Seagate's Business?
There are several risks to the traditional hard disk drive business that have been keeping valuations quite low for Seagate and its competitors. A couple of these points are:
The rise of Solid State Drives (SSDs)
The rise of cloud computing and more efficient use of available data storage space
My personal feeling is that these points will have little negative impact on the growth of the HDD industry in the coming few years. Although SSDs are clearly on the rise and growing at a much faster CAGR than traditional HDDs, they are still have quite a small market share and are significantly more expensive. The following chart shows that the tradeoff between these two is really between capacity vs. performance: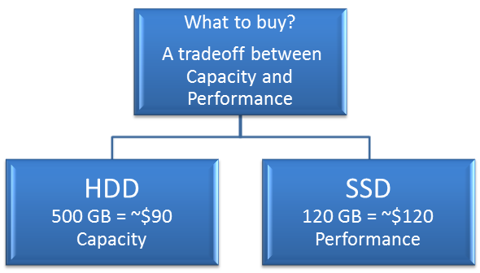 Here, we can see that SSDs remain at least 5x more expensive. Although SSDs continue to get cheaper every year, HDDs are also doing the same. This report discusses how between 2011 and 2016, densities of HDDs will more than double. Already, it's expected that 5TB drives using only 5 platters will become common place in the near future. With cloud computing focusing primarily on capacity and large amounts of cost efficient storage, I still believe that HDDs will be the primary medium to do this in the coming few years. Remember, as I showed above, data growth is exploding so rapidly that there is for sure going to be strong growth in all types of storage devices just to try and keep up with the sheer amount of data that consumers and enterprises need to store. Although SSDs bring other benefits including faster performance and less need for cooling systems in data centers, the cost factor will still remain an important element that will keep HDDs on the market for a long time.
Seagate is Shareholder Friendly
There are several points to like here about Seagate in the company's actions toward shareholders:
A dividend was initiated in 2011
The dividend was increased substantially in 2012, and now the yield is an attractive 3.8%
The payout ratio is only 13%, so there is ample room for dividend increases
12% of shares are held by insiders
The outstanding share count has consistently been reduced since 2006 through stock repurchases. In 2006 there was 576 million shares, and today there is only 396 million. This shows the company is prudent with share repurchases and not giving out excessive stock options to management.
Seagate's Competitive Moat
The hard disk drive industry is dominated by only a few companies. After years of consolidation, Seagate and Western Digital Corporation (NYSE:WDC) are the primary players for traditional HDDs. After big mergers recently between Seagate and Samsung (OTC:SSNLF) and Western Digital and Hitachi (OTCPK:HTHIY), the two companies now control close to 85% of HDD market share. There is also evidence that less competition has meant an increase in pricing power. After the Thailand floods in 2011, the prices of disk drives increased by 28% almost overnight. Interestingly, the prices have remained quite high since then. With increasing demands for cloud storage and the general growth trends of data, Seagate is in a strong position to maintain an advantage in this area.
Besides pricing power, evidence of the company's competitive advantages is clearly visible in the margins, which are significantly higher than the industry averages. You can see as well how the gap in margins has widened in the last 12 months compared to the past 5 years:
| | | |
| --- | --- | --- |
| | Seagate | Industry |
| Gross Margin - TTM | 32.7% | 17.8% |
| Gross Margin - 5 year avg | 24.5% | 17.6% |
| Operating Margin - TTM | 22% | 8.3% |
| Operating Margin - 5 year avg | 7.3% | 8.2% |
| Net Margin - TTM | 20.8% | 6.2% |
| Net Margin - 5 year avg | 5.2% | 6.4% |
While the industry margins are relatively flat, Seagate has shown sustainable improvement. It has also overtaken Western Digital, which in the last 12 months has seen operating and net margins of 15 and 13.6% respectively.
Although the market for SSDs is dominated by companies such as SanDisk (SNDK) and Micron (NASDAQ:MU), Seagate and Western Digital both are looking for ways to also stay relevant in this area as well. Seagate continues to focus strongly on hybrid drives, which combine some of both elements of traditional HDDs and SSDs. The market however is still small for hybrids, and it remains to be seen how this growth will impact the overall competitive advantage of the company.
Seagate's Balance Sheet
Seagate carries a debt load of $2.87B and has a debt/equity ratio of 0.81. This ratio is a bit higher than I normally like, although the current ratio is healthy at over 2. Debt has also been reasonably controlled over the past few years staying in the range between $2-3B. I therefore do not see any major flags or reasons for concern on this aspect.
Valuation
With a current P/E ratio around 4 and EV/EBITDA of only 2.64 Seagate could be considered downright cheap. However, some of this low valuation is due to expectation that the currently inflated level of earnings after the 2011 supply shock from the Thailand floods is only temporary. Indeed, the company's EPS increased dramatically to $6.71/share, whereas previously it was less than half of that.
With this in mind, I have also performed a simple DCF using GuruFocus. I have used the calculator with the following inputs:
Current EPS: $3.14
Earnings Growth Rate over 10 years: 10%
Growth rate after 10 years: 0%
Years of Terminal Growth: 0
Discount Rate: 6%
This gives me an intrinsic value of $38.71/share.
With a current price around $28/share, this implies a margin of safety of 28% which is reasonably attractive. Looking at it another way, the market is currently pricing Seagate for considerable negative earnings growth in the coming years (-10%/annum). However keep in mind that currently the EPS is over $6/share. I have also assumed in my DCF above that the company cannot retain this level, as I expect the price of HDDs will continue to fall after further stabilization of the market. The $3.14/share I used was the earnings from 2010, the last full year before the floods.
Therefore, I think this estimate is quite conservative. The growth rate of 10% is well below analysts' estimates and is reasonably in line with the IDC projected rates. I'm also assuming that the company cannot maintain any of the advantaged pricing power it has recently enjoyed, but I expect that in reality they will maintain some of it since the market has consolidated so much.
For sure, other storage technologies will continue to grow and take market share (e.g. solid state drives), but the general explosion of data will mean that traditional hard disk drives are still in strong demand. I therefore feel quite confident about the margin of safety currently present in the shares.
Conclusion
Seagate is a well run company that is trading at an attractive valuation relative to the long term prospects of the data storage industry. I therefore recommend you take a closer look at the company and consider buying it as a good value stock for potential market beating returns over the next few years.
Disclosure: I have no positions in any stocks mentioned, and no plans to initiate any positions within the next 72 hours. I wrote this article myself, and it expresses my own opinions. I am not receiving compensation for it (other than from Seeking Alpha). I have no business relationship with any company whose stock is mentioned in this article.