Renren (NYSE:RENN) will report Q3 results on November 13th.
The Street expects:
Revenue: $50 million
EPS: $0.05 loss per share
Q4 revenue guide: $51 million
Heading into the earnings, investors needs to focus on gaming revenue, user growth, and Nuomi.
In Q2, Renren achieved 47.5% net revenue growth, driven by strong gaming revenue growth that offset the decline in advertising revenue growth. Given the weak macroeconomic environment in China, and the tendency for advertisers to shift spending to the bigger online ad platforms such as Sina's (NASDAQ:SINA) Weibo and Youku (NYSE:YOKU), Renren's online advertising revenue could continue to face some headwind, which makes online gaming increasingly critical for Renren to maintain its momentum.
However, Renren's mobile game monetization is still not perfect. According to management, Renren's mobile games are primarily iOS-based and currently do not support the Android platform. This is a concern, given that Android, not iOS, is the fastest growing mobile OS in China. The failure to effectively enter the Android marketplace and capture the mobile user base could severely undermine Renren's mobile game strategy. That said, it would be encouraging to see when management plans to introduce Renren games for the Android platform.
In the user front, Renren not only saw monthly active users (45 million) grew faster than that of Facebook (NASDAQ:FB) but also accelerated in Q2 compared with Q1.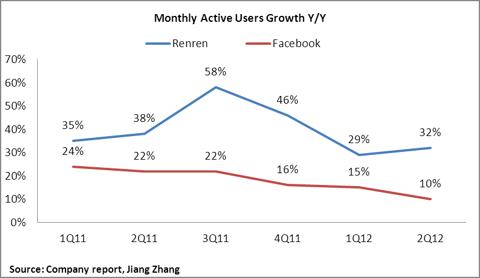 Management hopes to achieve 100 million active users by year-end and I feel this guidance to be a bit aggressive. Assuming a 40% y/y growth in MAUs in both Q3 and Q4, I believe that a more realistic MAU figure for year-end is approximately 53 million by year-end, and 75 million by the end of 2013.
Even with 75 million MAUs by 2013, Renren is still relatively small in scale compared with Sina and Tencent so management need to focus on improving user experience and enhancing the platform's features and functionalities to accelerate user growth and attract advertising budgets.
Finally, Nuomi is gradually moving towards profitability. I note that the unit's net loss margin has shown considerable improvement over the past six quarters and it is critical for the unit to maintain this momentum because it is a key component of Renren's mobile and LBS strategy.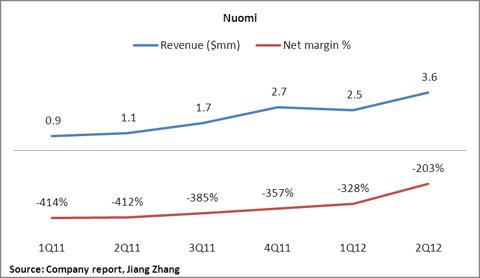 Disclosure: I have no positions in any stocks mentioned, and no plans to initiate any positions within the next 72 hours. I wrote this article myself, and it expresses my own opinions. I am not receiving compensation for it (other than from Seeking Alpha). I have no business relationship with any company whose stock is mentioned in this article.