Spreadtrum Communications (NASDAQ:SPRD) reports Q3 results on November 8th.
The Street expects:
Revenue: $183 million
EPS: $0.47
Q4 revenue guide: $190 million
In Q2, Spreadtrum reported net income that came in below consensus due to high share-based compensation. In addition the company's Q3 guidance of 3-8% q/q growth was also below the consensus of 8%. However, the bright spot of Q2 was the smartphone chip guidance, which is expected to reach 10 million this quarter due to strong demand from the RMB 500-700 segment, and will likely exceed the prior full-year guidance of 15-20 million units.
Heading into the earnings, investors should expect continued ramp up of smartphone chips (although from a smaller base) and we could also see some margin bottoming and stabilization in Q3 as the smartphone transition ramps up.
Early in the second half of the year, Spreadtrum saw strong ramp up of the TD and EDGE smartphones from Huawei, ZTE, K-Touch, Lenovo, Haier, Hisense and Konka. Samsung is likely to follow in Q4. The company expects its 200 design wins to ramp throughout the second half, with volume reaching 10 million (after 1 million in Q2) and 15 million in Q4.
With the strong ramp up of smartphones and the upcoming introduction of high-end feature phones, I believe that margin will likely to bottom in Q3 and stabilize by Q4.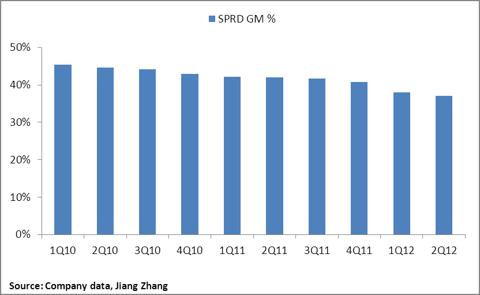 Q4 roadmap should be more positive, given that:
Samsung 2.5G orders will likely to ramp up
EDGE-based smartphones will continue to gain traction in non-China emerging markets as prices continue to decline to $30-50 range
China Mobile raised handset subsidies for 2012 to RMB 26 billion from RMB 20 billion. The shift of more subsidies to low-end smartphones (eg. RMB 500-700 segment) is a positive for Spreadtrum's TD smartphone business, whose end-users are entry-level customers. I note that China Mobile's (NYSE:CHL) 3G subscriber net adds was the largest since December 2011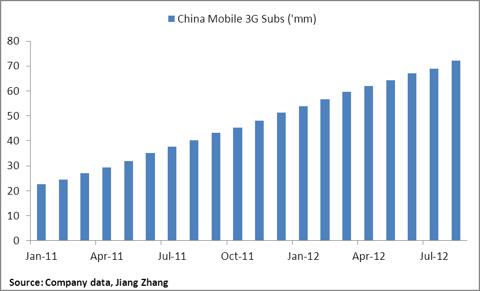 Disclosure: I have no positions in any stocks mentioned, and no plans to initiate any positions within the next 72 hours. I wrote this article myself, and it expresses my own opinions. I am not receiving compensation for it (other than from Seeking Alpha). I have no business relationship with any company whose stock is mentioned in this article.