The source of the greatest speculation among Vringo (VRNG) investors right now is how the stock might perform if the company wins the lawsuit against Google (NASDAQ:GOOG). While no one can predict anything with certainty, it helps to know how similar litigation by other NPEs (non-practicing entities, defined as a patent holder who does not have the capability or has otherwise not designed, manufactured or distributed products coming under the realm of claims in patents held by them) fared against alleged infringers. It also helps to understand that Vringo is not a pioneer in the IP litigation business model; there have been others in the past, there are people doing it right now, and many are doing it well. The market, according to some estimates (cited in links below) is well over $11 billion annually (the amount that companies pay to settle or license NPE patents).
The following discussion aims to put Vringo in perspective with respect to other NPEs. It is not a discussion of the ethics of what many label as patent trolling.
Without further ado, let me give you a brief list of past NPE litigation and settlements. Note this list does not include litigation like, for example, Apple vs Oracle; it only includes entities labeled in media as NPEs. The amount in question is not always jury awards either, it can also be settlements and licensing fees arrived at after a lawsuit.
NPE

Defendant

Story

Amount

I4i LLC

Microsoft (NASDAQ:MSFT)

The issue at stake was a claimed patent infringement by Microsoft's implementation of "custom XML", a proprietary extension within Word's native OOXML document format. Microsoft was forced to withdraw current versions of Word and to remove or reduce the functionality of the OOXML format from future versions.

Bedrock Computer Technologies

Google

Google's alleged use of open-source Linux code.

$5 million

Acacia Research Corporation (owner of IP Innovation)

Apple (NASDAQ:AAPL)

IP Innovation, an intellectual property agency, sued Apple on April 18 over its operating system interface. Amazingly, the patent in question dates back to 1984 via references in a 1991 filing by Xerox, which actually linked to GUI concepts drafted in the 1970s on the company's Alto workstations. More specifically, the lawsuit is for "workspaces provided by an object-based user interface that appear to share windows and other display objects."

Undisclosed amount settlement

Adobe Systems (NASDAQ:ADBE), Macromedia and others

U.S. Patent No. 4,698,672, which Forgent obtained when it acquired Compression Labs in 1997. The patent purportedly gave Austin, Texas-based Forgent the rights to the JPEG method for compressing digital video images.

$100 million fees

Intergraph

Intel (NASDAQ:INTC)

Intel chips infringed on Intergraph's Clipper processor patents.

Settlements $675 million

General licensing.

$200 million to $400 million

Uniloc, founded by Ric Richardson, Australian inventor

Microsoft

Infringement of patent relating to technology designed to deter software piracy.

$US388 million by Jury, overturned on appeal

Interdigital (NASDAQ:IDCC)

Samsung, Nokia (NYSE:NOK)

2G Cellular

Samsung $400-$500 million

Nokia $235 million

Virnetx (NYSEMKT:VHC)

Microsoft

VirnetX's Secure Domain Name Initiative

$200 million settlement

Apple

Software features of the computer programs Spotlight, Time Machine, and Cover Flow.

$625 million

NTP

Research in Motion (RIMM)

Certain technology behind the Blackberry.

$612 million settlement.
Not all of these NPEs are public companies, so it needs more research than possible here to list details about finances of all these companies. However, Virnetx and Interdigital are listed companies. Both have considerable market caps and well-priced stocks. Both have seen considerable spikes in their stock prices at certain time periods. See the charts below.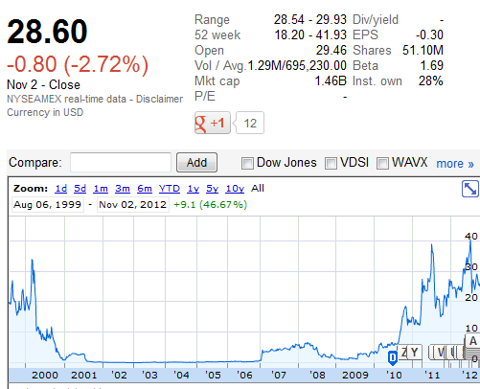 VHC, source: Google Finance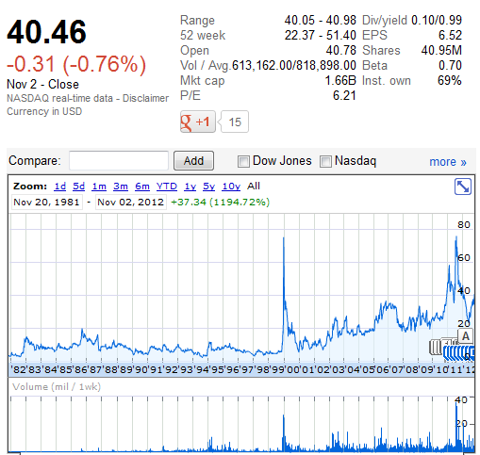 IDCC, Source: Google Finance, note that impossible spike!
Of all these companies, some of the largest ones that have been labeled patent trolls by the media are listed below.

Source: Patent Freedom
Many of these are really large companies. Intellectual Ventures, founded and operated by inventor and former Microsoft CTO Nathan Paul Myhrvold, is a multi-billion dollar private company receiving almost billion dollar licenses from various Fortune 500 tech giants. Round Rock and Acacia are also very large companies; some of these are founded by well-known IP lawyers and/or inventors.
To sum up, Vringo is not alone; this has all been done before, with extremely lucrative results for the plaintiffs concerned. Although sometimes these lawsuits do backfire, like in the case of Uniloc, owned by Australian inventor Ric Richardson, which got a $600 million jury award windfall against Microsoft only to have it rejected on appeal; or of the many other cases that get their lawsuits dismissed. With that caveat, it will be interesting to see how Vringo fares next week.
Disclosure: I have no positions in any stocks mentioned, and no plans to initiate any positions within the next 72 hours. I wrote this article myself, and it expresses my own opinions. I am not receiving compensation for it (other than from Seeking Alpha). I have no business relationship with any company whose stock is mentioned in this article.