Jim Cramer has been the host of Mad Money on CNBC since 2005. Nearly 250,000 people watch his show daily on TV. In our recent study, we have shown that Cramer's favorite picks are extremely successful. Among 122 stocks that were recommended on Jim Cramer's Mad Money during the last 30 days, we have compiled his strong buy recommendations based on number of days the stocks were recommended. We have obtained 10-Year Summary data from Morningstar and all other market data from Finviz.
Stock

Market Cap
(Billion $)

Dividend Yield

P/E

No. Of Times Recommended During The Last 30 Days

Panera Bread (NASDAQ:PNRA)

5.0

0.0%

30.7

6

Apple (NASDAQ:AAPL)

540.7

1.9%

13.1

5

CenturyLink (NYSE:CTL)

23.9

7.6%

45.6

4
Panera Bread owns, operates, and franchises 1,591 retail bakery-cafes in the United States and Canada. PNRA recently traded at $167.06 and has a 0% dividend yield. PNRA gained 25% during the past 12 months. The stock has a market cap of $5 billion, P/E ratio of 30.7 and Total Debt/Equity ratio of 0. The company's peers -- Starbucks, Caribou Coffee, Flanigan's Enterprises - have P/E ratios of 28.4, 23.6, and 12.2, respectively. PNRA also had an EPS growth rate of 21.6% during the last five years. The company announced net income of $122 million, or $4.14 per diluted share for the first three quarters ended September 25, 2012. This represents a 28% year-over-year increase in diluted earnings per share. In the third quarter fiscal 2012, the company's operating profit margin increased by 80 basis points to 12.8% compared with the same period last year.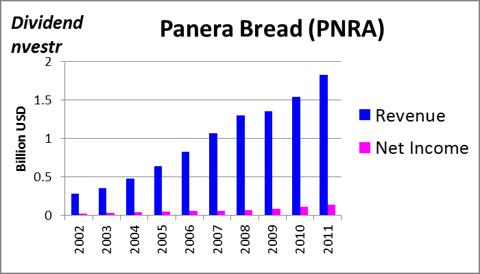 Apple sells electronic and mobility products, and software. AAPL recently traded at $576,8 and gained 44% during the past 12 months. Its top-selling products include iPhone, iPad, iPod and Mac. These have seen explosive growth over the past several years, which has boosted the company's EPS growth to as much as 65% per year over the past five years. High EPS growth rate is projected to be sustained in the future at 21% per year for the next five years. Apple will start paying a quarterly dividend this quarter. At current prices, the annualized dividend will yield 1.9% on a payout ratio of 26%. The stock has a market cap of $540.7 billion, P/E ratio of 13.1 and Total Debt/Equity ratio of 0. The company's peers -- Microsoft, DELL, Google - have P/E ratios of 16, 5.4, and 21.6, respectively. Billionaires David Einhorn, Stephen Mandel, and Jim Simons are also fans of the stock.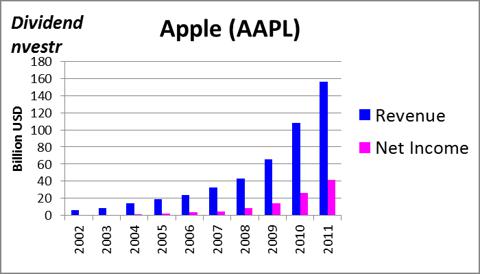 CenturyLink is an integrated telecommunications company in the United States, and a leader in cloud infrastructure. CTL recently traded at $38.33 and gained 17.6% during the past 12 months. The stock has a market cap of $23.9 billion and P/E ratio of 45.6. The company's peers -- AT&T, Verizon - have P/E ratios of 45.4, and 41.6, respectively. It pays a high dividend yield of 7.6% on a payout ratio of 346% of trailing earnings and 74% of last year's free cash flow. While the company currently generates sufficient free cash flow to cover its dividend payouts at current levels, the company's debt has swollen, which could threaten the safety of the CenturyLink's dividend in the future. For the reference, the company's peers AT&T (NYSE:T) and Verizon Communications (NYSE:VZ) pay dividend yields of 5.0% and 4.6%, respectively. Over the past five years, CenturyLink's EPS contracted at an average rate of nearly 19% per year, while dividends have been flat since 2010. Analysts forecast EPS growth averaging close to 6.0% per year for the next half decade. The stock has a high debt-to-equity ratio of 106% and low ROE. CenturyLink was a new addition to Jim Simons' equity portfolio in the second quarter.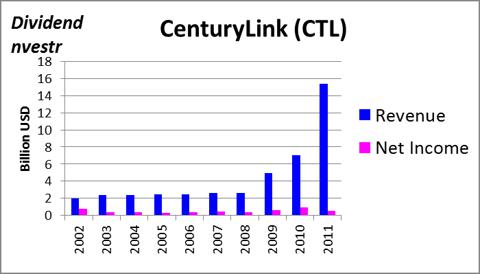 Disclosure: I have no positions in any stocks mentioned, and no plans to initiate any positions within the next 72 hours. I wrote this article myself, and it expresses my own opinions. We did not receive compensation for this article (other than from Seeking Alpha), and we have no business relationship with any company whose stock is mentioned in this article.
Additional disclosure: Dividendinvestr is a team of analysts. This article was written by Serkan Unal, one of our writers.