I have been following a trio of companies for a dozen years, and I am astounded by the cheapness of their current valuations. While I am skeptical about "value" in the technology sector, as many historical examples of "cheap" technology companies were just instances of obsolescence, I don't think that is the case here. I think that this is a great time to consider investment in passive components manufacturers AVX (NYSE:AVX), Kemet (NYSE:KEM) and Vishay Intertechnology (NYSE:VSH).
Before I lay out my bottom-fishing expedition, I want to update my thoughts regarding my suggestion a few weeks ago that this is no time to bottom-fish. First, all three of these companies have already reported their most recent quarter. Second, we are past the 10/31 fiscal year-end for many companies and three weeks closer to the last day for tax-loss selling. Finally, I suggested that one look for signs of near-term momentum, and I believe that to be the case (at least for AVX).
Let's start with a chart that illustrates what a rough time all of these stocks have had (click to enlarge images):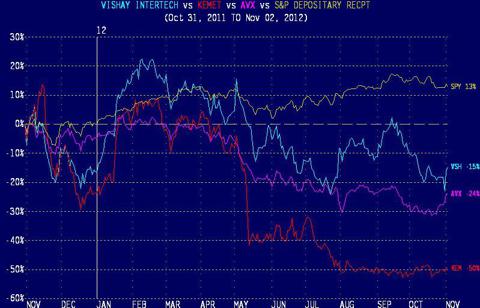 I included the S&P 500 (NYSEARCA:SPY) for reference. Over the past year, when the broad market rallied 13%, these stocks fell from 15% to as much as 50%. Over the past two years, it's worse. SPY is up 16%, while AVX and VSH have lost about 1/3 of their value and KEM has dropped by 2/3. As you can see, despite a tough tape for technology, all three of these stocks have shown some life over the past week, outperforming the S&P 500 by 3-10%. In Q4, VSH has lagged the market by 5% but KEM and AVX have outperformed by 8%.
Before I discuss the valuation of these three laggards, let me discuss the industry briefly. All of them manufacture what is known as passive components (resistors and capacitors), which, unlike active components (transistors and integrated circuits), don't require power to work. These things go into all sorts of electronics, like cell phones, automobiles, airplanes, computers and servers and consumer goods. Each of these companies gets significant revenue from tantalum capacitors, which are used in power supply applications. While AVX and KEM are focused exclusively on passives, VSH is broader, with exposure to semiconductors as well. Long story short, the broad slowdown in global growth has led to demand and supply imbalances - nothing surprising there. From the best I can tell, there haven't been any fundamental changes to the industry. These companies have lots of products for lots of customers in lots of different industries in all major geographies - no concentration risks.
Let's move on to valuation. Note that all three stocks trade at or below tangible book value. The table I have assembled uses data from Baseline:

I am most familiar with AVX, as I include it in both my Top 20 Model Portfolio as well as my Conservative Growth/Balanced Model Portfolio at Invest By Model. It's a "stub", meaning that the shares that trade represent just a minority of the company, which is controlled by Japanese Kyocera (NYSE:KYO). It's worth mentioning that they took a big hit to book value this year on a large settlement with the EPA related to a predecessor company's actions from a long time ago. AVX has cash and investments net of debt of $1 billion (after a post-quarter acquisition). This is 58% of the market cap. The actual 4-quarter trailing EBITDA (the table above doesn't include the most recent quarter) is $224mm, suggesting EV/EBITDA of a still dirt-cheap 3.2X. CapEx has been in line with D&A lately, suggesting massive free cash flow yield. Unlike its peers, AVX never reported a quarterly loss over the past five years (excluding one-time charges). AVX, unlike its peers, pays a dividend that is currently .075 per quarter (2.9% yield).
I used to follow VSH closely. As I mentioned above, it's more diversified than its peers. While AVX reported a positive book-to-bill ratio, VSH experienced fewer orders than sales, resulting in cautious guidance for Q4. At the mid-point, sales will decline approximately 6% from a year ago. The stock was hammered on this news, but more than fully recovered the next day. Net cash is $552mm, or almost $4 per share. The company has reduced share-count through repurchases recently, spending $150mm in Q2 (similar to what it did a year ago). I calculate trailing EBITDA at $357mm, suggesting that the EV/EBITDA in the table above is accurate, making it the "value" standout.
Unlike its larger peers, KEM has substantial net debt ($201mm), with gross debt of $361mm and cash and investments of $160mm. It also has more near-term challenges. In the recent quarter, it reported sales that were down slightly sequentially and 19% from a year ago, generating a non-GAAP loss. AVX saw an 11% sales decline, while VSH slipped 10%. While more speculative than AVX and VSH due to its size and its financial leverage, one can make the case that it could perform the best if it can restore its margins and if sales rebound. Given how inexpensive its more stable peers appear to be, I can't call this one "tantalizingly" cheap. I understand that the EV/EBITDA calculation likely is overstated due to one-time charges depressing the EBITDA, but, even using KEM's own adjusted EBITDA numbers, the stock looks pretty expensive.
This begins what I expect will be a laborious exercise of looking through the losers of 2012 for potential bargains. I find AVX and VSH to be extraordinarily inexpensive, and wouldn't rule out KEM (though it would take a lot of work to get me confident in the company's prospects). They are all trading at depressed valuations relative to sales despite being in a down cycle (when the P/S should rise) and at or below tangible book value. As I indicated in the previous article I referenced, I will be looking for near-term price momentum as a potential harbinger for spotting the bottom. In the case of all three of these stocks, I note that they have bounced since reporting, which I view positively.
Disclosure: AVX is in one or more model portfolios managed by the author at InvestByModel.com. I wrote this article myself, and it expresses my own opinions. I am not receiving compensation for it (other than from Seeking Alpha). I have no business relationship with any company whose stock is mentioned in this article.