Aspen Insurance Holdings Ltd. (NYSE: AHL) is a global specialty insurance and reinsurance provider domiciled in Bermuda. The company was founded in 2002 and has operations across eight countries: Bermuda, France, Germany, Ireland, Singapore, Switzerland, the United Kingdom and the United States. Aspen began public trading on the NYSE in 2003 and has a current market cap of $2.41B based on a share price of $32.81 on October 29, 2012.
Q3 2012 Results
Aspen recently reported positive Q3 2012 results, delivering $115.1 million of net income, $1.45 per diluted share, for the quarter ending September 30, 2012. The company further grew its diluted book value per share over the quarter by 3.8% to $41.53 and recorded a combined ratio of 87.0%.
Comparing Q3 2012 to Q3 2011, we note a 12.6% increase in gross written premiums to $558.4mil with net earned premiums up 6.0% to 516.2mil. Premiums growth was primarily fuelled by the firm's Insurance operations which realized a 36% increase in gross written premiums. However, net investment income declined 15.2% from $57.3mil to $48.6mil primarily due to an $8.1mil loss on interest rate swaps. Additionally, Aspen continues to actively manage its $5.98bn fixed income portfolio. The portfolio's duration has been reduced from 3.0 years at Q1 2012 to 2.8 years at Q3 2012. In conjunction with this conservative approach, the portfolio's yield has also declined from 3.31% to 3.04%.
Year to date analysis of the company's results provides further support of Aspen's progress. Gross written premiums and net written premiums increased by 14.8% and 15.0%, respectively, for the nine months ending Sept. 30, 2012 versus the nine months ending Sept. 30, 2011. Additionally, earnings per diluted share for the nine months ending Q3 2012 were $3.47 as opposed to a loss of $1.98 for the prior year period. Aspen has also shown improvement in its combined ratio over the prior nine months recording it at 89.3% versus 116.4% for Q1 - Q3 2011. Analyzing the chart below, Aspen has historically averaged a combined ratio of 95% over the previous five years. However, an increasing trend may be seen with reaching a peak due to reinsurance losses relating to catastrophes associated with Japan, New Zealand, Australia and Thailand.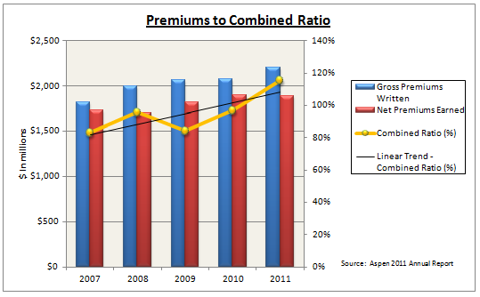 Management continues to reiterate a conservative underwriting approach and reduced the full year guidance for the combined ratio to 89% - 93% from 93% - 98%. However, these forecasts may be impacted by the recent hurricane events in the US.
Valuation
Aspen current trades at 80% of reported diluted book value, in line with its historical five year average of 80%. Examining the below chart, it can be seen that Aspen has exhibited a consistent trend in growing book value.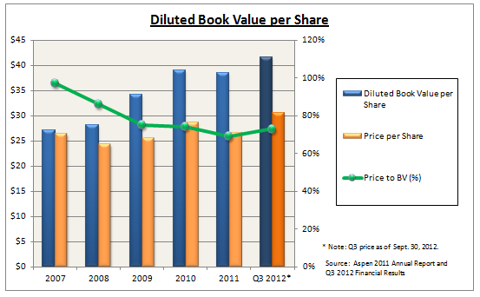 Measuring Aspen against the peer group identified by management in its 2011 Annual Report, we can see the firm trades slightly below the average for the group.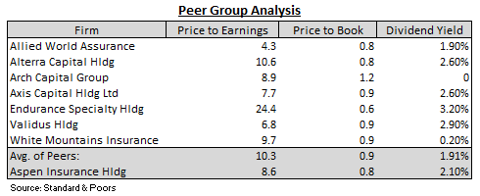 Given the marginal price discount to its peers and management's exhibited trend in prudently growing premiums, Aspen may provide a long-term investment opportunity should the price dip following the recent weather-related catastrophe in the US. However, at current prices, the firm appears to be trading in a fairly-valued range and may not provide much margin for safety.
Disclosure: I am long AHL. I wrote this article myself, and it expresses my own opinions. I am not receiving compensation for it (other than from Seeking Alpha). I have no business relationship with any company whose stock is mentioned in this article.