Western Union Company (NYSE:WU) is the largest money transfer company in the world, providing money movement and payment services through its global network of more than 500,000 outside agents globally. WU has almost 20% market share in international remittances and is one of the only two players with a truly global agent network, with the smaller competitor MoneyGram (NYSE:MGI) being the other. In the long-term, WU will maintain its competitive advantages in the international transfer market and continue its strong cash flow generation. In the near-term, the outlook for 2013 is not too bright, which had already caused a severe drop for WU's stock price. It is time for long-term WU investors to take a look at this cash flow investment opportunity, which currently provides 4.07% projected annual dividend yield.
Recent Development and Fundamentals Overview
On Oct. 30, 2012, WU reported a profit of $269.5 million, or 45 cents a share, up from $239.7 million, or 38 cents a share, a year earlier, which was also 1 cent better than analysts' estimate of 45 cents. However, WU slashed its 2012 outlook, projecting non-GAAP EPS of $1.65 to $1.68, down from $1.73 to $1.77 previously, as reported by FoxBusiness. The detail earnings call transcript can be read here. As quoted from CEO Hikmet Ersek,
"Business was challenging, as soft global economic conditions, compliance related changes, and competitive pressures in certain money transfer corridors impacted revenues."
To combat the increasing competitive pressures, the Company is increasing its pricing investment and investment in digital platform, as well as cutting $30 million of annual cost by 2014. The Company also announced the increase of its share repurchase plan to $750 million and raised its annual dividend by 25% to 50 cents a share. Despite these efforts, WU's stock suffered a 29% drop in one single day on Oct. 31, 2012. In the following day, WU had dropped another 3.61% due to analysts' downgrade, including the changing from "overweight" to "underweight" rating from Barclays Capital, lowering to a hold rating by Jefferies Group, and dropping from "buy" to "neutral" rating from Goldman Sachs.
Despite the lowering of sales, we believe WU will come out strong after all the initiatives carried out by the management. From the fundamental perspective, we are confident about WU's operation efficiency and its ability to generate solid cash flow, with existing net margin of 21.4%, as compared to the industry average of 15.3%. At current P/E of 6.3 and P/S of 1.4, comparing to the industry averages of 19.0 and 2.6, WU is under-valued compared to its peers in the specialty finances industry.
Short-term Technical Analysis
On Thursday, WU closed at $12.27 with 3.61% loss, with the volume of 51.05M, which was 8 times of the 30 day average volume of 6.34M. On Sep. 25, 2012, the MACD (12, 26, 9) indicator started to show a bearish sign. With 29% drop on Oct. 31, WU had broken all its major supports at 50-day MV and 200-day MV of $17.86 and $17.46. The next supporting levels are $10.15 (pivot point, S1) and $8.02 (pivot point, S2), as seen from the chart below. From the momentum perspective, RSI (14) of 11.53 is at very over-sold territory, where below 30 is considered over-sold. In the short-term, selling pressure is expected to continue.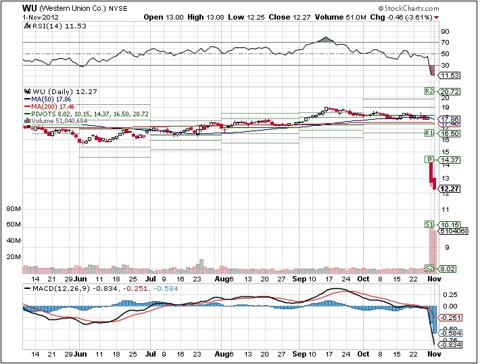 Source: StockCharts.com
Options Play
While WU's outlook for 2013 remains uncertain and the short-term selling pressure is not yet ending, we will take the wait-and-see approach for now before establishing the long-term position to capture WU's strong cash flow. If WU's price starts to stabilize and MACD difference starts to converge, accompanied by increasing RSI (14) to above 30, we will review and consider setting up a credit put spread to acquire WU at a further discounted price. For example, if above conditions are met and WU stabilizes around $12 level, we will set up a credit put spread by shorting 1x $11 Put and buying $10 Put, preferably with a 3 month term. With more patience, WU will provide a great opportunity for long-term cash flow investors.
Disclosure: I have no positions in any stocks mentioned, but may initiate a long position in WU over the next 72 hours. I wrote this article myself, and it expresses my own opinions. I am not receiving compensation for it (other than from Seeking Alpha). I have no business relationship with any company whose stock is mentioned in this article.