The negative trading in biopharmaceutical companies continued to hurt companies that successfully obtained FDA approvals but have yet to release a product to market. For the year-to-date, the S&P 500 is up around 12%, while the SPDR S&P Pharmaceutical (NYSEARCA:XPH) is up 10%. More recently, over the last month, negativity in the markets was acute: the S&P is down 2.5%, while the pharmaceutical ETF is down even more, declining 7%. Arena Pharmaceuticals (NASDAQ:ARNA), VVUS Inc. (NASDAQ:VVUS), and Theravance Inc. (THRX) are down even more than the pharmaceutical index: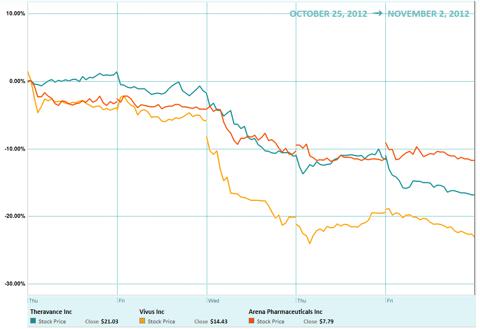 (Chart Source: Kapitall.com)
Skittish investors are now pricing in operational risks inherent in bringing a drug product to market. VIVUS shares are having an especially difficult time, as investors renew concerns for Qsymia and its side effects. The European Medicines Agency rejection and operational risks in launching the drug also continue to weigh heavily on shares. Arena, whose Belviq obesity drug is expected to launch next year, will update shareholders on its progress when it reports earnings on November 6. If earnings from Theravance and Valeant Pharmaceuticals (NYSE:VRX) are any indication, Arena and VIVUS could still fall even if good news is reported.
During the third quarter conference call, Theravance provided a number of positive updates to its studies. The company said that:
Phase 3 data for FF/VI (fluticasone furoate and vilanterol) was presented, and a review of the regulator findings began in the United States and in Europe. Registration is in progress for FF/VI, known as "Relvar" in the European Union and Japan and "Breo" in the United States.
Phase 3 for umeclidinium bromide (UMEC), vilanterol (VI), and Chronic Obstructive Pulmonary Disease ("COPD") was completed and was on track for regulatory filing for COPD from the end of this year.
Results were positive for phase 2B for TD-1211. TD-1211 is used to alleviate constipation in patients receiving opioid therapy. Discussions with regulators to continue to the next study phase could take place before the end of the year.
TD-9855, a norepinephrine serotonin reuptake inhibitor, is undergoing a phase 2 safety and efficacy study for adult ADHD.
Upside in Arena could continue to be limited in the near-term, due mostly to investors being impatient. Even when Theravance signed a collaboration agreement with Merck (NYSE:MRK) to study treatments for hypertension and heart failure, shares still declined sharply from the $26-level. Theravance closed recently at $21.03. The short-sighted nature of speculators gives investors an entry-point at a lower price. Theravance will receive $5 million from Merck initially, and will be eligible for milestone payments that total $148 million for royalties and first indication on any products coming from the joint efforts.
Theravance also made an agreement with a Russian firm, R-Pharm. Theravance may earn up to $2 million in licensing, $4 million in development milestones, $6 million in sales milestones, and 15% royalty for net sales of TD-1792. TD-1792 is an antibiotic used to treat drug-resistant Gram-positive infections.
Earnings Review
In the third quarter, Theravance lost $0.37 per share, or $34.7 million on revenue of $1.4 million. Revenue declined from $6.4 million last year because the VIBATIV collaboration agreement with Astellas was terminated on January 6 2012. VIBATIV is used to treat methicillin-resistant Staphylococcus aureus (MRSA).
Theravance ended the quarter with cash and cash equivalents totaling $352.4 million.
Theravance reiterated that operating expenses will be at the higher end of between the $120 million and $130 million guidance.
Conclusion
The market sell-off in companies like Theravance, Arena, and Theravance-partner GlaxoSmithKline plc (NYSE:GSK), created an opportunity for investors with a longer-term timeframe. Investors who want exposure to biopharmaceutical companies and understand the risks associated with drug development should consider Theravance. Theravance has a pipeline of products. Most notably, it is working on treatment for illnesses like COPD. When brought to market, its drug will be able to treat a substantial proportion of the population suffering from COPD.
The company is planning to provide an update on MABA (Bifunctional Muscarinic Antagonist-Beta2 Agonist) by the end of the year, and will give more updates at conferences scheduled for next year. Theravance will present at the European Respiratory Society congress held between September 7 - 11 2013. Investors should also expect Theravance to report updates to LABA (Long-Acting Beta2 Agonist) and VI (Vilanterol Trifenatate) for Asthma treatment in adults at the American Thoracic Society conference held on May 17-22 2013.
Disclosure: I have no positions in any stocks mentioned, and no plans to initiate any positions within the next 72 hours. I wrote this article myself, and it expresses my own opinions. I am not receiving compensation for it (other than from Seeking Alpha). I have no business relationship with any company whose stock is mentioned in this article.