One of the reasons why investors keep track of short interest data is that it is considered to be an indicator that a bullish trend will follow once traders start covering their short trades. Barring certain unforeseen circumstances, short interest can drive the stock price up and yield good profit.
For the uninitiated, short interest is a figure reflecting the uncovered short positions. It may be reflected as a percentage of total outstanding shares of a company available to the public for trading (the float). For example, if the float is 4 million shares and 1 million shares have been shorted but not covered, the short interest is 25%. Change in short interest indicates a change in market sentiment.
As we all know, when traders indulge in short selling a stock, they expect stock price to fall in future, which will allow them the opportunity to buy and make a profit. Short selling is selling a stock that you do not own. Traders would sell a stock only if in their opinion the stock is overvalued or in a downward trend and is likely to fall.
When a stock is shorted in large numbers (high short interest), it is a sign that traders might have to buy the stock to cover their positions on expiry of the contract. It is this situation that an investor looking at short interest for creating a position is hoping to profit from. Short positions need to be closed (creating increase in demand for the stock) and when this happens, there is a chance of the stock price going up.
How does one read short interest? This is normally done by comparing short interest of the previous month with current data, which is freely available. An increase of, say 20%, tells you that the bearish sentiment of the market has increased by that much. Short interest must also be read in conjunction with average daily volumes. For example, if the short interest percentage for a company shows that 50 million shares have been shorted and the company trades 45 million shares daily on an average, it means that it will take 1.1 days for all traders to square-up their positions. The higher this number is, the longer it will take traders to cover their positions.
However, this does not always happen, which is the reason why short interest needs to be looked at with care. Like other traders, short sellers too can be wrong at times. In addition, a small piece of positive news can disturb the apple cart for short sellers and push the stock price up. In such cases, short sellers will rush to take cover to limit their losses, pushing the price further up. This is known as a short squeeze. Short squeezing is an attempt by traders other than short sellers to buy the stock in such situations for making a profit when panicky short sellers are causing the market to rise further.
At times, short interest can sometimes go up to 90% or more. Recent data for companies with more than 50% short interest: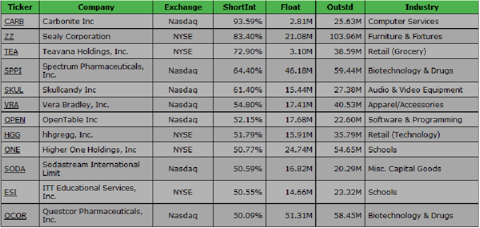 We shall be looking at three companies in three different segments of the retail sector with short interest between 30% and 40%: J.C. Penney Company, Inc. (NYSE:JCP), GameStop Corp (NYSE:GME) and Barnes & Noble, Inc. (NYSE:BKS). Besides fairly large short interest, I have chosen these companies as they all have a billion dollar plus market cap with average daily volumes above a million shares and are showing signs of short squeeze. Moreover, shopping season is slowly approaching, so the market is going to see how retailers perform this season.
Let us first have a look at the short interest data available at Wall Street Journal as of October 24, 2012.

Note that all three have more than 8 days to cover, which is considered to be an indicator that a short position may be difficult to cover. Also, the markets were closed for four days on the run due to the weekend and Hurricane Sandy.
GameStop Corp. - Retail Specialty Technology
GameStop is the world's largest video game retailer that sells new and used video game across the U.S., Canada, Australia and Europe through its 6,683 company-operated stores and e-commerce websites. Although there has been a decrease in short interest by 1.7% over September 28, 2012 and October 15, 2012, GME is still showing a high short interest of 36.5%. The 3-month price chart of GME appears below: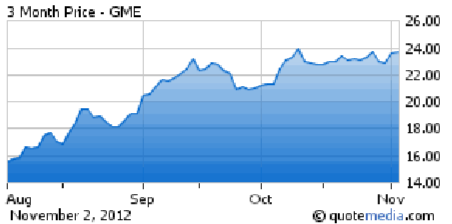 During the same period GME stock appreciated 11.61%. Of interest here are three news items that appeared on October 8, 2012. One report talks of collaboration between GameStop Corp. and Kabam, the leading free-to-play online games platform, for promotion of its popular Realm of the Mad God. The other two reports relate to upgrades and downgrades. While one talks of Piper Jaffray restating neutral rating, the other report talks about Sun Trust raising GME target from $27 to $30. These were followed by news of the company offering a fresh wave of pre-order bonuses on Call of Duty™: Black Ops II.
It is such news items that often trigger a short squeeze on a stock with high short interest.
Barnes & Noble, Inc. - Retail Specialty Non-Apparel
Barnes & Noble, Inc. is a bookseller engaged in selling books, magazines, newspapers and other content through its 1,338 stores across 50 States and 647 stores in college campuses. The company also operates e-commerce sites and develops digital content and software. It handles its three areas of operation through its three business segments - B&N Retail, B&N College and NOOK. With short interest at 34.9%, it experienced an increase of 8.8% over September 28 and October 15, 2012. The 3-month price chart of BKS looks like this.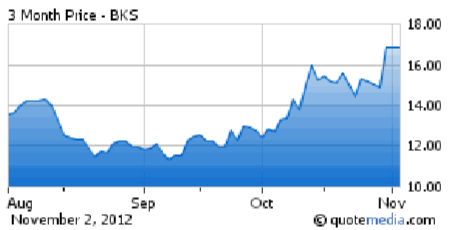 Between September 28 and October 18, 2012, the price of BKS stock appreciated 22.38% (from $12.78 to $15.64) and on its way touched $16.01 on October 11, 2012.
On October 4, 2012, a report appeared on ibtimes.com stating that Microsoft (NASDAQ:MSFT) and Barnes and Noble had finalized a deal for creating NOOK Media, a BKS subsidiary, in which Microsoft will hold 17.6% stake. This was followed by reports of BKS receiving record pre-orders for its NOOK tablets. In the same report CEO William Lynch was quoted as saying that with an "enterprise value" of $1.33 billion, BKS was undervalued. Here again, we see a role played by positive news coming in at a time when the stock has a high short interest.
J.C. Penney Company, Inc. -Retail Department and Discount
JCP is a holding company that operates through a subsidiary company engaged in selling apparel, accessories, footwear, fashion jewelry and beauty products through its 1,108 stores across the U.S. and Puerto Rico. It was in the news last year when it acquired trademarks and related intellectual property of the Liz Claiborne family and Monet.
The table below shows that between September 28, 2012 and October 15, 2012, short interest in JCP stock increased by 5.8%. However, its stock price increased by 10.41% (from $24.29 on September 29, 2012 to $26.82 on October 18, 2012).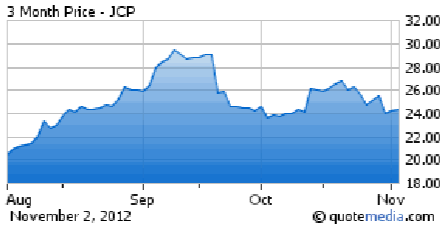 JCP has a long history of uninterrupted, albeit decreasing, dividends. After a series of cuts, the company eventually discontinued paying dividend in May 2012 for funding a transformation at the company. As dividend investors exited, the JCP stock fell by almost 50% in a matter of three months (from $35.67 on May 1, 2012 to $19.71 on July 18, 2012). If we read this with the news of the initiative taken by CEO Ron Johnson for transforming the company, we may find signs of positive news triggering a short squeeze action in JCP stock.
Disclosure: I have no positions in any stocks mentioned, and no plans to initiate any positions within the next 72 hours. I wrote this article myself, and it expresses my own opinions. I am not receiving compensation for it (other than from Seeking Alpha). I have no business relationship with any company whose stock is mentioned in this article.