There are increasing signs the electric car strategy is doomed while natural gas vehicles are rapidly gaining traction. Let's take a closer look at this important issue. Which companies will thrive and which companies will be left by the wayside?
Here are but a few of the reasons Americans (and the world) need an alternative to gasoline (oil) based cars and trucks:
Foreign oil imports dominate the U.S. trade deficit. The total trade deficit in August 2012 was -$44.2 billion. The foreign oil import bill for that same month was $37 billion, equivalent to 84% of the total trade deficit.
The U.S. depended on foreign countries for 56% of its oil consumption in August.
The U.S. Federal Reserve is currently printing $40 billion/month ("QE Infinity"). It's no coincidence this covers the monthly foreign oil import bill with some headroom in case oil prices climb higher.
Every time the economy gets going, gasoline demand rises. High gasoline prices then strip middle-class Americans of disposable income, and the economy subsides back into its now long-term period of stagnation.
Oil refineries, as well as gasoline and diesel powered cars and trucks, emit high levels of both CO2 and toxic particulates (smog).
The national security risks of being dependent on foreign oil producers cannot be overstated. The costs of fighting wars and nation-building in the Middle East are evidential exhibit #1.
Signs of global warming abound: increased severity and economic costs of storms, widespread drought, fires, tree destroying beetles, and rapid ice-cap shrinkage. Not to mention just plain old record-hot temperatures.
So to combat the economic, national security, and environmental problems brought about by the nation's addiction to foreign oil, it is imperative the country adopt a strategy to significantly reduce foreign oil imports. Since 70% of the country's oil consumption is in the transportation sector, it is obvious we need an alternative to the gasoline powered internal combustion engine (ICE).
There are currently three main alternatives to gasoline powered cars and trucks:
Hybrid Vehicles
Electric Vehicles (EVs)
Natural Gas Vehicles (NGVs)
Let's look at these one at a time.
Hybrid Vehicles
The Toyota (NYSE:TM) Prius gasoline/electric hybrid was a game changer when introduced in Japan in 1997. It was subsequently sold worldwide in 2000. As of October 2012, 2.8 million Priuses have been sold worldwide. The estimated fuel-efficiency rating for the current (3rd generation) Prius is 50 mpg. The Prius is also rated one of the cleanest cars available in terms of CO2 and smog producing emissions.
The success of this gasoline/electric hybrid engine architecture led Toyota to introduce hybrids into its Lexus division. Many other car companies have followed suit. See a list of recent hybrid vehicle sales here.
Bi-fuel vehicles are making some inroads, but are not seriously advertised and marketed by American auto companies.
(click images to enlarge)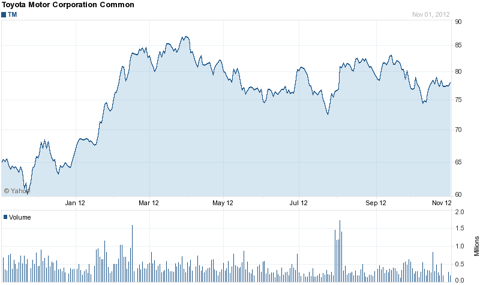 TM = $78.11
Mkt Cap = $123.8 billion
P/E (TTM) = 16.93
EPS (TTM) = 4.62
Div (Yield) = $1.40 (1.8%)
Electric Vehicles (EVs)
Based on its huge investments in battery and electric car related companies and research, the President and Congress have obviously chosen to support EVs. I have written for years now that this is not only terrible economic policy, but also terrible energy policy. My reasoning was simply that EVs cannot reduce foreign oil imports at the scale and pace we need to because there are several major disadvantages of the fully electric EV:
battery and total vehicle costs
battery reliability
range
recharging station availability and recharging time
environmental concerns
The U.S. government has ignored these hurdles and put its heft and investment behind the EV. Why? Because Congress is controlled by special interests, and there are none more powerful than the gasoline refiners, the railroads that transport coal, the electric utility industry, and the oil producers. These are a handful of the most powerful companies in America today. Combined, they have been very successful in pushing the EV as a major distraction to keep us addicted to gasoline and coal and the status quo. How has this strategy worked, and where do we stand today on EVs?
First, where are the electric cars we were promised years ago? The only electric vehicle brought to the mass market in America was General Motors' (NYSE:GM) Chevy Volt. This car was a dud from the get-go simply based on its price of around $40,000 before rebates. As of October 2012, the Chevy Volt and Ampera models have combined global sales of more than 33,000 units. The leading market is the U.S. with 27,306 Volts delivered, making the Chevrolet Volt the top selling plug-in vehicle in the United States. Still, 33,000 units is very disappointing and will not alter the big picture. Too big, too expensive, too many issues.
Meantime, there has recently been a plethora of bad news on the EV and battery front:
"Barring an unforeseen breakthrough that significantly drops the cost of automotive batteries, fully electric cars and plug-in hybrid vehicles are likely to remain confined to a niche of under 10% of the market through 2025 and beyond."

"By 2025, we see battery electric vehicles still with too long a payback, and inadequate range."

- Joseph Bakaj, VP for powertrain engineering at Ford Motor Co (NYSE:F)

"....batteries for the electric Ford Focus costs $12,000 to $15,000 for a car that is priced at $39.200, about $15,000 more than a petroleum fueled Focus." - Alan Mulally, CEO Ford

"...by 2025, a customer who buys a plug-in hybrid could wait 10 years to recover the added upfront costs, compared with a 2025 car outfitted with a more efficient gasoline engine." - Robert Bienefeld, Honda Motor Co. (NYSE:HMC)
And this article doesn't even touch on the lack of a cross country electric refueling infrastructure and/or the recharging time.
Clearly, the electric car strategy is failing badly for all the reasons I stated years ago.
Natural Gas Vehicles (NGVs)
Meantime, natural gas transportation has been gaining by leaps and bounds. Clean Energy Fuels (NASDAQ:CLNE) continues to announce one agreement after another in support of companies and organizations choosing to adopt natural gas transportation. You can view some of these announcements and press releases on CLNE's website here.
Progress continues on the Natural Gas Highway with many long-haul trucking companies switching to natural gas in order to take advantage of cheaper natural gas when compared to diesel fuel.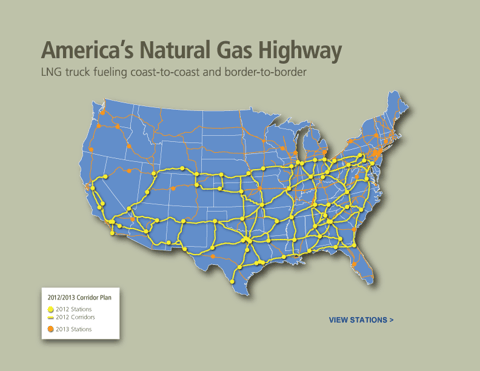 In spite of the federal government's ill-advised support of electric vehicles, state and local government are instead jumping on the natural gas vehicle bandwagon. Witness this recent announcement by the state of Virginia to adopt natural gas vehicles.
Better yet was a story yesterday in Investor's Business Daily about a coalition of 22 governors banding together to support the NGV market. The coalition, led by Oklahoma Governor Mary Fallin and Colorado Governor John Hickenlooper, have said their states would be willing to purchase up to 10,000 new compressed natural gas (CNG) cars and pickups a year. "The initiative has been enormously successful," Governor Fallin said. "We asked auto manufacturers to develop products that were more affordable and functional. With the combined purchasing power of our 22 states, we successfully provided the incentive to do so. States will now have the incentive and ability to begin converting their fleets to CNG while saving millions of dollars in taxpayer money."
The only pure NGV widely available to the American mass market is the Honda Civic GX. This vehicle has won awards such as Motor Trend's "Car of the Year" (2006) and the 2012 "Green Car of the Year" by the Green Car Journal at the November 2011 Los Angeles Auto Show. The car runs around $27,000 (before rebates). It currently has a sales promotion to issues a $3,000 natural gas fuel card usable at CLNE natural gas refueling stations. It has a range of about 200 miles, and can be refueled in your garage at night while you sleep.
Since 2004 and up to 2011, Honda Civic GX has been rated first in the "Greenest Vehicle of the Year" list created by the American Council for an Energy Efficient Economy. For 2011, the GX classified ahead of the recently launched Chevrolet Volt and tied with the PIEV Nissan Leaf. Honda has doubled production of the GX every year since 2009.
It's clear NGVs are (finally!) gaining good traction and visibility. As I have been saying for years now, natural gas transportation is the best way to significantly reduce the economic, national security, and environmental problems as a result of America's addiction to foreign oil. Just imagine what we as a country could do if the government actually supported the effort? Imagine how much better off the people in the New York Metropolitan area could be right now if their citizens had the option of refueling an NGV in their garage instead of having to wait in line for gasoline derived from foreign oil.
Long term, the best vehicle engine architecture is the natural gas/electric hybrid announced by Toyota back in 2008 and shown below. Why the U.S. government doesn't support this vehicle's mass adoption is simply beyond me. It is basically a Prius that runs on natural gas instead of gasoline. It's a proven concept. Cheap to build, cheap to refuel, small battery, and even better environmental spec than the Prius. It's a no-brainer.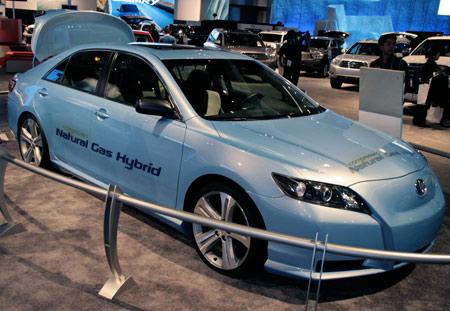 More on this car here: green.autoblog.com/2008/11/19/la-2008-toyota-camry-cng-hybrid/.
From an investment perspective, there are some obvious choices to play the natural gas transportation revolution that is coming. One of course is CLNE. Another great choice is Westport Innovations (NASDAQ:WPRT), a company that specializes in natural gas engine technology. WPRT recently signed an agreement with Tata Motors to design and develop a natural gas motor for light duty trucks and busses.
However, in the long-run, just like the 1970s, it's clear to me the Asian vehicle manufacturers "get it," and the American auto companies do not. For this reason, Toyota and Honda top my list of companies. Although the tsunami severely hurt both companies, they have bounced back nicely. Despite the current unrest in China and the diplomatic crisis, I am confident these will be resolved, as it is in China's interest to do so. Currently, there are severe unemployment issues in China in the locales where Japanese companies cut back on production and worker hours. Nothing scares Chinese officials more than worker unrest.
Count on Toyota and Honda to be the most efficient companies in designing and manufacturing high-quality NGVs and hybrids for the 21st century. Although Honda has a nicer dividend yield (3.2% vs. 1.8%), I actually think the growth outlook for Toyota may be brighter.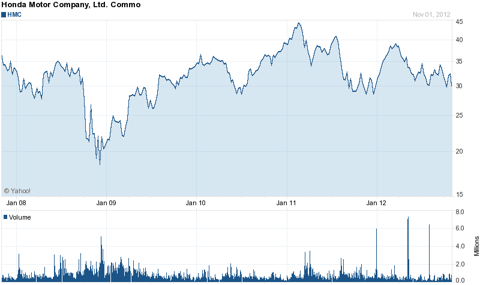 HMC = $30.57
Market Cap = $55.1 billion
P/E (TTM) = 13.01
EPS (TTM) = $2.35
Div (Yield) = $0.97 (3.2%)
Meantime, I keep pushing for America to adopt a strategic, long-term, and comprehensive enery policy to address the long-term economic, environmental, and national security problems the U.S. faces as a result of its reliance on foreign oil and its unwillingness to offer an alternative option to gasoline powered cars and trucks.
Disclosure: I have no positions in any stocks mentioned, and no plans to initiate any positions within the next 72 hours. I wrote this article myself, and it expresses my own opinions. I am not receiving compensation for it (other than from Seeking Alpha). I have no business relationship with any company whose stock is mentioned in this article.