Last week's equity trading in the U.S. was shortened by the impact of Hurricane Sandy on Wall Street. Across the river, New Jersey governor Chris Christie urged residents in the path of the storm to "hunker down." Hunkering down seems like a pretty good description of the action in financial markets, facing uncertainty on a number of fronts, and unable to chart a clear course forward. Let's look at the numbers.
Perspective
Stocks: It turned out to be a three day week for the U.S. equity markets, but in that short time span the market changed direction several times. Trading opened on Wednesday and was understandably muted. Thursday saw a move up off support levels as the surprisingly good (less bad?) employment numbers seemed to encourage buyers. By Friday, however, the gains had all been given back. Over the course of the week, none of major indexes had moved much; the S&P 500, Dow Industrials, NASDAQ, and Russell 200 had all moved less than 0.2%. The S&P, Dow and Russell held above near term support, while the NASDAQ closed back below 3,000 and just above its 200 day moving average.
The seemingly calm surface of the broad indexes belied the considerable churn underneath. S&P sectors went in different directions. The financials, industrials, and consumer discretionary sectors all advanced more than 1%, while energy and the utilities dropped more than 1%. Earnings, oil prices, and the big storm all had varying effects, for better or worse.
Global markets turned positive; while the previous week saw losses on eleven of the twelve major foreign indexes we follow, last week eleven posted gains - Australia was the laggard. Hong Kong's Hang Seng broke out to a new year to date high with a gain of 2.6%, as China reported its PMI back above 50, along with positive housing market data. The Shanghai Composite moved back above 2,100 and the 50 day moving average.
Bonds: U.S. treasury bonds moved in a narrower range than we have seen in recent weeks, as the overall yield curve grew steeper. The long bond closed to yield nearly 2.92%, a small increase, while the ten year note was nearly flat, and the five year slipped under 73 basis points. Corporate bond yields were little changed, and the municipal market was relatively quiet as well.
Commodities: It was a difficult week for commodities, as the S&P-GSCI commodity index broke support at the 630 level. After falling nearly 5% the previous week, the WTI benchmark oil price bounced early in the week, but erased all those gains and more to close under $85. Natural gas also pulled back sharply after a move above $3.80, losing nearly 5% on the week. Gold broke below $1,700 and is now just above its 200 DMA. Silver did break the 200 day, closing below $31. Copper has given up the entire September advance, and is now back into the summer trading range between $3.30 and $3.55. The grains continued to trade sideways. Coffee broke its September low.
Currencies: 200 day moving averages figured prominently in the major currencies. The U.S. dollar index faded early in the week, before moving strongly above the key resistance level of 80, stopping just short of its 200 DMA. The euro tested resistance at $1.30, and pulled back to its own 200 day at $1.2835. The Canadian dollar tested its 200 day and held, the Aussie dollar tested its 200 day and did not. Also violating the 200 day was the Swiss Franc. Yen took out its May - June lows.
Outlook
Last week was reasonably good on the economic data as well as the corporate earnings fronts. The private sector payroll numbers, with the August-September upward revisions, were encouraging, as was the uptick in personal spending and in consumer confidence. The ISM index beat expectations, as did factory orders, while unit labor costs actually fell. From the housing sector, the Case-Shiller 20 city index was better than forecast, but construction spending fell short of expectations. The financial markets appeared to be waiting for something more. Whether it is the U.S. election, the storm, or something else, trading has been hesitant.
Stocks: Last week's article emphasized that the major U.S. equity indexes were all at or near some key support level. A week later, that is where we still find them. The S&P 500 is still holding above 1,400, the Dow Industrials above 13,000, the Russell 2000 above 800. However the NASDAQ, which led the market up off the June low, is leading the way down. This is due in no small part to what I have taken to calling the "Apple effect," the outsize impact of AAPL shares on some of the indexes. Looking through my scans of the market leaders, AAPL is not the only blue chip I see breaking down - quite a few have either already broken, or are just now rolling over.
At this point my view is that the market remains at an inflection point. Last week I wrote "the market makes a stand right here, right now, or we could see significantly lower share prices ahead." That is still my near term outlook. Also remaining in my outlook is that foreign equity markets are beginning to look more attractive, which makes sense based on valuations. U.S. equities have enjoyed a long run since March 2009 and, while not terribly expensive, are not as cheap as what we see in parts of Europe, in Asia, and in Brazil. However we continue to be positioned overweight cash, having closed out some long positions, and will wait for this uncertainty to resolve before committing more capital.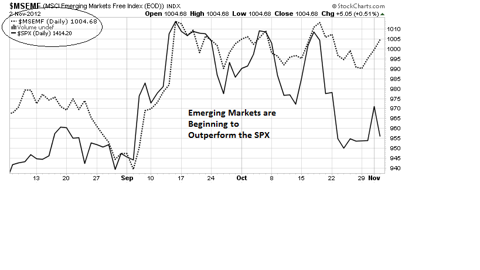 Click to enlarge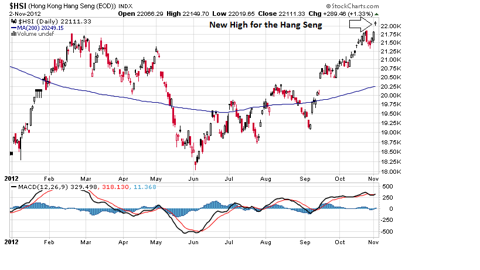 Click to enlarge
Bonds: The bond market has tightened up quite a bit, after seeing relatively large swings since August. We have seen a broad range on the benchmark ten year Treasury note yield, between 1.6% and 1.9%, but each pullback in yields has been shallower. While it is possible that bonds could continue to move sideways in a relatively narrow range, as the economic data point to an ongoing recovery, my suspicion is that the greater risk is to the upside. Whereas I was expressing doubt some months ago that we would see the long bond above 3% by year end, now it appears quite possible - if not likely.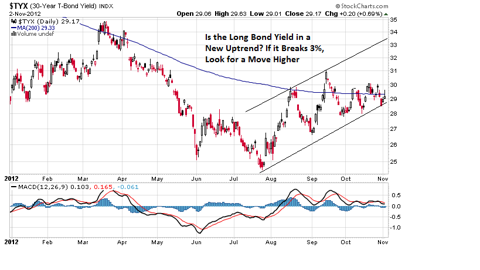 Click to enlarge
My outlook therefore is negative on Treasuries and cautious everywhere else. We have been avoiding Treasuries in favor of corporate and municipal bonds for quite some time. However corporates are also very overbought and vulnerable to correction, particular in the lower grades. We continue to hold, but have our positions on a short leash. I still don't expect a bond market debacle, but just don't much upside from here. The best case scenario is to continue collecting interest payments without taking a material hit to capital.
Commodities: The commodity picture has deteriorated significantly. Some of the specifics have already been detailed above. My regular readers know that I have been generally negative on commodities, and specifically on oil, for months, even suggesting that there could be an attractive short side trade on oil. At this point I still expect to see WTI test $80, perhaps not directly, but soon enough. Gold, the only long commodity position we hold, is testing the 200 day now. Both oil and gold are vulnerable to moves in the dollar, among other price drivers, and the dollar is moving up. The good news for asset allocators is that attractive prices on commodity ETFs are ahead…in the distance. I am still not bullish at all in the near term.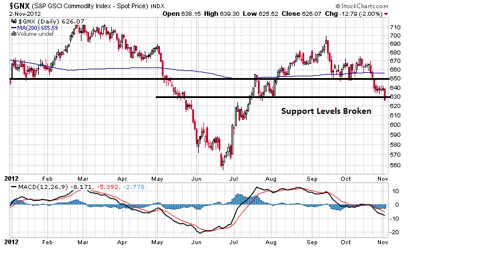 Click to enlarge
Currencies: We have already detailed some of the moves in the major currencies. The dollar index had just challenged the top of its range the previous week, and moved up to challenge the 200 DMA last week. I have to say that the strength of the move took me by surprise. While bullish on the dollar longer term, my outlook was for uncertainty to keep it range-bound until there is better visibility into the government's fiscal policy. We have seen undeniable empirical evidence of the correlation between moves in the currencies, and moves in the equity and commodity markets. The correlation is not perfect, but it is there, and it must be respected.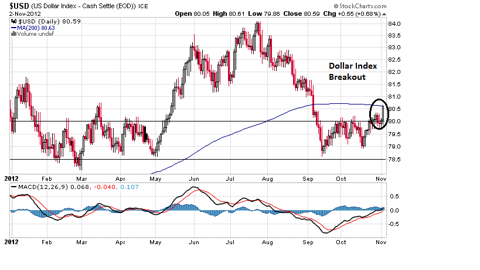 Click to enlarge
In the short term, with both the dollar index and the dollar/euro cross very close to their 200 day moving averages, a reversal might be expected. Any reversal should be short lived. The U.S. economy is growing, and Europe is contracting. The fundamentals support a stronger dollar in the longer term.
Disclosure: I have no positions in any stocks mentioned, and no plans to initiate any positions within the next 72 hours. I wrote this article myself, and it expresses my own opinions. I am not receiving compensation for it (other than from Seeking Alpha). I have no business relationship with any company whose stock is mentioned in this article.