Emerging markets have taken a beating even worse than Wall Street's carnage. Barron's says the time may be ripe to revisit the once-loved asset class.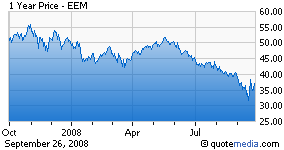 "They've fallen far worse than everybody else, and probably are once again cheap relative to the world's other equity markets," money-manager Ben Inker says. Inker threw in the towel on emerging markets in July, but now he's turning bullish.
So is Pimco co-chief-investment officer Mohamed El-Erian. "Is there a cyclical case now for emerging markets? Yes there is," he says. El-Erian, a recognized expert on emerging-markets, says Washington's bailout plan could spark a rally in emerging markets more acute than any domestic bounce. He suggests buying MSCI Emerging Markets (ETF: EEM).
Conditions in developing nations may well be at their best since MSCI launched its index 20 years ago. China, Malaysia, Taiwan and Russia are all building current account surpluses, and Brazil is now a net creditor. At 10.9x trailing earnings - vs. S&P 500's 23x - MSCI's index is at its lowest valuation since 2001.
Consider as well that emerging markets currently account for just 11% of global stock-market value, even though they will likely account for 28% of the world's economy by next year. David Fisher, chairman of Capital Group, expects 70% of the world's growth over the next two decades to come from emerging markets.
Russell Napier of CLSA Asia-Pacific Markets suggests sticking to markets less reliant on leverage (i.e. loan-to-deposit ratio of less than 100%), "since whole societies on the planet will spend decades deleveraging."
The loan-to-deposit ratio in Hong Kong (ETF: EWH) is 57.4%, in China (ETFs: FXI, PGJ) p 65%; Indonesia 72% (NYSEMKT:IF); the Philippines 73%; Malaysia 74% (NYSEARCA:EWM), and Taiwan 78% (NYSEARCA:EWT). The loan-to-deposit ratios in India (NYSEARCA:INP), Korea (NYSEARCA:EWY) and Thailand (NYSEARCA:THD) all exceed 100%.
Of the BRIC foursome, China's A-shares, which once commanded a 100% premium to Hong Kong-traded stocks, are today just 15% higher; one analyst likes China Mobile (NYSE:CHL). Russia (NYSEARCA:RSX) trades at just 6x forward earnings, but is subject to political risk and is energy-centric. Brazil (NYSEARCA:EWZ) trades at 9x earnings, but MSCI thinks long-term growth is 15%. Morgan Stanley recommends Vale (NYSE:RIO), Petrobras (NYSE:PBR) and Unibanco (UBB). India is still relatively expensive; one analyst likes HDFC Bank (NYSE:HDB).
:::::::::::::::::::::::::::::::::::
Zubin Jelveh notes that of the 70 countries tracked by MSCI, only three - Morocco, Tunisia, and Lebanon - are in positive territory YTD.
With domestic tobacco industry growth severely hampered by extensive regulation, taxes and litigation risk, Ketul Kirtikumar thinks Phillip Morris International (NYSE:PM) is a free call option on emerging market growth.