When there is high uncertainty surrounding the expectations of US markets, it is essential investors are prepared with alternatives. Emerging market investments is one alternative that I will be focusing on in this article. In general, I perceive investing in emerging markets to often be over looked and discredited as a result of the high level of firm-specific risk that is associated with companies operating in emerging markets. However, the firm-specific risks involved are easily eliminated with diversification among these developing markets and that is exactly why the two exchange traded funds I will be covering in this article earned five-star ratings from Morningstar. This article includes an overview of both exchange traded funds, compares their relative performance as well as their individual holdings, and conclude with analyzing a few managerial differences. The first ETF I am discussing is PowerShares DWA Emerging Markets Technical Leader Portfolio (NASDAQ:PIE), followed by iShares MSCI Malaysia Index Fund (NYSEARCA:EWM).
PowerShares DWA Emerging Markets Technical Leader Portfolio
EWM seeks returns that typically correspond to the price and yield performance of the Dorsey Wright Emerging Markets Technical Leaders Index. EWM allocates a minimum of 90% of it total earning assets in equities from various countries that are classified as "developing" and are in the underlying index. Below is a figure retrieved from TD Ameritrade that outlines PIE's historical performance.
Figure 1: PIE 5-Year Price Graph

PIE is currently trading at roughly $17 per share. PIE reveals a current alpha level of 7.73 indicating that on the basis of the asset holdings PIE is undervalued. In addition, PIE has a beta value of 0.92, which is slightly below the market beta of 1. This is a strong signal telling investors that PIE has historically provided a return to investors that poses lower risk than if one were to hold an index fund that mimics a major market index such as SPDR S&P 500 Trust (NYSEARCA:SPY). To provide a forward looking metric to investors I extracted PIE's holding period returns including distributions for the past three years and computed expected return equating to 21.5%. This is an approximation of what investors should expect over the course of the next two years. Please note this estimate does not take into account PIE's holdings that are trading below fair value. Taking this into account would allow or even higher potential upside. Below I have constructed a chart highlighting PIE's top ten holdings in terms of a percentage of total asset value.
Figure 2: PIE's Top 10 Holdings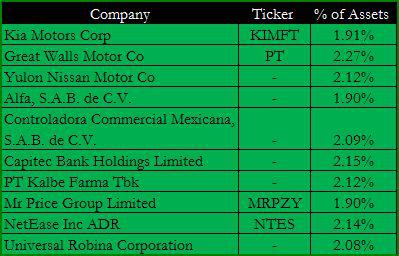 In addition to the holdings shown above, if you account for all holdings and were to compute the Sharpe ratio, you would arrive at a value close to 0.542. In the figure above, I provided tickers that were relevant for all of the securities listed above. The securities with tickers are either American Depository receipts, which are certificates traded in U.S. financial markets representing ownership in shares of a foreign country, or are securities that are traded in Over-the Counter markets. For example, NetEase Inc (NASDAQ:NTES) is an American Depository Receipt, which in my opinion is one of PIE's stronger holdings in terms of valuation. NTES is an internet technology holding company that is currently trading at roughly $51 per share. NTES has provided steady growth to investors turning over a profit yielding earning per share of $4.32, while minimizing risk. NTES reveals a firm specific beta value of 1.07 relative to the market.
iShares MSCI Malaysia Index Fund
EWM seeks investment returns that typically correspond to the price and yield performance of the MSCI Malaysia Index. EWM allocates at a minimum 95% of it total earning assets in various equities within the underlying index. Below is a graph retrieved from TD Ameritrade illustrating EWM's price performance.
Figure 3: EWM 5-Year Price Graph
EWM is priced slightly lower than PIE, only trading at approximately $15.01 per share. However, EWM is a much larger exchange traded fund in terms of total asset value. EWM's total asset value is $972 million as opposed to PIE's that has a total asset value of $174 million, which is approximately 5.5x less. EWM has a current alpha level of 14.21, indicating EWM is undervalued. EWM also presents investors with a low risk return relative to the SPY. EWM's fund specific beta value is only 0.63, which is extremely low. To give investors a better idea of what to expect in the future, I computed an expected return using the identical methods as I used for PIE and arrived at a value of 18.24%. This accounts for EWM's dividend yield to remain relatively the same, which as of now is currently 3.58%.
Figure 4: EWM's Top 10 Holdings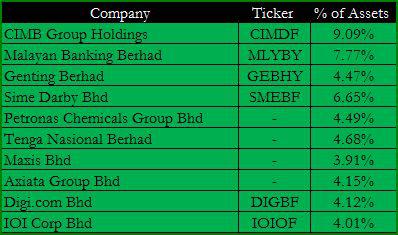 EWM's share ratio including all holdings in 1.02. Just as I did for the chart displaying PIE's holdings, I provided only the tickers to those companies that were relevant. The companies who tickers are not listed are either traded on the Taiwanese or Japanese exchange. As you will notice the percentage of total assets is higher for EWM's top holdings. This is an indication that PIE has a slightly more well diversified investment set. However, the fund specific beta value revealed that EWM provides investor with a lower risk relative to the market.
Relative Performance
Earlier I touched on the risk metrics, discussing how the beta values of PIE & EWM matched up relative to the market beta and now I am going to show you which exchange traded funds will provide you a better return for your risk. Figure 6 below is a price performance graph I retrieved from YCharts.
Figure 5: PIE & EWM vs SPY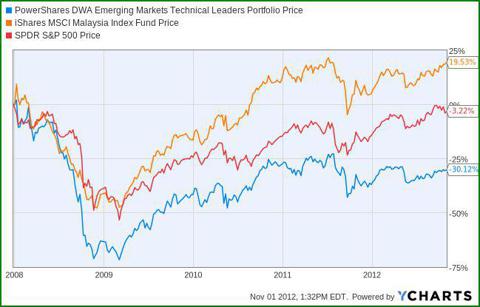 As you will see all three funds present relatively similar returns. As I previously discussed how EWM is relatively lower risk, to support that direct your attention to 2009 and you will EWM did not decline as fast in market value in comparison to how PIE and SPY declined during the credit crisis. Also you will notice that EWM, was quicker to recover than both funds. EWM has clearly outperformed SPY and provided investors with relatively lower risk. While after 2009, PIE has been slower to recover and has not quite yet caught up with the market.
Figure 6: PIE & EWM vs Competing Funds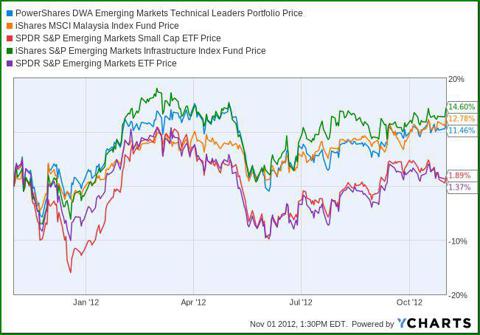 Utilizing YCharts custom graphs I created the figure displayed above which shows a good a fair comparison of PIE and EWM's performance in relation to competing funds. The competing funds displayed in the graph above include SPDR S&P Emerging Markets Small Cap ETF (NYSEARCA:EWX), iShares S&P Emerging Markets Infrastructure Index Fund (NASDAQ:EMIF), and SPDR S&P Emerging Markets ETF (NYSEARCA:GMM). PIE and EWM are represented by the blue and orange lines respectively, and you can see above PIE and EWM have are two of the top performing funds in terms of their percentage return.
Managerial Differences
In addition to the various holdings of both ETF's, there are several primary differences that investors need to be aware of. First, if you take a look at the expense ratios you will notice a slight variance. PIE, which is managed by Peter Hubbard has an expense ratio of 0.90%, as opposed to EWM that only has an expense ratio of 0.55% and is managed by Diane Hsiung. Both managers have been managing each fund relatively the same length of time; Peter began in December of 2007 and Diane began in January of 2008.
Conclusion
PIE and EWM are both excellent funds that provide investors with highly diversified exposure to emerging markets. Basic mathematics does indicate EWM does provide a return that is of lower risk relative to the market, yet PIE gives investors a slightly higher exposure to more diversification. In conclusion, if you an investor seeking exposure to emerging markets take an even position in both to further diversify you risk.
Sources: TD Ameritrade, YCharts, and Google Finance.
Disclosure: I have no positions in any stocks mentioned, but may initiate a long position in PIE, EWM over the next 72 hours. I wrote this article myself, and it expresses my own opinions. I am not receiving compensation for it (other than from Seeking Alpha). I have no business relationship with any company whose stock is mentioned in this article.