The 2012 European situation has caused extreme market volatility and has forced investors to seek safer stocks. With the economic and political climates becoming more tumultuous, I have been concentrating on high yield opportunities. Blue-chip dividend companies are well-known but there are attractive equities with high yields going ex-dividend every week. This strategy can work in one of two ways: either you buy before the ex-date to receive the dividend or buy after if the stock declines far below the after-tax amount of the dividend. Regardless of your short-term strategies, these equities can be attractive longer-term investments depending on your individual circumstances.
Buying the stock to receive the dividend is intuitive but many have contacted me requesting further details on the second strategy. Investopedia has a great example of how this works. To explain this, I will use AT&T (T) as an example. AT&T declared a $0.44 dividend to shareholders of record on October 10, 2012. On the ex-dividend date the stock price should decline by the after-tax dividend amount, with an assumed tax rate of 15% because many dividends qualify for a preferential tax rate. It is true that you can personally avoid immediate taxation by owning the security in an account with beneficial tax treatment but this serves as a benchmark.
As a result, an investor would expect the stock price to decline by $0.37 = [$0.44 * (1-.15)]. If AT&T declined by more than $0.37 in the absence of negative news you might have an attractive opportunity. For conservatism you may ignore the tax aspects and only trade if the stock price declines by the full dividend amount. Executing this strategy can generate returns over short periods of times but should only be performed on companies that you would be comfortable owning.
To focus on these opportunities I ran a screen with a focus on relative safety for the investments as the objective is to concentrate on liquid companies that are affordably priced. I began with a specification of a dividend yield greater than four percent and an ex-dividend date within the next week. To provide some layer of safety I narrowed down the environment by looking at companies with market capitalizations greater than $1B, P/Es between zero and 20, and institutional holding percentage in excess of fifteen percent (except ADRs).
While not a precise requirement, I prefer companies that have underperformed the S&P 500 year-to-date as it indicates reduced downside relative to peers. With the impending European crisis I now avoid companies with significant European exposure. This is summarized below:
Dividend Yield ≥ 4.0%
Ex-Dividend Date = Next Week
Market Capitalization ≥ $1B
P/E Ratio: 0-20
Institutional Ownership ≥ 15%
Ideally Modest S&P 500 Underperformance
Minimal European Exposure
After applying this screen I arrived at the equities discussed below. Due to the number of utility companies this week I have analyzed them in a separate article. Although I envision these as short-term trading ideas, you still need to exercise caution. The information presented below should simply be a starting point for further research in consultation with your professional financial advisor before you make any investment decisions. My goal is to present new companies to you and provide a brief overview of their recent developments and this should not be considered a substitute for your own due diligence.
KKR Financial Holdings (KFN): 8.08% Yield; Ex-Dividend 11/5
KKR is a specialty finance company that operates primarily in the private equity and specialized investment categories. As with many of the companies that appear in my dividend screens, it appears that KKR is depressed because it is a financial services company and now has a P/E below 5.5. There is significant uproar surrounding private equity due to Republican Presidential candidate Mitt Romney and his high-profile work at Bain Capital.
Private equity companies are attractive dividend producers because they often either turnaround or improve existing companies and are able to return excess cash quickly. These can be volatile companies since their ventures can fail but once they have successful investments, they can pay above-average dividends. The dividend was suspended in 2008 when the market crashed, but was reinstated in late 2009 and has been steadily rising ever since. As a limited partnership, there are special tax implications for this investment that also need to be considered on an individual basis with your tax consultant.
KKR is similar to Prospect Capital Corp. (NASDAQ:PSEC), which I covered last week; however, KKR focuses more on European opportunities and macroeconomic interest trends. PSEC specializes in finding companies with robust cash flows and making strategic investments. Having said that, KKR's eight percent yield and low P/E ratio still makes it a compelling investment opportunity. The company recently reported third quarter earnings that pushed the book value to $10.09, indicating that shares are trading at a mere three percent above book. With the stock essentially trading at book value I am not overly concerned about the shares declining significant in the near-term.
New York Community Bancorp, Inc. (NYB): 7.23% Yield; Ex-Dividend 11/5
NYB primarily engages in generating deposits and originating loans. The stock has had a strong eighty percent run in the past three months and even came close to setting a new 52-week high at $15. I continue to recommend NYB because it has a very sleepy business model compared to underwriting, trading, etc. that have recently causes volatility for other financial stocks. Essentially this is a bank in the traditional sense of the word and offers a robust dividend to compensate patient investors. Earnings in 2012 continue to impress in this environment and important negative metrics such as past-due (non-performing) loans have been declining. It should be noted that third quarter results saw revenues slip year-over-year. In addition to being a solid company, NYB is always a good company to monitor because it provides insight into the broader real estate market.
Note that the company plans to change its ticker symbol back to logical 'NYCB' effective November 13.
AllianceBernstein Income Fund Inc. (NYSE:ACG): 5.54% Yield; Ex-Dividend 11/7
This closed-end fund offering from Alliance Bernstein has the objective of generating high current income to outperform the broader bond market with a side objective of preservation of capital. This a very popular market segment recently and the fund has appreciated more than 8 percent this year. The fund's portfolio is available here and there are no unexpected holdings. 56% of holdings are government securities with nearly 70% of the portfolio rated triple A so you may be wondering how the robust 5.5% yield is achieved.
The answer is primarily leverage: the fund has 46% leverage which boost the returns. The use of leverage in this low interest rate environment may be prudent but this is a red flag for dividend capturing as the trade could very easily turn against you. The fund charges sixty five basis points which is somewhat expensive for an income-oriented fund. This fund is not a poor choice; however, I would prefer one of the two dividend opportunities presented above.
Seagate Technology PLC (NASDAQ:STX): 4.57% Yield; Ex-Dividend 11/9
Seagate is one of the leading computer hard disk drive ("HDD") manufacturer -- where you store your files, pictures, and music on your computer. Despite more and more consumers switching to solid state drives for the computers and smartphones, HDDs are still vital for enterprise storage. For more details on the industry, please see my coverage on Western Digital (NYSE:WDC).
Technology companies are generally not the highest dividend payers, but the hard disk drive business is relatively mature for the tech industry, so there are more opportunities to return proceeds to investors. HDDs may be losing popularity in the face of solid-state drives, but until solid state becomes more cost-effective, Seagate will continue to generate sufficient cash with its legacy hardware.
Intel Corporation (NASDAQ:INTC): 4.08% Yield; Ex-Dividend 11/5
The computer processor giant Intel sneaks onto this week's dividend screen with a yield above four percent. Unfortunately for Intel investors, the stock has generally stagnated for approximately three years and it is difficult to envision a catalyst to break this trend. I wrote about Intel recently when it touched its 52-week low and I am not bullish on its near-term prospects for a variety of reasons. If you are an income oriented investor now might be an advantageous time to open a position with the stock down nearly sixteen percent the past three months. If you are looking for a pure ex-dividend play, I would look elsewhere.
The information presented has been summarized below. Yellow and red represent "avoid" and "consider" classifications, respectively. All utility companies are represented with blue and have been analyzed in a separate article.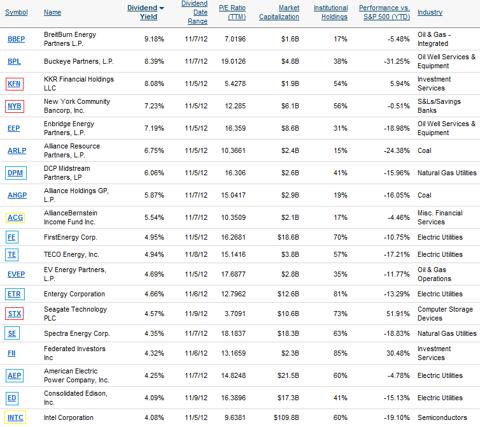 Disclosure: I am long PSEC, T, WDC. I wrote this article myself, and it expresses my own opinions. I am not receiving compensation for it (other than from Seeking Alpha). I have no business relationship with any company whose stock is mentioned in this article.
Additional disclosure: Please refer to profile page for disclaimer.